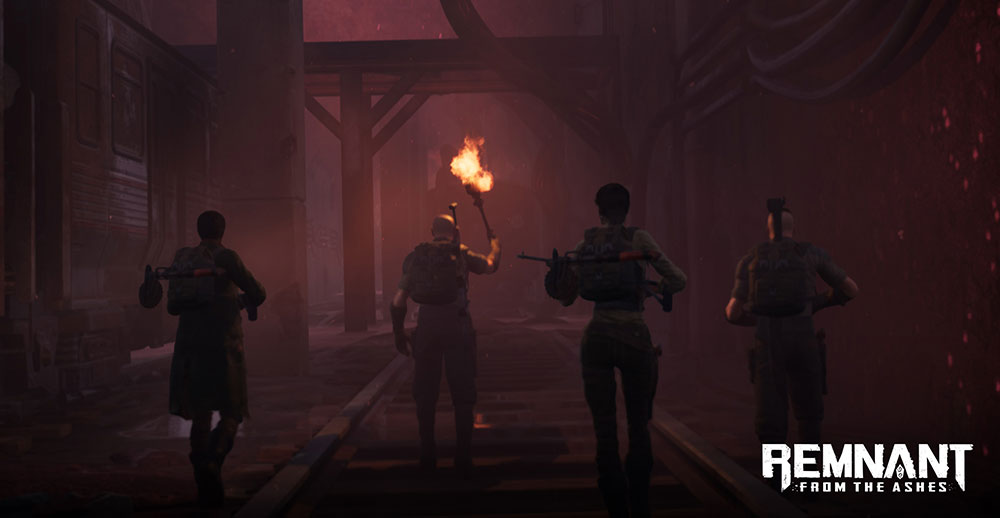 We're super excited to have the first playable demo of Remnant: From the Ashes at gamescom and today we're sitting down with Mike Maza to give you a little sneak peek of what you can expect.
Q: Mike, thanks for your time! Before we start off, let's quickly introduce you to everyone: What do you do at Gunfire Games?
Mike: Hi, I'm Mike Maza, the Principal Designer on Remnant. I manage the design team and help come up with some of the crazy ideas that get into the game.
Q: Can you give us a rough overview of what players will experience in this gamescom demo?
Mike: Players will be running through a small section of what's left of an Earth city after the Root invasion. They'll fight their way through creepy, alien-infested subway tunnels and emerge in a smoky, blasted corner of town where something terrifying waits…
Q: Why did you pick this scenario in particular?
Mike: We have a limited amount of time to present the game to the public so we really wanted to focus on showcasing the feel of core combat and give players a small taste of the fantastic environments they'll be exploring along the way. The shattered remains of Earth is only one of the amazing environments we've cooked up and we're very proud of it.
Q: We'll have a keyboard/mouse setup and also controllers ready for our players, do you have a personal preference so far?
Mike: I'm a big first-person shooter fan and I have a tendency to gravitate towards mouse-keyboard controls. However, we aren't strangers to console controls and I think that experience will come through if they decide to pick one up in the demo.
Q: Any valuable tips you can share for our survivors out there?
Mike: Yes. Always try to dodge and use cover whenever possible. Combat in Remnant is fast and deadly - you need to avoid getting shot or hit by big, sharp, pointy things. Standing out in the open is a recipe for disaster. Also, each character archetype is equipped with a special utility item that can really help out in a bad pinch. Don't forget to use them. Oh, and keep a really close eye on your health… use the Dragon Hearts to heal up when you get low but don't wait too long.
There you have it, folks. We can't wait for you to try out Remnant: From the Ashes at gamescom and get your feedback. And always remember: The Root are lurking everywhere!