Remember the Smoke Over Archosaur event? From July 15th until July 30th, PWI warriors from all servers will be able to take part to this sparkling event every day at 5PM, including on week-ends! This will allow you to gather Sparkling Crystals and exchange them for great items. Make sure to also check our July Event to see how you can earn even more rewards during these two weeks!
---

Event starts:
Wednesday 7/15, everyday at 5PM PDT (8PM EDT)
Event ends:
Thursday 7/30
---
Sparkling Treasure Trove
To get things started, you will need to obtain your very own Sparkling Treasure Trove. To do so, simply redeem the following code in Arc:
uESr2OMt
This mystical trove can be used at any time to exchange Sparkling Crystals for cool event prizes! You can obtain Sparkling Crystals through participation in sparkling events and completion of the special daily quests. Curious? Read on!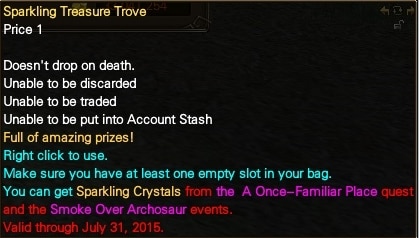 Smoke Over Archosaur
Archosaur is under siege! Enemies appear through portals and are climbing the walls. Adventurers, unite and protect your beloved city. Slay enemies and gather Festive and Fresh Dumplings, Rainbow Lantern Yunxiao, Sparkling Crystals and Archosaur Guardian Medals. Make sure to listen to the Generals, and cut off the reinforcements by destroying the portals.
Remember to never underestimate the power of your enemies. Once you have repelled enough enemies, don't be surprised if three boss monsters unite to overrun Archosaur!
Want to call yourself "Archosaur Guardian"? Collect 20 Archosaur Guardian Medals to prove you are worthy!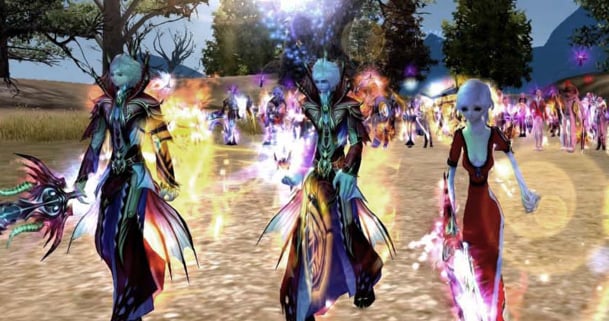 Make sure to also check our July incentive, which combines a Login Event with Charge and Spend Rewards and will end up with a big raffle!
We hope you enjoy this event and wish you good luck in your journey through PWI!
Update: Smoke Over Archosaur event will be off on July 24th.