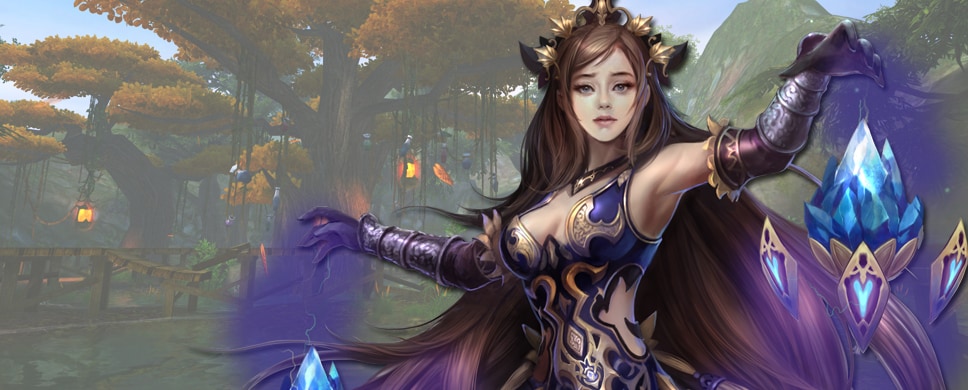 Adventurers, get ready to celebrate! PWI will be turning 6.5 this month, and we have prepared some cool quests and events in order to celebrate this awesome milestone!
Did you hear about the log-in rewards? Click HERE to check it out! (ends 03/18/15 at 1:00 PM PDT)
The Anniversary Treasure Trove
To get things started, you will need to obtain your very own Anniversary Treasure Trove through a special quest. This quest automatically unlocks if you are level 80 or above. In addition, your cultivation level must be of at least Transcendent.
This mystical trove can be used at any time to exchange Sparkling Crystals for cool anniversary event prizes! You can obtain Sparkling Crystals through participation in anniversary events and completion of the special daily quests. Curious? Read on!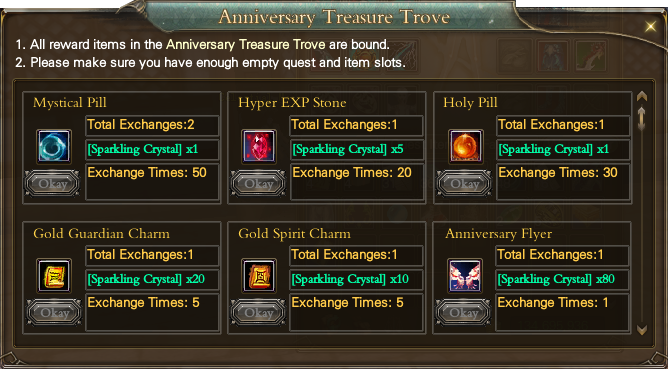 A Once-Familiar Place
Talk to the Anniversary Emcee, located in Archosaur at [555, 672], and accept the daily quest A Once-Familiar Place.
The Emcee will teleport you on a journey across Perfect World, to check in on old friends and see how they have been since your last encounter. It's possible you will be ask you for small favors, such as getting rid of a few unwanted monsters or the delivery of a specific item.
Once you complete the tasks at hand, you will be rewarded with Sparkling Crystals and a scroll that bring you back to the Anniversary Emcee in Archosaur.
Perpetual Celebration (Coming Soon)
If you are of at least level 100 and possess the Mirage Sky X, the Anniversary Emcee, located in Archosaur at [555, 672], will have a second daily quest for you. You can accept this quest on only one character on your account, but once you do, you will early Anniversary Gift Tickets for every two hours you remain online for the duration of the anniversary festivities.
Once you collect enough Anniversary Gift Tickets, talk to Anniversary Emcee, located in Archosaur at [555, 672], and exchange them for top of the line rewards!
Scholarly Challenge
Every Monday at 4:00 PM PDT (7:00 PM EDT)
Every Tuesday at 9:00 AM PDT (12:00 PM EDT)
Take a break from slaying enemies and see how far your wisdom will get you! Once the Scholarly Challenge is about to start, make sure to talk to Scholarly Challenge Officer in Archosaur [546, 668], to enter the great quiz hall. Get your thinking cap on and answer the multiple choice questions by running into the A, B, C or D zones.
The participation is well worth it, as you can score rewards such as EXP, Spirit, Sparkling Crystal and Chest of Academic Knowledge!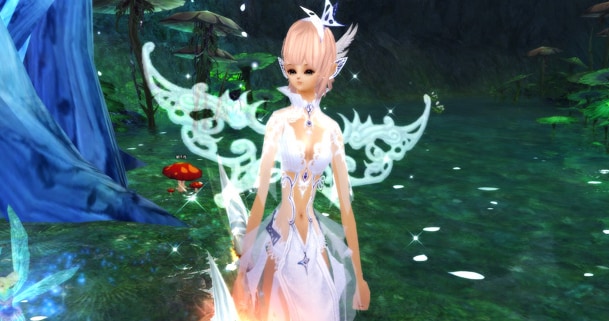 Smoke Over Archosaur
Every Wednesday at 7:00 PM PDT (10:00 PM EDT)
Every Thursday at 9:00 AM PDT (12:00 PM EDT)
Every Friday at 4:00 PM PDT (7:00 PM EDT)
Archosaur is under siege! Enemies appear through portals and are climbing the walls. Adventurers, unite and protect your beloved city. Slay enemies and gather Festive and Fresh Dumplings, Rainbow Lantern Yunxiao, Sparkling Crystals and Archosaur Guardian Medals. Make sure to listen to the Generals, and cut off the reinforcements by destroying the portals.
Remember to never underestimate the power of your enemies. Once you have repelled enough enemies, don't be surprised if three boss monsters unite to overrun Archosaur!
Want to call yourself "Archosaur Guardian"? Collect 20 Archosaur Guardian Medals to prove you are worthy!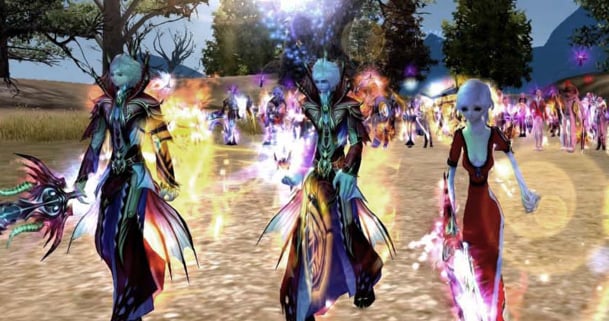 Your Perfect World Team wishes you good luck on all your journeys through PWI! Happy Anniversary!
All anniversary festivities will end with maintenance on 5/30/15.
Remember to check out the all new skills, plus the Demon/Sage Skills!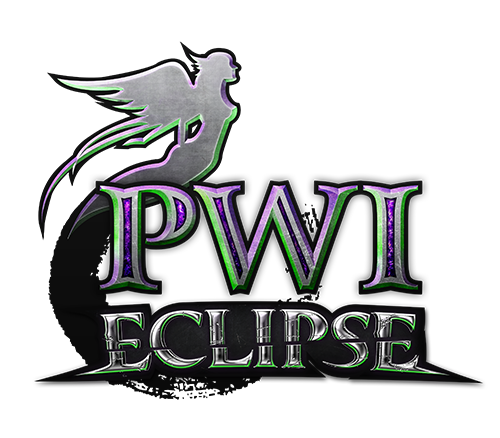 Join us today in Perfect World International, the visually stunning free-to-play online game with unparalleled character customization and amazing gameplay. Fly freely in beautiful lands to make your dreams true in Perfect World!
Like PWI on Facebook for more fan-exclusive content!