A brand new feature coming in Perfect World International: New Horizons, is a card collection system called War Avatar! This new feature will offer warriors more options in boosting their stats in their desired direction. Defeat bosses to collect cards, level-up cards, and obtain new heights in power! Read on to see what's in store for you.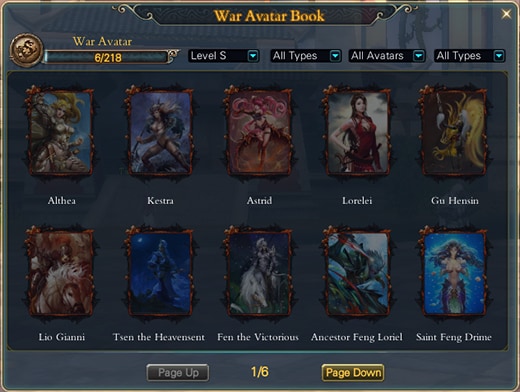 (names subject to change)

The War Avatar system is used as another way to power up your character's stats, similar to the Meridian System. There are 200+ cards, each with their own stat enhancements, level requirements, maximum levels, rarity, unique set bonuses, and more! With more than 30 set bonuses, you'll be able to customize your character's power in new and interesting ways.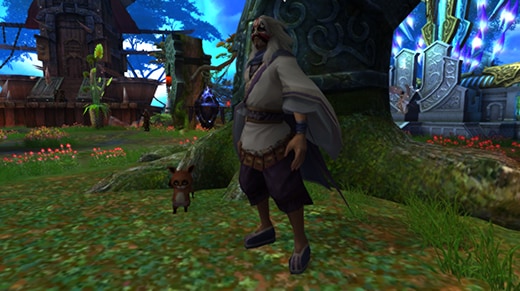 This fellow is said to be a War Avatar Master, able to do the impossible with them.
Use other cards you find to level up your favorite ones for even more stat bonuses, but remember each card has a max on how high it can level up. The rarest cards are ones that have set bonuses and a very high maximum level. The higher the rarity of the card, the more experience it gives when devoured for another card's benefit. Each card can also be reincarnated twice, resetting the card's level to 1. Each time the card is reincarnated, the base stat growth the card receives from leveling up is also increased.
To access the War Avatar window, simply open your inventory and click on the War Avatar button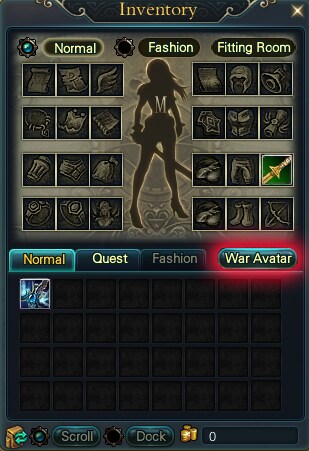 The screen below will appear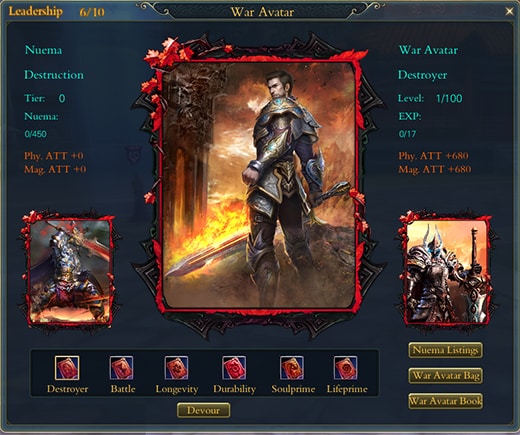 A player's War Avatar is made up of 6 card slots, each with their own predefined category that reflects a card's base stats:
-Destroyer: Physical + Magical Attack
-Battle: Physical + Magical Attack
-Longevity: Health + Physical Defense
-Durability: Health + Magical Defense (all elements)
-Soulprime: Spirit (NEW)
-Lifeprime: Spirit (NEW)
You can assign any card to any slot, but you will only get the base stat benefits of that card. This will be displayed with the category slot being highlighted in red. To get the full benefits, make sure to put the appropriate type of card in it's designed slot!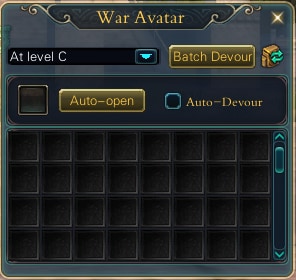 Once a War Avatar card is obtained, it will go from your inventory into a new window called the War Avatar Bag. This bag holds 80+ cards and is available to everyone at level 1. It also has the feature of batch-devouring the cards in it based on rarity level.
Rarity ranks are C,B,A,S,S+ with only 6 cards in the S+ rank. The higher the rank of a War Avatar card, the more experience it gives, but it cannot be recovered so be careful!
An example of the difference between C rank and S+ :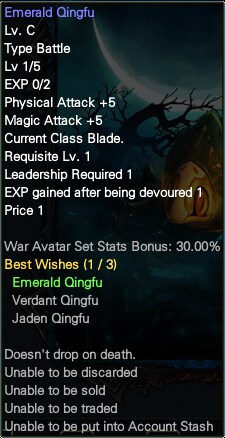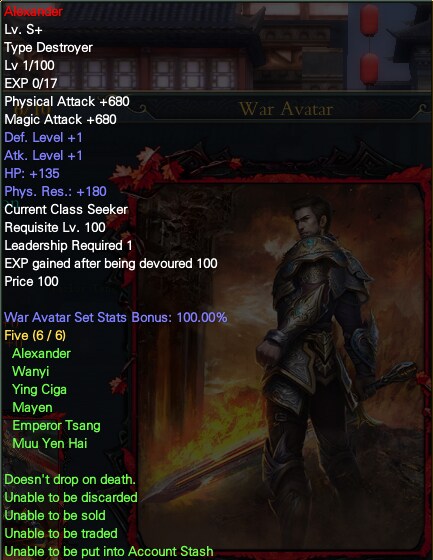 (names subject to change)


All of what's been said is only scratching the surface to this new system! With 200+ cards and 30+ set bonuses, you'll find all you could desire for character enhancement in this brand new system!
We haven't even discussed the Nuemas yet or how to acquire them which will be integral to powering up your War Avatar cards beyond their level.
We'll be covering that in the next preview for the upcoming expansion Perfect World International: New Horizons.
Have a great time doing what you do and have a happy holiday season!