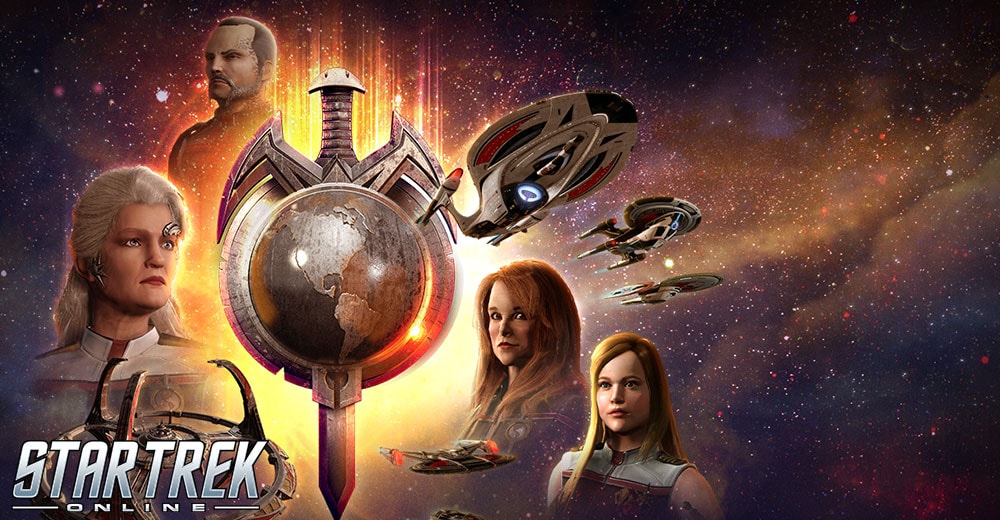 Captains in Star Trek Online have a long history with the Mirror Universe, and with the monstrous Terran Empire. With our new story content featuring a battle against the Mirror Universe once again, we thought it was a good time to celebrate that history. Reflections of Empire is a multi-TFO event that will progress you towards a brand new Holographic Janeway bridge officer! And, as part of our 2022 Event Campaign, completing it will progress you towards a grand prize of a Tier 6 Infinity Promotional Ship, two T6 Zen Store Ship Coupons, or 1500 Lobi! Read on to find out more about this event, which runs from 5/10 at 8am PT to 5/31 at 10am PT.
Mirror Mirror
Viewing the details of this Event in-game is as simple as opening your Journal and navigating to the new "Events" tab. From here, all of the pertinent information is at your fingertips, as are simple-to-use buttons that allow quick access to the associated Content for this Event.
As a core feature of the Event System, all Progress Points gained toward completion of the Event are shared across your entire Account. Progress is now also entirely automated, doing away with the need to receive tokens, slot them into projects, or any of the extra steps that were previously required.
Various new content offerings may be played in order to earn your Daily Progress toward the completion of the Reflections of Empire Event. Any of the participating TFOs from the following list will complete your Daily Progress:
Iuppiter Iratus (Space)
Counterpoint (Space)
Operation: Wolf (Ground)
Players will be able to complete their Daily Progress once every 20 hours. Any of the above TFOs may be played as much as you like each day, so pick and choose how you prefer to gain Progress each day, and mix it up as much (or as little) as you like!
Event Campaign – Part 2!
This multiple-event-spanning progression track will continue with the Reflections of Empire Event. This will be the second event that will participate in this Campaign, marking your first chance at receiving its reward. Each day that your Daily Requirement is met, the standard daily allotment of 50 Event Campaign Progress will be applied to your progress toward the completion of the Event Campaign's Grand Prize - a choice of a free Tier 6 Promotional or Lockbox ship. The reward pack will include ships not available in the previous year's box. You could also claim 2 free T6 Coupons for the Zen Store, or 1500 Lobi!

Rewards
Accruing a total of 14 Days' worth of Daily Progress will allow you to claim the Grand Prize, a Holographic Marshall Janeway Bridge Officer! The Marhsall comes equipped with a brand new Trait, Assimilate Dead, utilizing her Borg implants to ressurect dead enemies around her as Borg drones. If you come at the queen, you best not miss.
The first character to claim the reward on your account will also recieve:
8x Terran Empire Agony Phaser Weapon Pack
3x Ultimate Tech Upgrade - Beam/Cannon/Projectile Tech
Bonus Rewards
After claiming the Grand Prize, you will unlock the option of earning additional Dilithium Ore each day that you continue participating in the content associated with the Reflections of Empire. Each day you earn the Daily Progress you will be automatically granted a bundle of Dilithium Ore.
This bonus reward will begin at 8,000 Dilithium Ore for the first day's completion, then scales up with each subsequent bonus completion that you achieve. The more you play, the more you continue to earn!
Zen Buyout Option
For players interested in instantly completing the Reflections of Empire Event – whether that is due to worries over finding the play time to complete it, or simply wanting to move immediately into earning Bonus Rewards – we will be offering an updated method for buying out.
Within the new Event UI, an option will be presented that allows you to purchase the remaining progress that you need, for a scaling amount of Zen. The base price for this service will be 2,000 Zen, but every single Daily Progress that you earn will reduce that price on a percentage basis. Thus, if you have already earned 7 Daily Progress (half of the 14 required), this price will be reduced for you down to 1,000 Zen. The more you play, the cheaper the Buyout Option becomes, dynamically!
A Second Chance
Once the Reflections of Empire Event has ended, your opportunity to earn Progress Points will have passed. However, the new Event System will store the progress that you made long after the Event has expired. Based on this stored progress, the option to Buyout the rewards will remain available through a new "Second Chance" interface. The price for this buyout is the same as what is offered while the Event is active, and scales in the same manner based on your amount of Progress Points accrued.