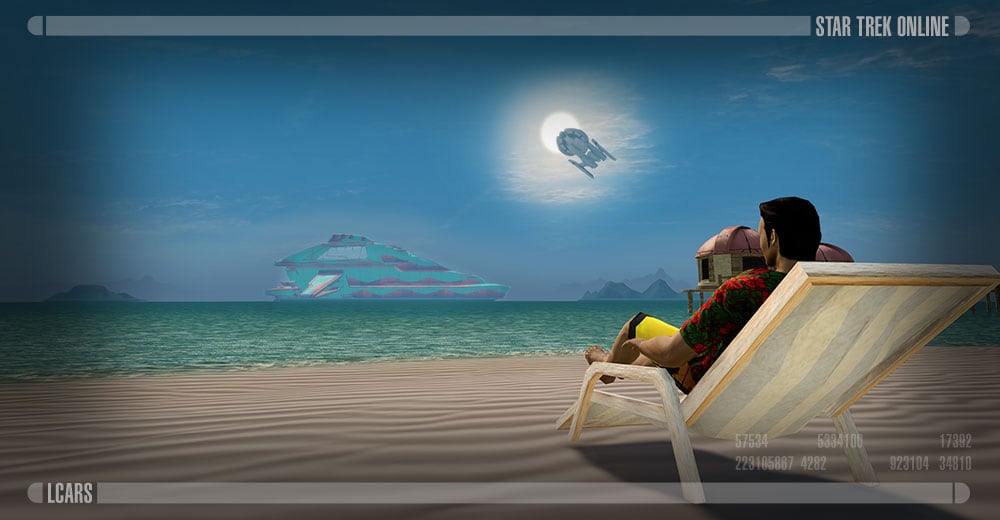 Star Trek Online et Star Trek: The Cruise vous offre la chance de vivre une expérience Star Trek comme aucune autre sur Star Trek: The Cruise II ! En janvier 2018, vous et la personne de votre choix séjournerez dans une cabine avec vue sur la mer (d'une valeur de plus de 3 500 $) à bord du Norwegian Jade, au cours d'une croisière de six jours au Honduras, au Belize et au Mexique avec plusieurs de vos stars favorites de Star Trek (billets d'avion et autres frais de transport non-inclus).
Votre voyage sera animé par George Takei, et il sera accompagné des célébrités suivantes :
VAUGHN ARMSTRONG
RENE AUBERJONOIS
CASEY BIGGS
LEVAR BURTON
JEFFREY COMBS
JOHN DE LANCIE
MICHAEL DORN
JONATHAN FRAKES
MAX GRODENCHIK
GATES MCFADDEN
ROBERT O'REILLY
JOHN PALADIN
ETHAN PHILLIPS
ROBERT PICARDO
ARMIN SHIMERMAN
BRENT SPINER
CONNOR TRINNEER
NANA VISITOR
Mais ce n'est pas tout ! Le gagnant recevra aussi un pack cadeau, utilisable sur la version PC du jeu, contenant tous les vaisseaux actuellement disponibles dans le C-Store de Star Trek Online. Cela correspond à plus de 150 vaisseaux avec lesquels vous pourrez parcourir la galaxie vers la frontière de l'infini !
CONCOURS STAR TREK: THE CRUISE™ II
Pour participer, rendez-vous sur ce lien et suivez les instructions. Il y a plusieurs façons de gagner.
Conditions générales :
En prenant part à ce CONCOURS, les participants s'engagent à respecter les Conditions générales de participation suivantes.
Le concours commence le lundi 24 avril 2017 à 19 h, heure française, et se termine le samedi 6 mai à 9 h, heure française.
Il n'y a aucune obligation d'achat.
Les règles sont sujettes à modification.
Le gagnant (i) se verra offrir une cabine privée pouvant accueillir jusqu'à deux personnes à bord de Star Trek: The Cruise II (tout autres frais de transport, dépenses et hébergements ne seront pas couverts ; y compris mais sans s'y limiter les frais de mouillage, taxes et frais de services - soit environ 235 $ par personne), et (ii) recevra tous les vaisseaux de STO présents dans le C-store (uniquement sur PC).
Le prix ne peut pas être transféré à quelqu'un d'autre ou échangé contre de l'argent.
Le gagnant sera contacté par message direct sur Twitter, Facebook ou email dans les quatre (4) jours suivant la fin du concours et aura sept (7) jours pour réclamer son prix. Si le prix n'a pas été réclamé après cette période, Perfect World choisira un autre gagnant.
Le CONCOURS n'est pas ouvert aux employés de Perfect World Entertainment, Inc, Cryptic Studios et Star Trek: The Cruise, ni à leur famille proche.
Le gagnant autorise l'utilisation de toute photo ou vidéo de lui prise pendant la croisière à des fins promotionnelles par Perfect World Entertainment, Inc, Cryptic Studios et Star Trek: The Cruise sans aucune contrepartie financière.
Le concours est ouvert à tous les résidents d'âge légal de n'importe lequel des 50 états des États-Unis et du district de Columbia, ainsi que tous les résidents de l'Union Européenne âgés de 18 ans ou plus.
Ce concours est nul et sans effet là où la loi l'interdit.
Sujet à une règlementation officielle complète.
Les chances de gagner dépendent du nombre de participations valides reçues.