Bei unserem letzten Streifzug durch die Ländereien von Neverwinter wurden wir in einem Sumpf aus dem Hinterhalt von einem schwarzen Drachen angegriffen. Der Drache hatte uns eiskalt erwischt, und wir dachten bereits, unser letztes Stündlein hätte geschlagen. Wir standen kurz davor, Drachenfutter zu werden, als plötzlich scheinbar aus dem Nichts ein Pfeil angeflogen kam und dem Drachen genau ins Auge flog, gefolgt von weiteren Pfeilen! Von den Pfeilen geblendet erhob sich der Drache in die Lüfte, um davonzufliegen. Jedoch sprang plötzlich eine vogelartige Kreatur aus dem Unterholz, um ihm noch einen letzten Pfeil hinterher zu schießen. Wir näherten uns der Kreatur, um ihr dafür zu danken, dass sie unser Leben gerettet hatte. Zur Gegenleistung wollte sie nur eine glitzernde Münze haben.
Nur für kurze Zeit bieten wir euch das brandneue Kenku-Bogenschützenpaket im ZEN-Markt an: Den Gefährten von epischer Qualität Kenku-Bogenschütze mit allem was er braucht, um vollständig ausgerüstet zu sein!
Beginn: Donnerstag, 14.05. um 19:00 Uhr MESZ
Ende: Montag, 21.05. um 19:00 Uhr MESZ
Kenku-Bogenschützenpaket:
Kenku-Bogenschütze
3× Schwächerer Bindungsrunenstein
2× Belt of Trinkets* (Gefährtengürtel)
Eye of Quorlinn* (Gefährtenamulett)
12× Kodex der Gefährtenerfahrung
Kenku-Bogenschütze: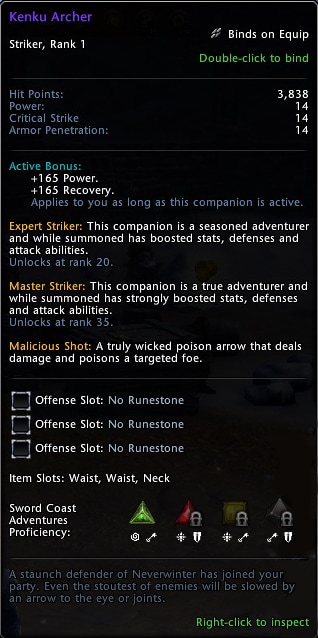 Ein standhafter Verteidiger von Neverwinter ist eurer Gruppe beigetreten. Ein wohlplatzierter Pfeil ins Auge oder Knie hält selbst den stärksten Feind auf. Kenku leben meist schwarmweise in größeren Städten, wo sie durch Raub und Diebstahl ihren Lebensunterhalt verdienen. Zwar sind sie nicht sehr stark, aber sie sind gerissen und wissen, wie sie das bekommen, was sie wollen. Viele Kenku verehren Quorlinn, die Kenku-Gottheit für Betrug, Verkleidung und Diebstahl.
Der Kenku-Bogenschütze aus dem Paket ist ein Gefährte von epischer Qualität mit Anfangswerten in Kraft, Kritischer Treffer und Rüstungsdurchdringung. Sein Aktiver Bonus gewährt euch +165 Kraft und +165 Erholung.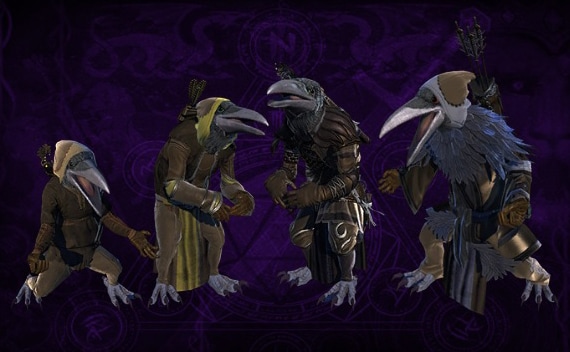 Im Anschluss an das Angebot wird der Kenku-Bogenschütze als einzelner Kauf verfügbar sein.
Lasst euch dieses nur kurze Zeit bestehende Angebot nicht entgehen! Man weiß nie, wann einem ein gut gezielter Pfeil zur Rettung kommt.
Klickt hier, um euch für Neverwinter, das "Dungeons & Dragons"-Action-MMORPG, anzumelden. Das Beste an Neverwinter: es ist komplett kostenlos! Holt euch eines der Neverwinter-Pakete, die einzigartige Gefährten, Reittiere, Verstärkungen und andere tolle exklusive Goodies enthalten, um gleich durchzustarten!

Ihr wollt mehr Details, Bilder und Videos? Folgt Neverwinter auf Facebook für weitere exklusive Inhalte und folgt uns auf Twitter – twittert uns eure Fragen! Und abonniert unseren YouTube-Kanal für die neuesten Neverwinter-Videos.