Among the heroes of Neverwinter, the Tiefling Makos is known for his potent magical abilities. From fending off Valindra's undead army with his powerful fireball spells to binding the soul of a dracolich to prevents its resurrection, Makos is a master of many magical talents. Starting February 19th, you can enter for a chance to have this mysterious Warlock fight by your side!
Update: The winners of the Makos companion have been chosen! If you see your name below, check the "Promo" tab at the Rewards Claim Agent in Protector's Enclave.
- @sanghionc234
- @brynh19ildr
- @pilger75
- @bellyjr
- @chacaloute
From February 19th to February 23rd, we will be holding a raffle each day for adventurers who spend 100,000 or more Astral Diamonds on a single character in Neverwinter. The prize for this raffle will be a Makos companion!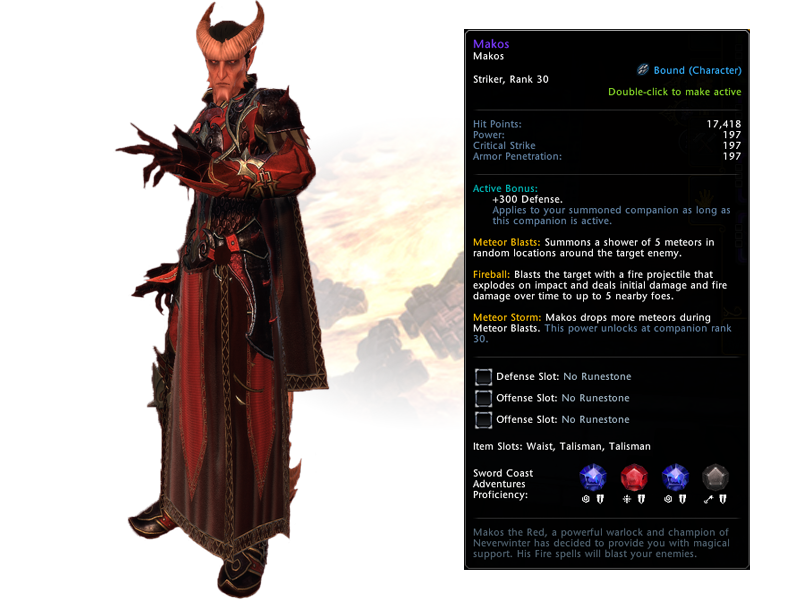 Each day's entry period will begin at 12:00AM PST and will end at 11:59PM PST. One winner will be chosen at random each day from the players who have spent 100,000 or more Astral Diamonds on a character during the day's entry period. All winners will be announced on February 24th.
The Astral Diamonds can be spent in anywhere in-game (Zen Exchange and Auction House included) and you don't need to spend them all in one place. As long as you spend a total of 100,000 Astral Diamonds in Neverwinter within a given day's entry period, you'll be entered to win! You can also enter with multiple characters on an account, just make sure they've all spent at least 100,000 Astral Diamonds each.
Are you excited for a chance to traverse the Forgotten Realms with a Neverwinter icon? Let us know on the Neverwinter forums!
Click here to register for Neverwinter, the Dungeons & Dragons action MMORPG. The best part about Neverwinter: it's free to play! Get a head start in-game by purchasing Neverwinter item packs which include unique companions, mounts, boosts, and exclusive benefits!

Want more game details, screens, and videos? Like Neverwinter on Facebook for more fan-exclusive content and follow us on Twitter – tweet us your questions! And, subscribe to our YouTube channel for the latest Neverwinter videos.