Thanks to the amazing response from the Perfect World community we raised over $30,000 during our ExtraLife 2014 Livestream event! We surpassed our goal and now the Neverwinter community can celebrate their achievement by picking up the newest item added to the Wondrous Bazaar. We're excited to release the Poking Stick, a new item aimed at humiliating your opponents in PvP battle!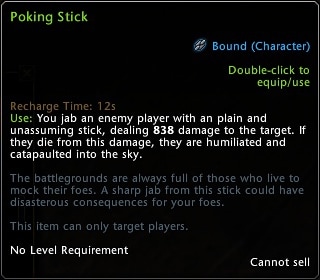 New Item – Poking Stick
The battlegrounds are always full of those who live to mock their foes. There's only so many taunts you can go through and only so many times you can dance on your opponent's corpse before it starts to become meaningless. Now there's a new way to mock your rivals with the Poking Stick item.

A sharp jab from this stick will have disastrous and hilarious consequences for your enemies. Using this item when your enemy is almost dead will cause them to be catapulted into the sky. A message will then be broadcasted to the zone proclaiming your dominance and how you have taken out your opponent using this low-level item. There's no worse way to go than being defeated by a poking stick!

Go forth with your poking stick and swing it wildly at your opponents. Let us know what you think of the new item on the Neverwinter forums.
Click here to register for Neverwinter, the Dungeons & Dragons action MMORPG. The best part about Neverwinter: it's free to play! Get a head start in-game by purchasing Neverwinter item packs which include unique companions, mounts, boosts, and exclusive benefits!

Want more game details, screens, and videos? Like Neverwinter on Facebook for more fan-exclusive content and follow us on Twitter – tweet us your questions! And, subscribe to our YouTube channel for the latest Neverwinter videos.