With Module 21 we wanted to create a new and intuitive way to play through content, track your progress, and get some great rewards. That led us to the Adventure system. Located in the Sword Coast Chronicles tab of the Journal alongside Campaigns, Adventures make it easy to find what to do next as you continue your journey in Faerûn.
Leveling Adventures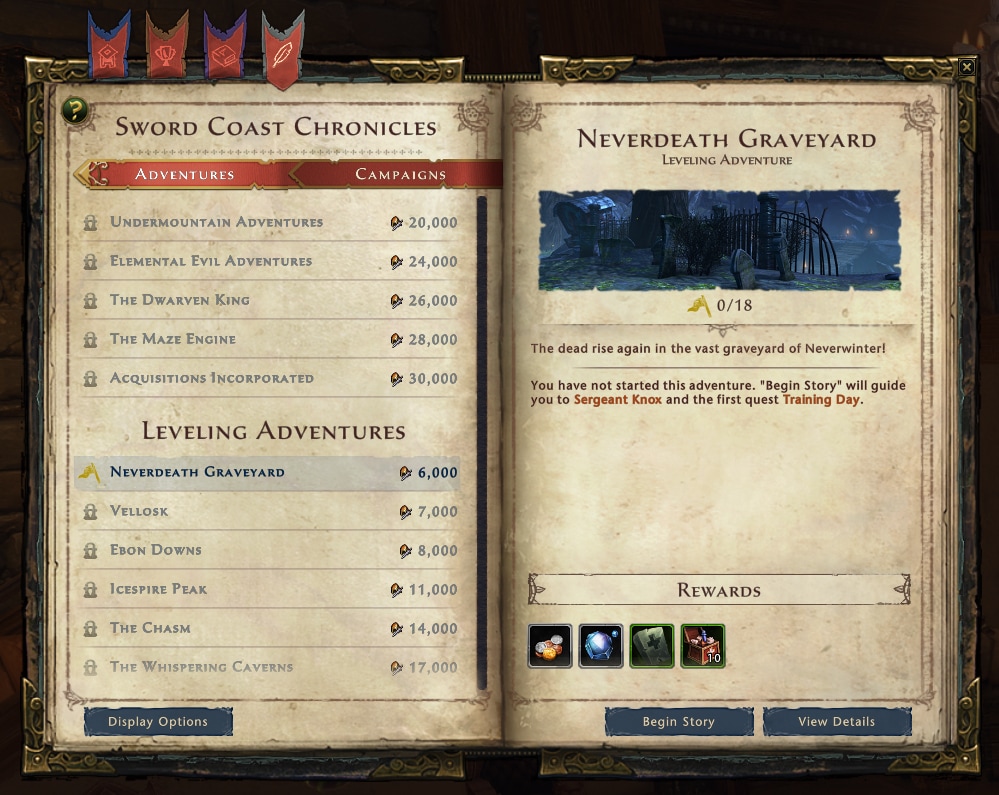 When you begin your journey in Neverwinter, you will follow our new guided leveling experience. As part of this new leveling, you will complete six adventures across the Sword Coast with new and exciting rewards and flow. You will travel to a variety of fantastic locations, from the peaks of the Sword Mountains to the depths of the Underdark. To ensure this experience is smooth and easy to follow, Adventures provide a Begin Story button that will guide you to the right character to start your journey. If you are in the middle of an Adventure, that button becomes Continue Story and will help you get back on track or finish any missions that you missed! These Adventures include tutorial missions to make sure every adventurer is prepared for the Epic Adventures that await them at level 20.
Epic Adventures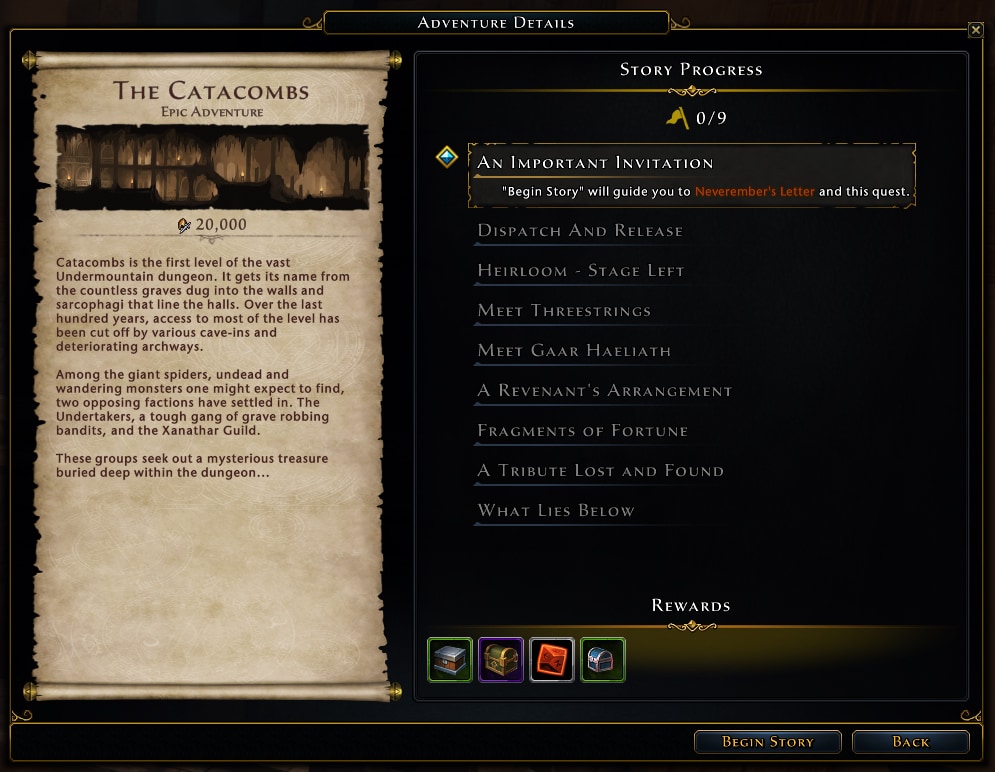 Once you reach Level 20, Epic Adventures become available. These Epic Adventures can be completed in any order, as long as you are strong enough to handle them. Epic Adventures give us a way to take some of our older campaigns and make that content more accessible for every player. Campaigns like Acquisitions Incorporated and the Maze Engine are now Epic Adventures that can be played start to finish without their older campaign limits. Now you can play through these stories in a few play sessions and earn rewards specific to that content. These Epic Adventures also give us the opportunity to tell new and more focused stories that may not fit into a whole new campaign zone. Overall, the Adventure system makes it easier to find and complete the content you want to play and we encourage you to try it for yourself!
Preview
The best way to understand these changes is to jump onto the Preview server and try them out.
We want your feedback to ensure these features are the best they can be! And of course we're looking for any issues so we can fix them before M21 goes live. Please use our official threads in the Preview Forums to report your feedback!
Thank you all for playing Neverwinter!
Elliot Minner
Staff Content Designer
Accessing the Neverwinter Preview server