Limited time items are available in the Zen Market at a 30% discount!
Items are available starting Thursday, November 19 at 10am PT (19:00 CET)
Items disappear Thursday, November 26 at 10am PT (19:00 CET)
Skyblazer Companion – This celestial has spent a millennia fighting the fiends of hell and will share his knowledge and experience with you!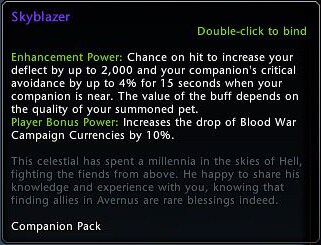 Shadow Drake Mount – These magical creatures were originally made to act as guardians and pets in the ancient Dragon Empire. This one seems to be tainted by the Shadowfell.