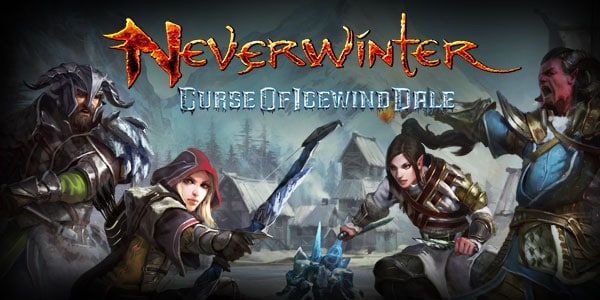 "Curse of Icewind Dale" war Neverwinters dritte Erweiterung, mit der eine Kampagne des gleichen Namens, eine neue PvP-Kampagne, Open-World-PvP, den Beruf Schwarzeis-Formen und das epische Gefecht "Kessells Zuflucht" eingeführt wurde.
Um die Kampagne anzugehen, müsst Ihr Stufe 60 erreicht haben und bei Feldwebel Knox die Quest "Ein eisiger Wind" annehmen. Knox wird euch zu dem schroffen Kapitän Dunmish am Südtor von Protector's Enclave schicken, auf dessen Schiff ihr ins Eiswindtal im hohen Norden gelangen könnt.
Dort angekommen müsst ihr mit Alden Lowell sprechen und euch bei den anderen wichtigen Einwohnern von Caer-Konig vorstellen, um dann in die umliegenden Regionen vorzustoßen. Doch zuvor müsst ihr noch einer der rivalisierenden Fraktionen der Stadt die Treue schwören: Den Zehn-Städtern oder der Arkanen Bruderschaft. Dadurch wird euch zudem möglich, an dem neuen Open-World-PvP teilzunehmen, das mit "Curse of Icewind Dale" eingeführt wurde.
Zunächst werdet ihr nur den Eiswindpass betreten können, ein weitläufiges Tal, das unter einer dicken Schneedecke liegt. Sobald ihr ausreichend Caer-Konig-Ruf gesammelt habt, werdet ihr Zugang zum Zwergental erhalten, das wie eine gefrorene Mine anmutet. Auf euren Reisen durch das Eiswindtal werdet ihr auf die unterschiedlichsten Ungetüme wie Eisbären, Winterwölfe, Barbaren, Trolle und Remorhaz treffen. Indem ihr Fortschritte in der Kampagne erzielt, werdet ihr das epische Gefecht "Kessells Zuflucht" freischalten, wo ihr euch dem Gruftschrecken Akar Kessell stellen müsst, dessen Ziel es ist, die ganze Welt in den Wahnsinn zu stürzen.