Salut à vous, amateurs de rerolls ! Nous savons depuis un moment que la difficulté de faire progresser ses personnages secondaires est plus difficile qu'il ne devrait l'être. Comme certains d'entre vous le savent, nous avons réduit les coûts des Achèvements de Campagnes dans le ZEN Market, mais nous voulions en faire plus.
La prochaine mise à jour introduira les « Décrets de mécénat » : des objets liés au compte que votre personnage principal peut fabriquer pour les rerolls, existant pour chaque campagne. Votre reroll peut ensuite échanger le Décret pour doubler sa vitesse de progression dans la campagne !
Voici les détails :
Un personnage ayant terminé une campagne peut fabriquer un Décret pour cette campagne.
« Finir » une campagne ne veut pas dire 100 %; les prérequis varient selon la campagne, mais peuvent se résumer par « débloquer toutes les tâches importantes et obtenir tous les atouts ».
La fabrication d'un Décret nécessite une certaine quantité de monnaies de campagne (généralement équivalent aux tâches finales) et 50 000 DA.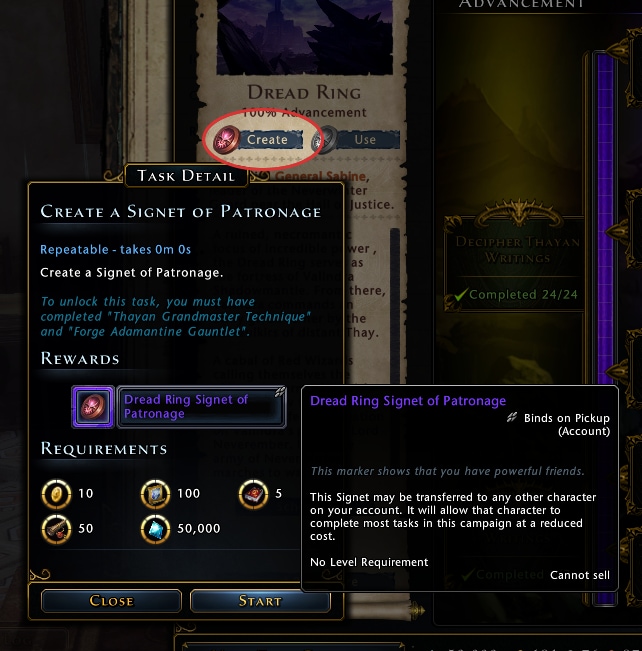 Le Décret est lié au compte.
Le personnage auquel vous donnez le Décret peut l'échanger auprès d'un PNJ, ce qui le consommera, mais permettra à ce personnage de terminer la majorité des tâches de cette campagne à moitié prix et d'engranger de la réputation deux fois plus vite (si la campagne a une réputation).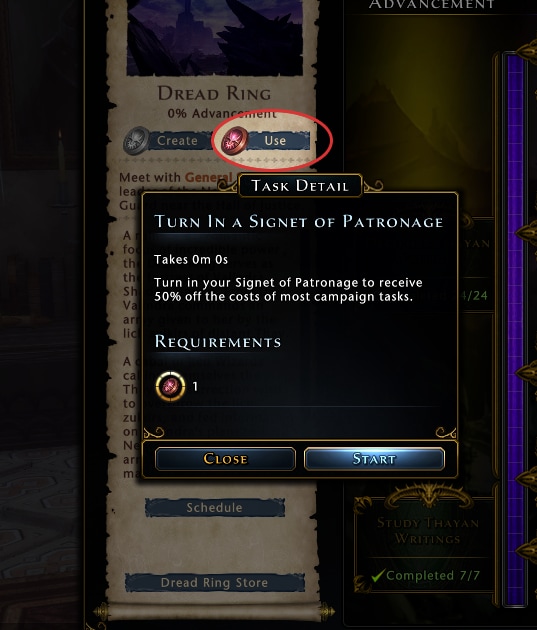 Les tâches de campagne dont l'objectif principal est de créer un objet, tels que les Enchantements du trésor de Tyranny of Dragons, font exception à cette règle et leur coût n'a pas été réduit. Nous ne souhaitions en effet pas réduire la valeur de ces objets, et nous ne voulions pas que les joueurs créent des Décrets de mécénat simplement pour fabriquer ces objets à moindre coût. Seules quelques tâches font partie de cette catégorie, et elles ne sont généralement pas requises pour d'autres parties de la campagne, donc cette exception ne devrait pas ralentir la progression de votre reroll au sein de la campagne outre mesure.
Remarque : les dernières campagnes seront, comme pour les Achèvements, inéligible à cette forme d'accélération. Nous penchons actuellement pour exclure les 2 dernières. Au fur et à mesure que de nouvelles campagnes feront leur apparition, les précédentes verront l'apparition d'un nouveau Décret. Les campagnes offrant un Décret sont:
The Maze Engine
Sharandar
Outreterre
Anneau de Terreur
Tyranny of Dragons
Storm King's Thunder
Icewind Dale
The Cloaked Ascendancy (techniquement, celle-ci ne devrait pas être disponible si l'on suit notre règle des "deux dernières campagnes", mais on vous l'offre en avant-première !)
Nous espérons que les Décrets faciliteront la vie de vos rerolls sur Neverwinter !
Robert Gutschera
Lead Systems Designer
Discutez sur les Forums officiels