Port Nyanzaru is a city of riches and wonder where cultures meet! Nestled on the coast between the mouths of the Rivers Soshenstar and Tiryki, Port Nyanzaru is an ideal travel destination for fun, adventure, and thrills! A bustling city of trade, Port Nyanzaru welcomes all to come visit, to trade and explore! With so much to offer, it's time to plan your magical getaway to Port Nyanzaru!
The Merchant Princes Welcome You!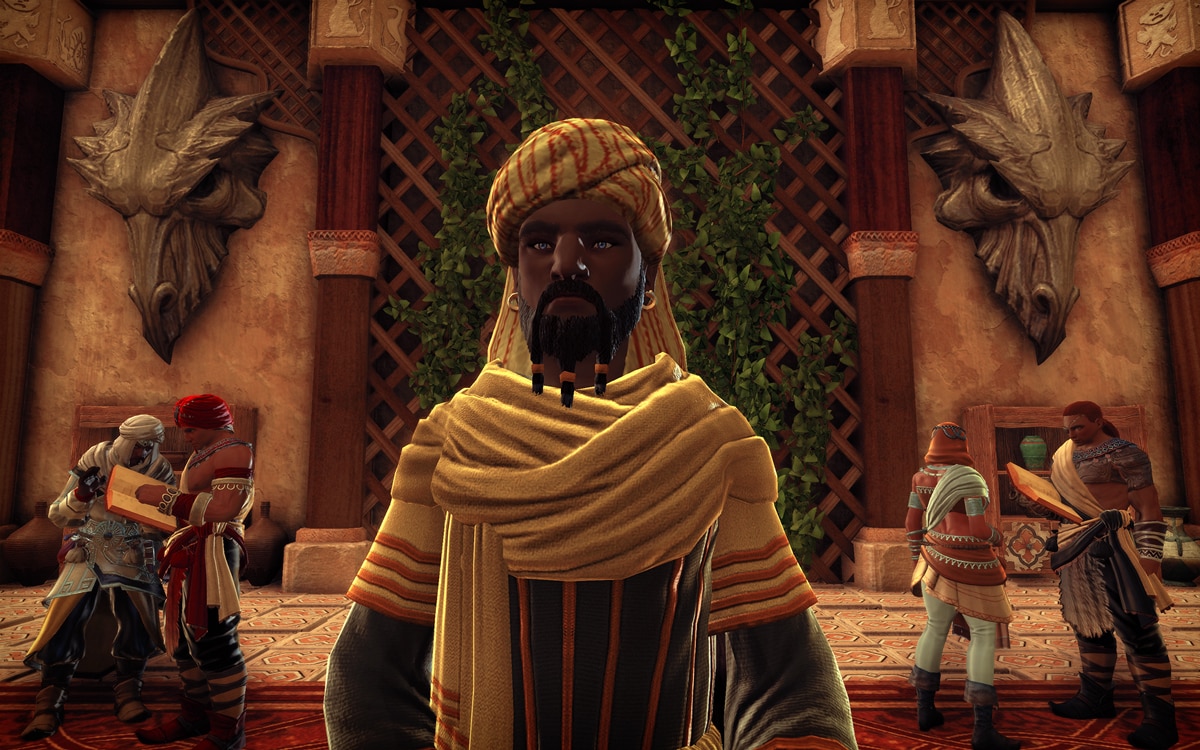 The Merchant Princes, the trade leaders of Port Nyanzaru welcome all to come visit their city of wonder. This beautiful city is full of life and culture, and the Merchant Princes want you to be a part of it! If you are here to trade, the streets of Port Nyanzaru are lined with stores and vendors full of the goods and riches of Chult. Looking for something a little more adventurous? The Hunter's Square is the place to weave tales and find news on your next big catch. If its knowledge you are looking for, the Merchant Prince Wakanga O'Tamu has opened his villa for all to pay homage and to talk with other traveling academics in search of knowledge!
Your New Home Away From Home!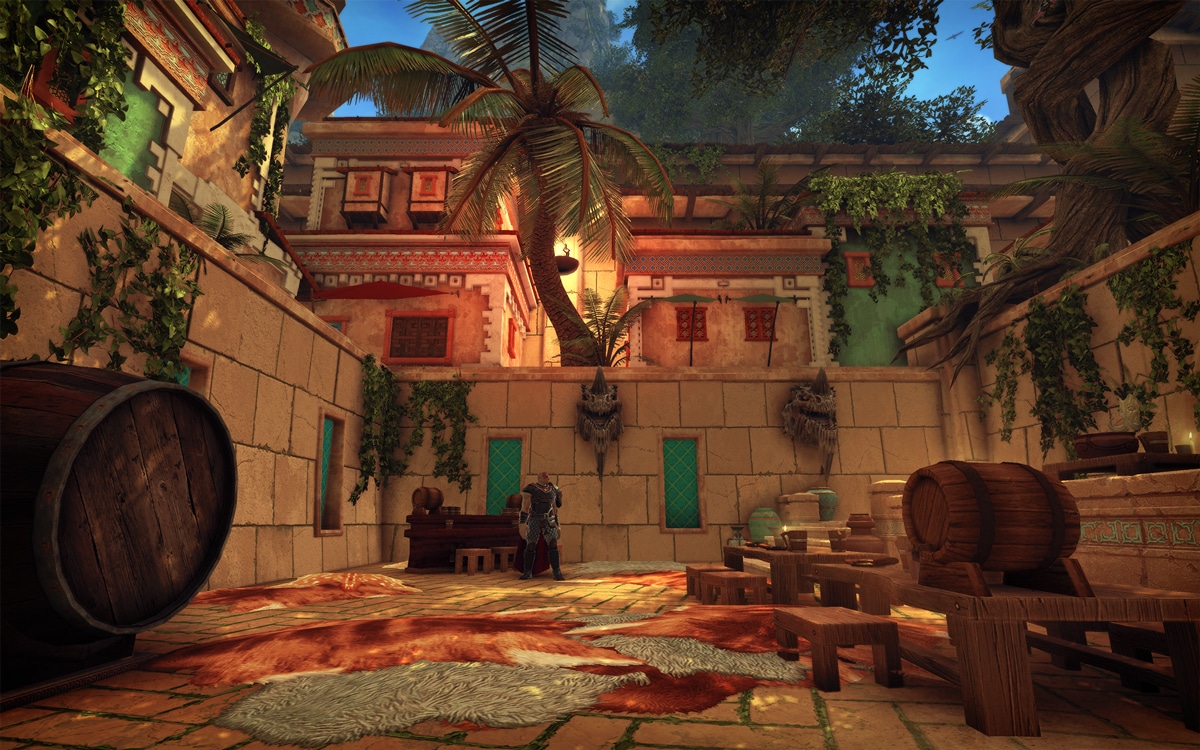 Whether you had smooth sailings or your voyage was an utter wreck, the trip to Port Nyanzaru can be quite exhausting. But now it's time you let us here at Port Nyanzaru take care of you. With accommodations given by the Prince Merchant O'Tamu, you will have a place to call your very own here in the great city of Port Nyanzaru. A place to relax among your crew and companions, a place to plan your adventures and rest from your excursions; your Expedition Quarters is your new home away from home.
All the Delight without the Fright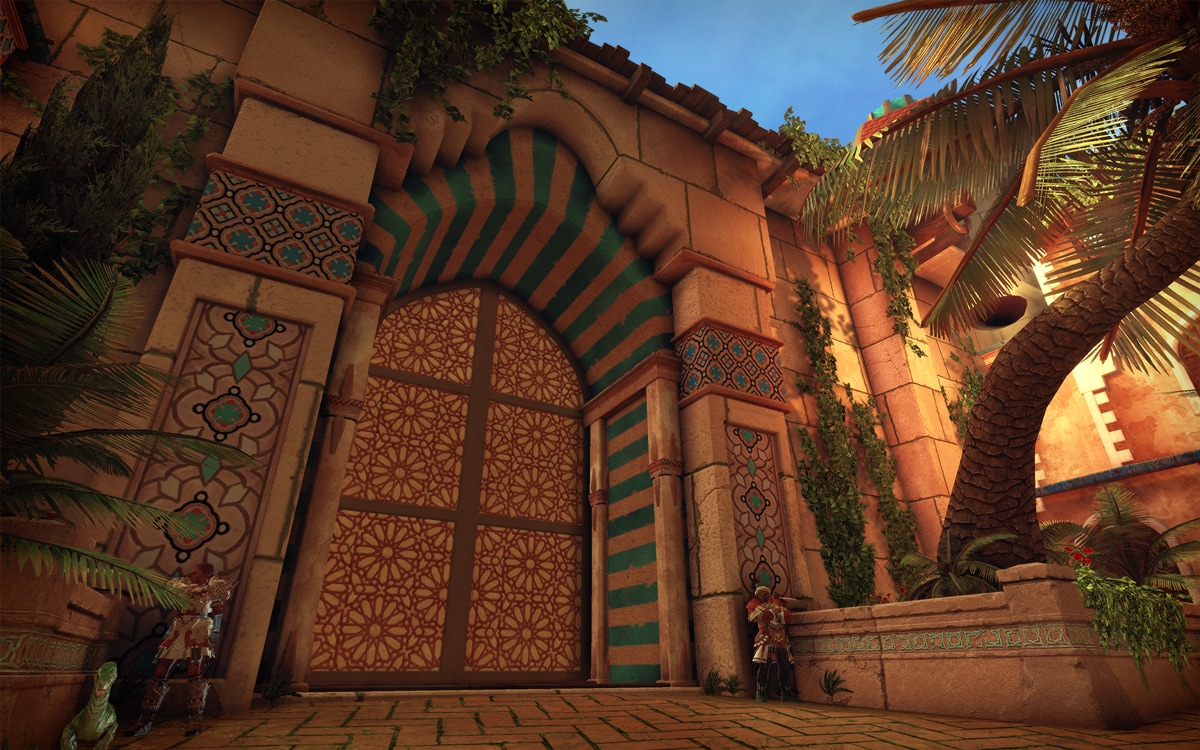 A fine example of the perseverance of man, Port Nyanzaru is one of the last standing cities of Chult. While danger lurks outside the walls of the city, the Merchant Princes have spared no expense on making sure that Port Nyanzaru is a safe and protected city for all travelers. Like a gem set in the strongest metal, Port Nyanzaru is surrounded by tall, expansive walls to keep the citizens safe and secure. With guards protecting the entrances and patrolling the city, there is no safer place to be than in Port Nyanzaru.
Shopping in a City of Treasures!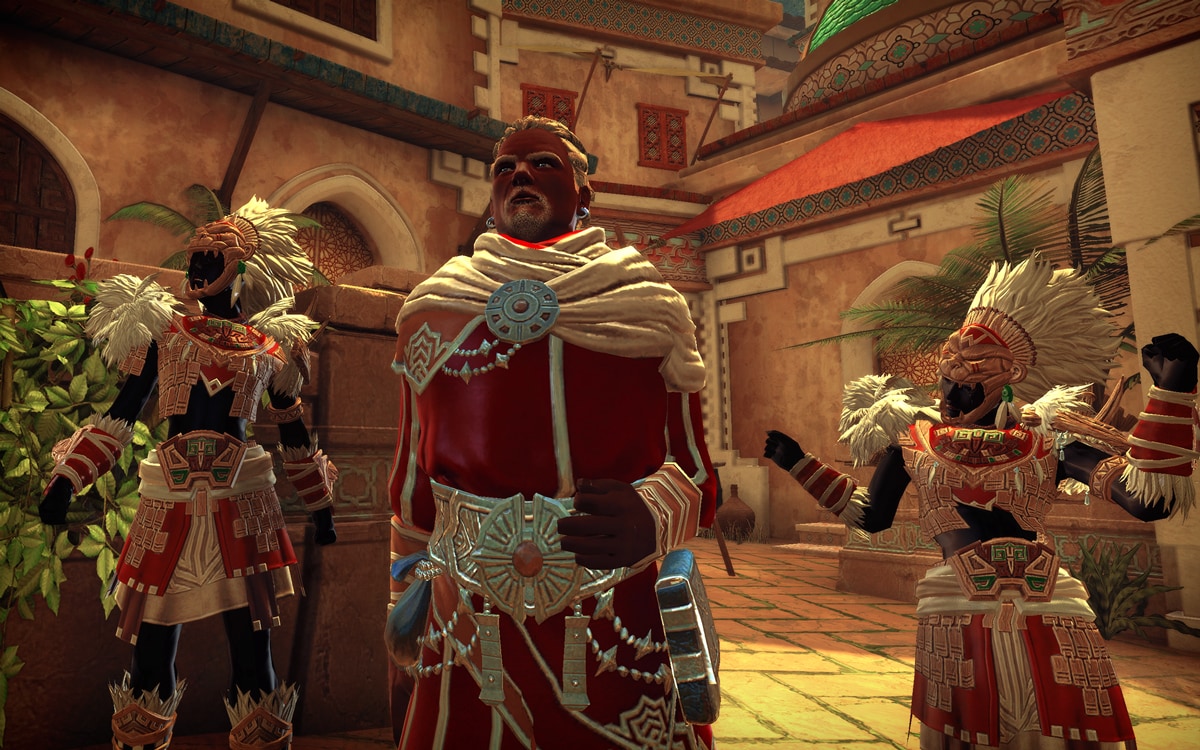 Chult is known for its lost riches and exotic goods. A trip to Chult just would not be complete without visiting the stores and bazaars of Port Nyanzaru. From authentic, colorful armors and delicious foods to the necessities needed for travel, the vendors in Port Nyanzaru have their wares available for all to see and buy! Don't leave without a souvenir to show your friends the decadent riches you partook in from the great city of Port Nyanzaru!
Tracking Your Next Hunt Starts At the Hunter's Square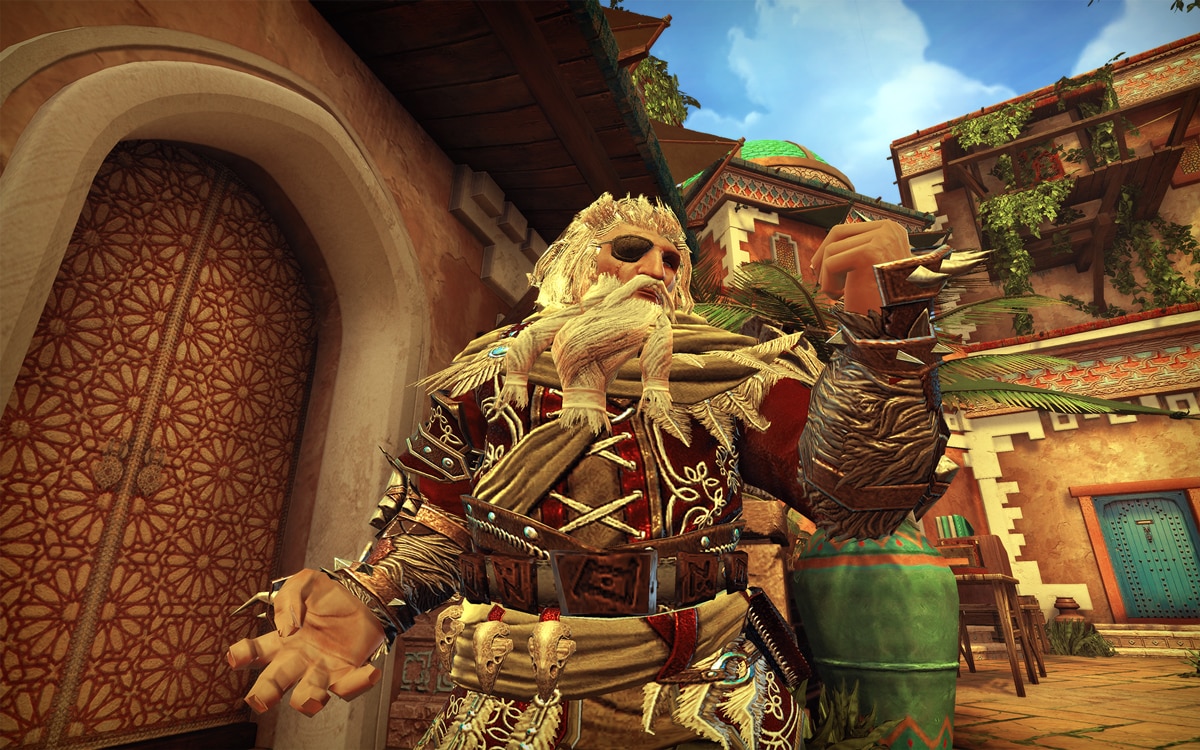 If you are looking for an activity a little more dangerous than walking the busy bazaar streets, you have not far to look. Many adventurers come from far and wide to Chult in the search of rare and dangerous hunts. Here at Hunter's Square all the experienced hunters of Port Nyanzaru gather to share tips and techniques and to spin the yarn of their latest kill. Whether you are a novice, a skilled hunter, or a scholar on a trip, the Square is the place to be to learn about the dangers and rewards of Chult that lurk outside the walls of Port Nyanzaru.
Come Sail Away!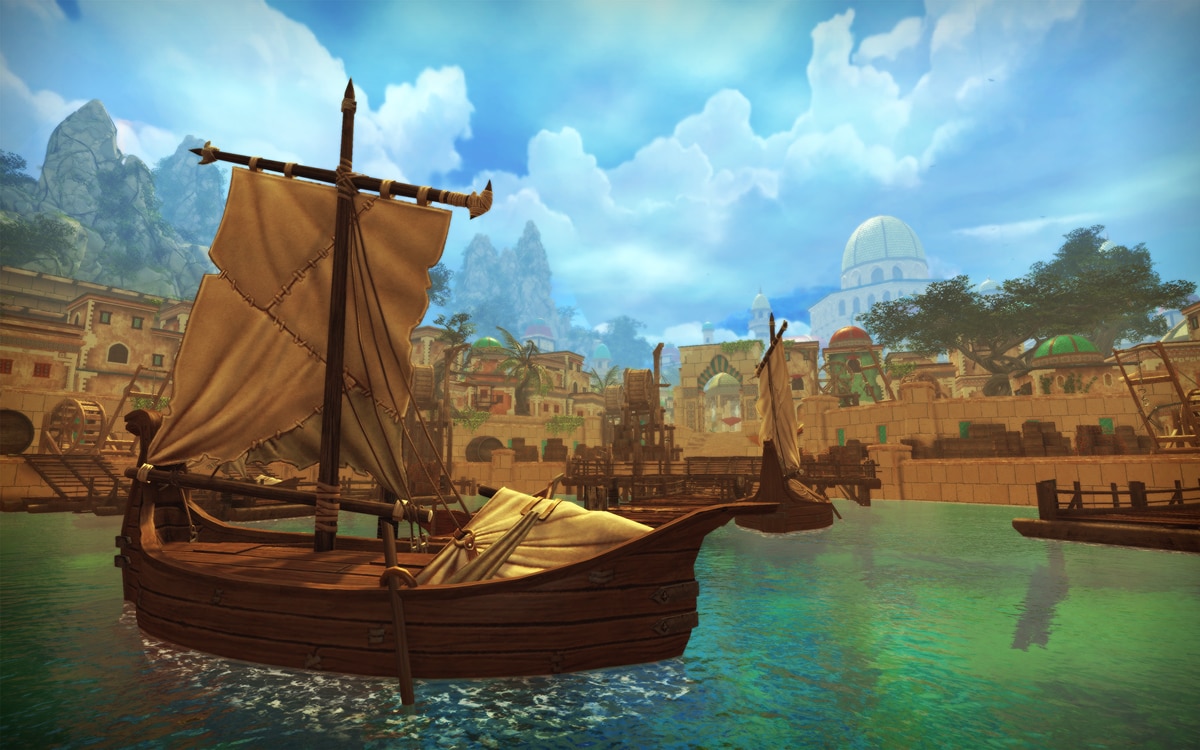 With so much to offer, Port Nyanzaru is your next stop on your way to adventure, so it's time to plan your expedition for a trip to the unknown! Grab your friends and your gear, gather your ship and crew, for the Port is waiting for you!
Chantelle Tatum
Systems Designer
Discuss this Blog in the official Forum thread!