Hey everyone!
We wanted to take a moment to share some exciting news about our first mobile game, Elemental Kingdoms. If you're interested in competitive gaming, and have an iOS device, we'd love to play against you in our upcoming Thanksgiving Tournament of Champions!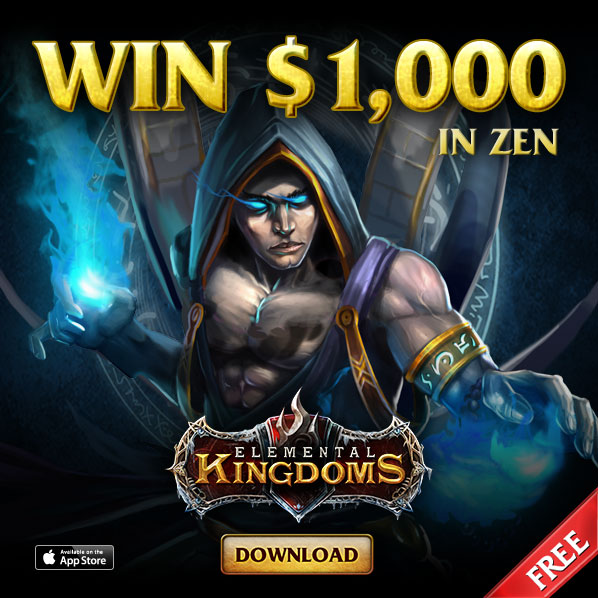 Elemental Kingdoms is the ultimate strategic battle trading-card game. With unique features, an innovative deployment time management system, and 200 distinct cards offering campaigns with over 80 stages spread across four kingdoms, it's TCG "2.0."
Starting on Thursday, November 21st, gamers can compete to win $1,000 in Zen and other prizes. The event ends on Tuesday, December 3rd.
Phase One of the tournament runs from Thursday, November 21st to Wednesday, November 27th. During this time, all challengers must reach level 11 and unlock the "Arena" to compete in player versus player. Every user who unlocks the "Arena" will receive the NEW 4 star Therapod card and can compete in Phase Two.
Phase Two runs from Thursday, November 28th to Tuesday, December 3rd. During this time, users duel challengers in the Arena and compete in ranked matches. Only those with the skill and strength to accumulate the most ranked match wins will be crowned the champ.
In order to participate, download Elemental Kingdoms from the Apple App Store. Sign into Elemental Kingdoms with a registered Arc ID or through Facebook login. (Note: users using the "Guest login" will not be eligible to win).
Prizes will be awarded based on the player versus player leaderboard ranking during the event. The Elemental Kingdoms team will contact each winner individually.
Grand Prizes
1st Place (one winner) -
$1000 in Zen
&
1,800 Gems (a $20 value!)
2nd and 3rd Place (two winners) -
$100 in Zen
&
800 Gems (a $10 value!)
4th and 5th Place (two winners) -
$50 in Zen
&
300 Gems (a $4 value!)
In addition, all players can win fire tokens based on the number of ranked matches they play.
Participation Prizes
Play 200 Ranked Matches - 15 Fire Tokens
Play 140 Ranked Matches -
10 Fire Tokens
Play 100 Ranked Matches -
7 Fire Tokens
Play 80 Ranked Matches -
5 Fire Tokens
To download Elemental Kingdoms, go to: http://bit.ly/19AZrOo
To follow Elemental Kingdoms on Facebook, visit us at https://facebook.com/elementalkingdomsgame