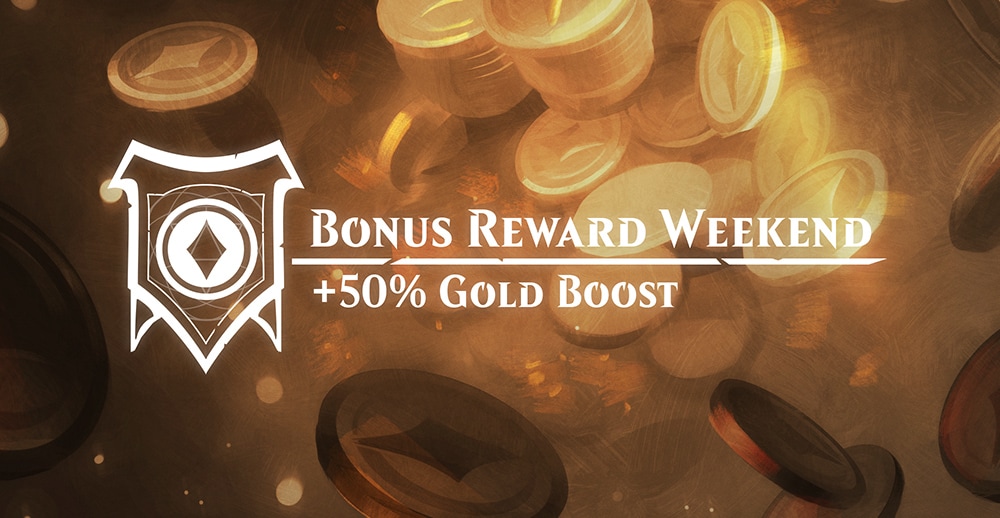 From Thursday, May 20th at 7:00 AM PDT/10:00 AM EDT/4:00 PM CEST until Monday, May 24th at 10:00 AM PDT/1:00 PM EDT/7:00 PM CEST, Planeswalkers can earn 1.5x Gold from all enemy drop and content reward sources - Missions, Skirmishes, etc. With this 50% boost during the event, earn that gold you need to complete Realm projects, upgrade Artifacts, and buy items like spell pages from the Consignment broker that can help improve or expand your loadout.
Please note that during this event, extra Gold is not given for sales to the Consignment Broker. The bonus for Gold will not apply to chests received as Battlepass or Booster Pack rewards.

Check back soon for our next special event with new ones rolling out periodically. Follow us on Twitter and Facebook for all the latest game news and updates. You can also join our official Discord server to chat with the devs and other Planeswalkers like you! We'll see you in the Multiverse!