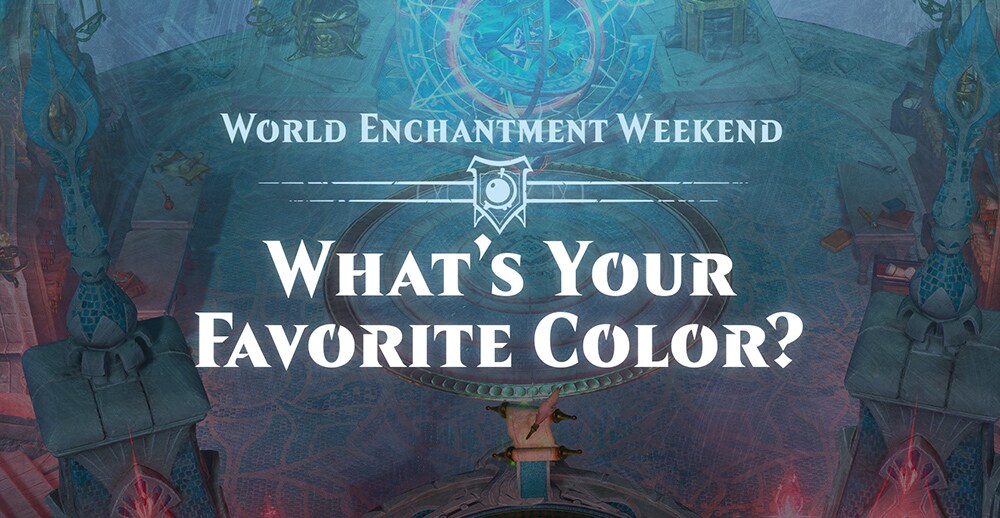 From story missions to upgrading your Realm to group quests, there's always plenty to do in the Multiverse! This weekend, choose your best color...or expand in a new direction! Join us in your Personal Meditation Realm for a special event focused on colorful World Enchantments to help you level up your play and earn more loot in Magic: Legends. Beginning on Thursday, April 29, 2021, at 7:00 AM PDT/10:00 AM EDT/4 PM CEST through Monday, May 3, 2021, at 10:00 AM PDT/1:00 PM EDT/7:00 PM CEST, earn even more World Enchantments through the "What's Your Favorite Color?" event!
Weekend Event: "What's Your Favorite Color?"

During this limited-time weekend event, Planeswalkers can craft up to three additional color-themed World Enchantments each day of the event at the Aetheric Core in their Realm. These color-centric World Enchantments include unique effects that alter the way you approach the battlefield in Magic: Legends, like: Major resistance to Black and Red sorcery spells (Rakdos Resistance), all non-Green creature summons have 60% less health (Nature's Way), non-Blue spells cost 50% more mana to cast (Abstract Ideals), and more!
Event-specific enchantments are crafted at the Aetheric Core, rather than the Prophetic Quill. Note that World Enchantment carry caps still apply.
What Are World Enchantments?

World Enchantments add powerful, world-altering effects that can add further depth to your gameplay. They are consumable, single-use items that attach to story and ordeal mission maps. You can craft World Enchantments with earned materials gathered through gameplay or purchase them at the Consignment Broker. There are three different tiers, with each tier increasing raw enemy and map difficulty, while the enchantment enhances the complexity of your encounters. Learn more about World Enchantments (including a handy table describing their respective effects) in our Difficulty in Magic: Legends blog. The "What's Your Favorite Color?" event helps you get World Enchantments faster than usual, so be sure to take advantage of it!

Check back soon for our next special event with new ones rolling out periodically. Follow us on Twitter and Facebook for all the latest game news and updates. You can also join our official Discord server to chat with the devs and other Planeswalkers like you! I'll see you in the Multiverse!