Loadouts - The Big Picture
As a Planeswalker in Magic: Legends, you will have a number of components that you can collect, customize, and enhance as you defend the Multiverse from ancient threats — Classes, Spell Decks, Equipment, and Artifacts. These components all come together to form Loadouts. Each piece of a Loadout has a specific use and set of modifiers, which allow you to experiment to find many different playstyle combinations. One or more Loadout components may synergize/enhance others — so collecting pieces to uncover new complements will be crucial to building impactful Loadouts.

Classes
Shortly after the announcement of Magic: Legends early last year, we revealed some of the early classes you'll be able to play during your adventures in the Multiverse. Each of these starter classes are aligned with one of the five colors of mana from Magic: The Gathering — White Mana for the Sanctifier, Blue Mana for the Mind Mage, Black Mana for the Necromancer, Red Mana for the Geomancer, and Green Mana for the Beastcaller. While other classes will be available later, these starting classes offer a variety of different playstyles and methodologies on the battlefield.
Each class has a set of regular-use abilities including a Primary Attack, Secondary Ability, and Utility Ability — in addition to a number of characteristics that you need to take into account when building a Loadout, such as how quickly you'll replenish Mana, or how well you can hold up against direct enemy attacks. As you progress each class, you will unlock upgrades to that class's abilities.
For example, the Geomancer's 'Furious Leap' Utility Ability upgrades to 'Berserker's Leap', which has two charges instead of one — allowing you to jump further into the fray with your tanky melee ability kit. For a different combat approach, the Sanctifier's 'Wave of Radiance' Secondary Ability heals allies in a 20' radius for a small amount of HP; and when it's upgraded, it also repels enemies to create space on the battlefield.
When creating Loadouts, consider that certain Equipment pieces can improve several aspects of class-specific abilities, from ability cooldown reduction to increased potency/effectiveness. As a Mind Mage, reduced cooldown on your 'Confound' Secondary Ability can reduce down-time for having a mind-controlled enemy fight for you - while improved potency for the Beastcaller's 'Rending Throw' will maximize damage in a straightforward way.
Class Traits are important unlocks that grant powerful effects and provide additional synergies with Spells and class abilities. You can slot up to three Traits at any given time and a subset of three Traits can be stored in a Loadout. Traits are mostly unlocked by reaching maximum level with any class, while some are earned through additional means.

Spells
At the beginning of Open Beta, Magic: Legends will feature over 170 spells to earn, upgrade, and experiment with. As we've detailed in our Deckbuilding Fundamentals video, the variety of spell types (Creature, Sorcery, Enchantment) offer ample brewing possibilities. Certain class abilities may empower creatures that you've summoned, Equipment components can improve the effectiveness of your Sorceries, an Artifact may improve the up-time of your Enchantments.
Equipment
In Magic: Legends, Equipment is designed to be visible on your Planeswalker, offering nearly-infinite aesthetic appeal, while also being practical by improving your class abilities and general stats. Equipment has four rarities: Common, Uncommon, Rare, and Mythic Rare. The six slots are Head, Body, Arms, and Feet, plus two Accessories. For further customization, each piece of gear also has a Core Mod and one or more Adaptive Mods that provide various bonuses for class abilities and some spells. You can read more about Equipment in our blog here.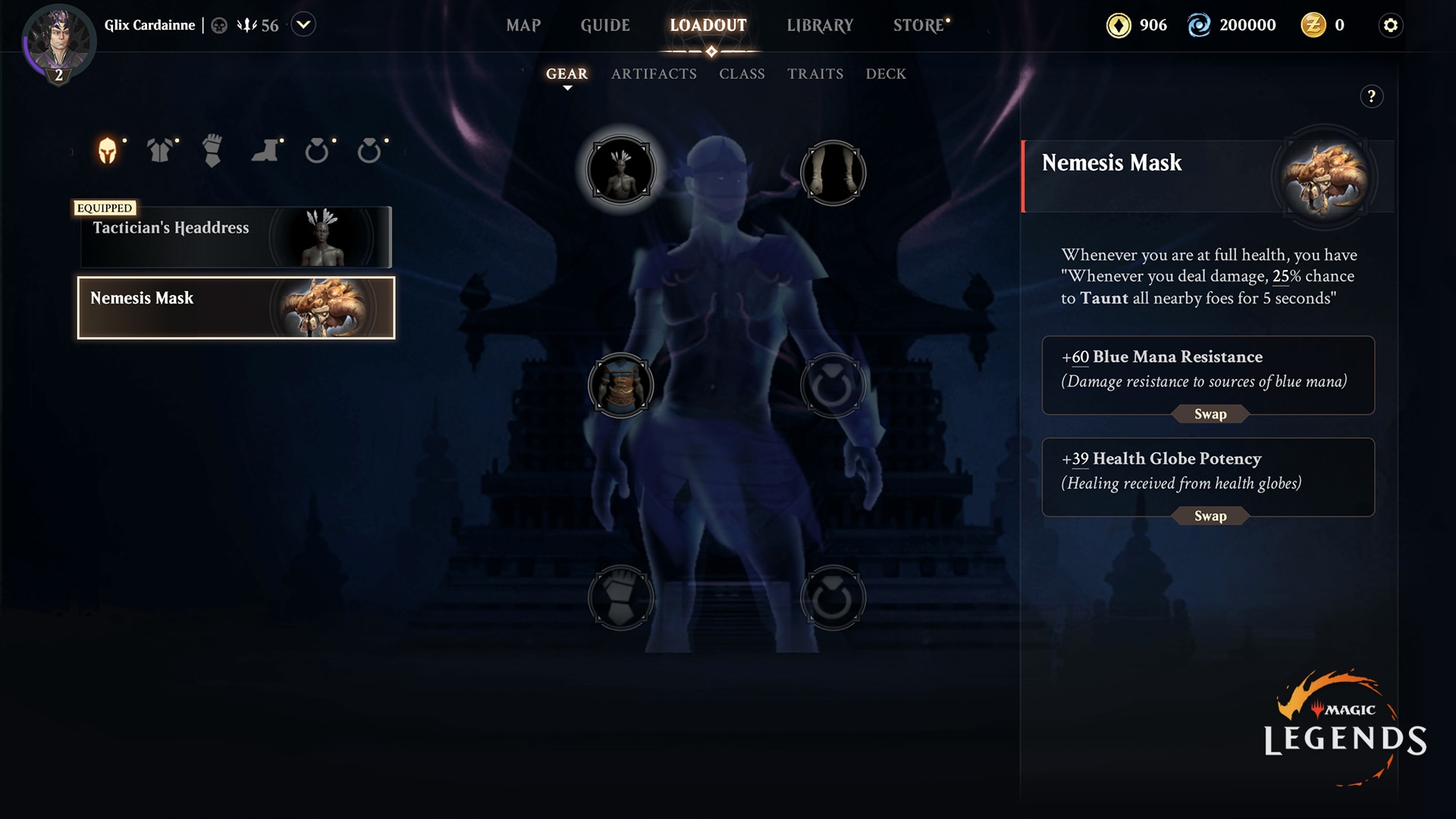 Artifacts
In a previous blog, we took a closer look at Artifacts in Magic: Legends. These unique items exist outside of your Deck rotation and provide permanent effects for your character when they're equipped on your active Loadout. In our previous iteration, Artifacts existed as a kind of hybrid between Equipment and the Artifacts we have now, where they enhanced nearly every aspect of your character from stats to class abilities to effects on your spells. With our new gear system recently being introduced, Artifacts can now be focused, with Equipment serving to upgrade your class abilities and stats and Artifacts improving your Deck and spells. As you collect more powerful Artifacts, they can even do things like activate a special effect upon a successful spell cast or defeating an enemy.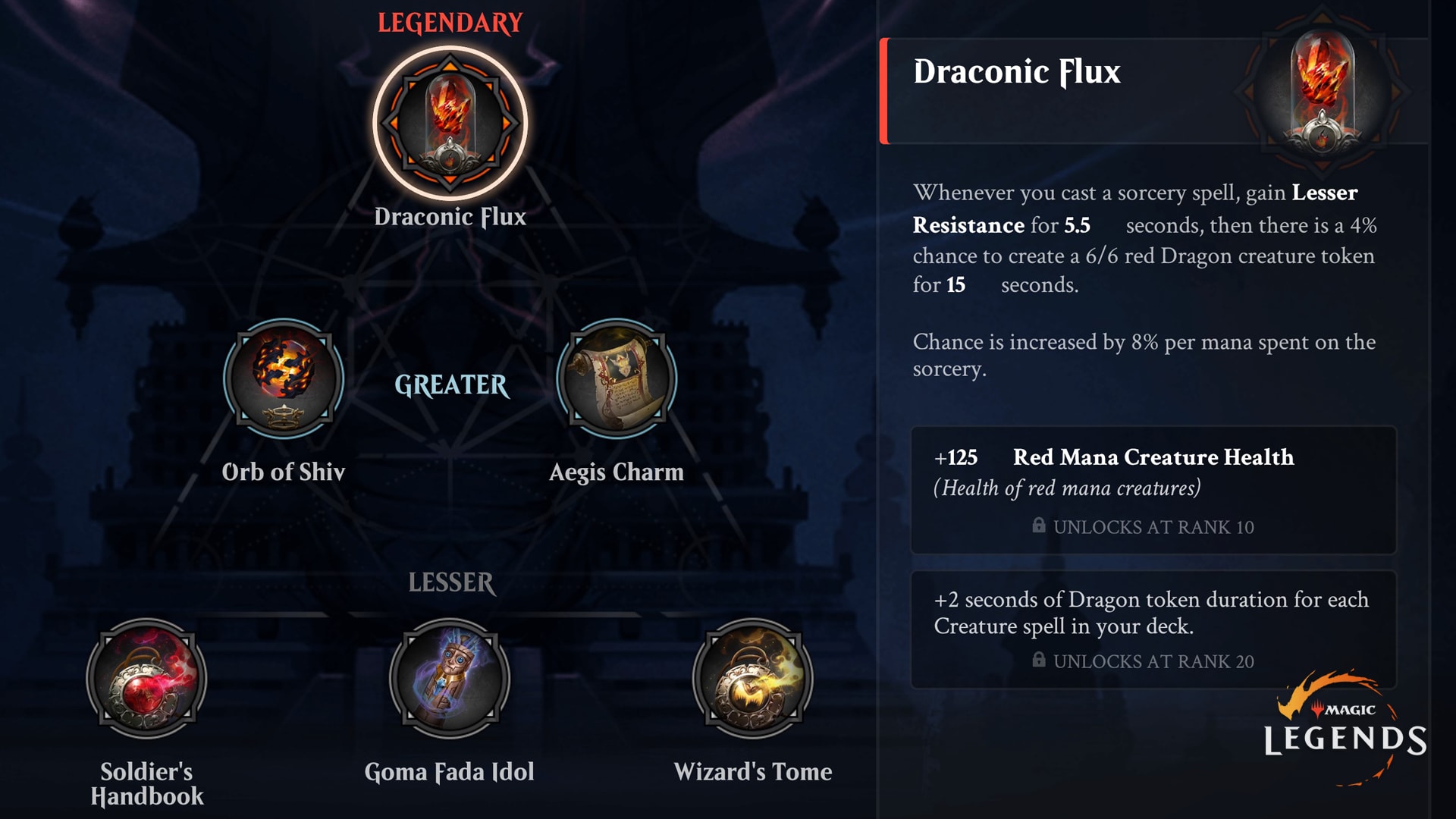 An added convenience of Loadouts is that you can have more than one so that you can easily swap between them if you want to change up your playstyle or play with different groups of players. While you're soloing, you may prefer to play a tanky Geomancer Loadout that leans into Soul Steal and Health Globe Potency improvement to maximize survivability. However, when you're adventuring alongside other Planeswalkers, you may have a knack for supporting, and switch to a Green/White Sanctifier Loadout with Equipment & Artifacts that amplify Sorcery potency, cooldown reduction, and mana regeneration - to maximize healing throughput.
We've got more awesome stuff coming your way as we prepare for Open Beta on March 23, so remember to follow us on Twitter and Facebook for all the latest Magic: Legends updates. You can also join our official Discord server to chat with the devs and other Planeswalkers like you! Then, get ready to ignite your Spark, and we'll see you in the Multiverse!