In our original iteration of Magic: Legends, we wanted to forego the usual loot system seen in most action RPGs with an innovative concept using spells and artifacts of different levels and rarities. Through our Closed Alpha tests over the past year, we've gathered a lot of player feedback about our take on player progression and decided to implement a more robust Equipment system. Delving deeper into itemization, we landed at a structure that feels rewarding for defeating enemies and completing missions, while avoiding the sometimes overbearing loot drops and inventory management that one might expect in an ARPG.
Magic: Legends Gear & Gear Slots
Equipment in Magic: Legends will come in four rarities: Common, Uncommon, Rare, and Mythic Rare - just like in the tabletop version of Magic: The Gathering. These items will fill a variety of slots to deck out your Planeswalker, and you'll mix, match, and maximize gear for your Head, Body, Arms, and Feet - plus two Accessories.
Equipment will have stat bonuses that improve your Planeswalker's overall combat ability and survivability. This is done through effects such as increased damage potency, mana color-specific damage reduction, soul-stealing to consume the life force of fallen enemies - just to name a few.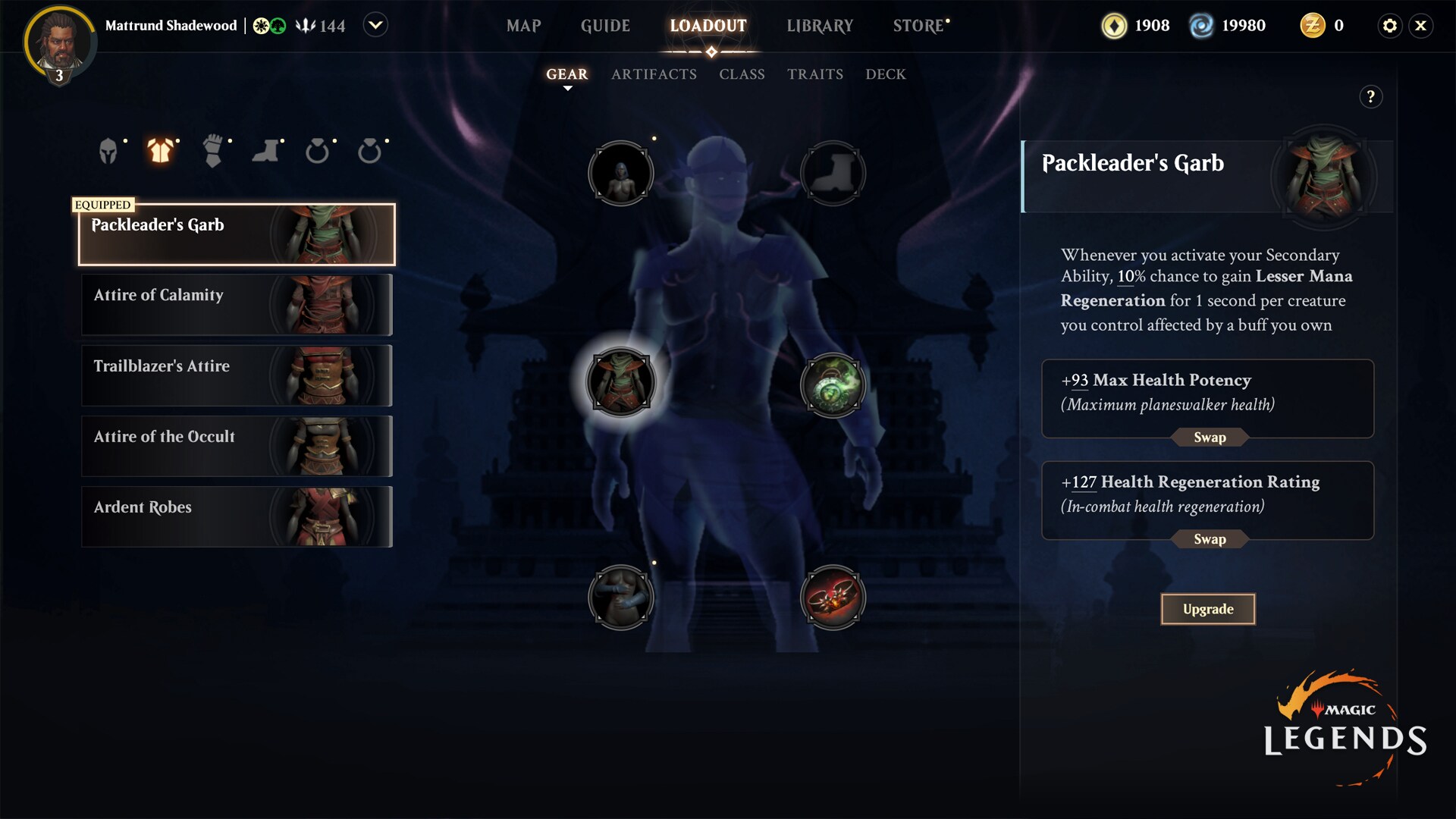 All gear you collect also has a single Core Mod, as well as one or more Adaptive Mods. Core Mods are fixed and cannot be swapped out, while Adaptive Mods can be interchanged. Plus, collecting gear also opens up its cosmetic appearance in The Tailor.
To help focus your Equipment collection, duplicate pieces of gear don't have to be sold to a vendor. Instead, they can be used to either unlock a new Adaptive Mod or allow you to earn an upgrade material for that specific piece of gear. Such materials can then be used to improve the stats of a Mod.
Appearances and The Tailor
Aside from getting the best stats, everyone knows that looking cool is the best way to increase your Planeswalker's effectiveness. In Magic: Legends, Equipment not only gives you access to a wide variety of stats and abilities to enhance your playstyle, but it also unlocks new cosmetic options that you can continue to use throughout your play.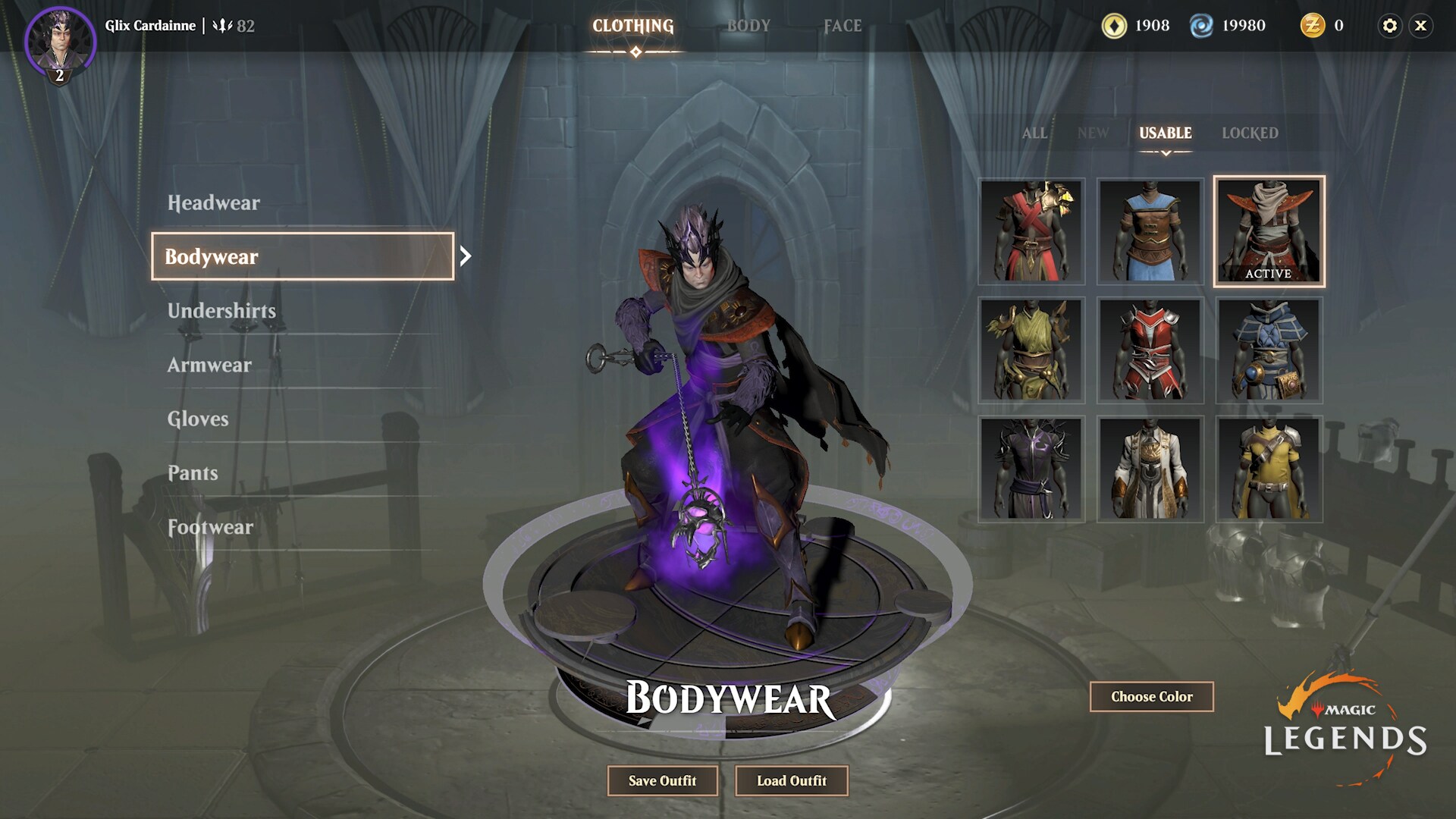 The Tailor is an NPC you'll find in the hub area of each region. There, you can view your unlocked appearances from the gear you've been collecting throughout your adventures. Mix and match your favorite pieces to create a Planeswalker that matches your style. The Tailor allows you to edit your costume's Headwear, Bodywear, Undershirts, Armwear, Gloves, Pants, and Footwear. You can also use The Tailor to adjust your character's body, face, skin color, hairstyle, and more. Then, save those appearances to swap your Loadouts as you want to mix it up. We can't wait to see what you create!

We've got more awesome stuff coming your way as we prepare for Open Beta on March 23, so remember to follow us on Twitter and Facebook for all the latest Magic: Legends updates. You can also join our official Discord server to chat with the devs and other Planeswalkers like you! Then, get ready to ignite your Spark, and we'll see you in the Multiverse!