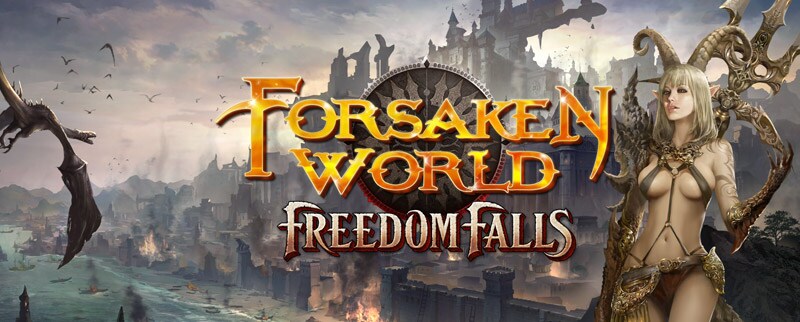 Forsaken World's latest expansion is now live. Create a new Demon Tormentor and fight back against the Storm Legion. Become a god and be worshiped by all. Explore new dungeons and fight all new bosses.
More details can be found below:
New Content
New Group Instance is available: Elemental Spire (Hero Difficulty). The entrance is still in the Free Islands.
Bag slots are expanded. VIP players above a certain level can increase their Bag Slots to a maximum of 180
New Fashion: Raiant Wings are now available.
- Radiant wings provide unique visual effects.
- More visual variety will be available as your Defensive Radiance evolves.
- More items in this category coming soon.
Item tracking function added to item descriptions
- Mouse over a trackable item and press Ctrl+Z and you will be auto-routed to the relevant NPC
- Default hotkey combination can be customized in Hotkey Settings.
Frostgate Fjord Trinkets and other similar trinkets are now unified under Battlefield Trinkets
- Lv 70 Blue Battlefield Trinkets and Lv 85 Light Purple Battlefield Trinkets are now available.
- FF Points can be traded for Whole Mithril Charm, which can be traded for accessories and accessory enhancements.
- All Battlefield Trinkets can be acquired through direct exchange or upgraded from lower-tier Battlefield Trinkets.All costs remain the same both ways.
- The total cost of FF Points in exchange for Lv 77 Purple Battlefield Trinkets is greatly reduced.
- Lv 85 Light Purple Battlefield Trinkets are far more powerful than other trinkets, and offer bonuses to Basic Attributes instead of Additive Attributes.
- Healing Trinkets now provide defensive bonuses
New Advanced Gear for Season 3
- Twin Weapons, Brilliance of Glory and Soul Reforge Energy can be used to upgrade Advanced Arena Gear for Season 3.
- Advanced Weapons are categorized as PVP Gear. (Crit Dodge and Crit Defense can be identified; Accuracy and Evasion cannot)
New Arena Healing Boots and Bracers for Reapers, Priests and Bards.
The Spring Wish Agent will distribute rewards between Jan 26th and Feb 9th
New Mirror Training Grounds
- Players with a VIP Card or 80+ Dedication can be teleported to the Mirror Training Grounds by Kylie in Nightfall Citadel
Rewards for Elemental Spire are now available.
- After fulfillment of 4 Elemental Spire achievements, players can exchange Ice and Fire Essence for the Queen of Freezing Blaze flying mount.
- After the fulfillment of all 8 Elemental Spire achievements (including Hero Mode), players can exchange Ice and Fire Essence for the Divine Phoenix flying mount, which can also be upgraded from the Queen of Freezing Blaze.
- Ice and Fire Essence is dropped from the final boss in the Elemental Spire (Hero Mode) and cannot be traded.
New Solo Instance: Hell Road Depths.
- Additional adjustments have been made to Hell Road
- After the completion of Hell Road and the defeat of Khnum, players can now access Hell Road Depths.
- Both Hell Road and Hell Road Depths are open from Monday 12am to Sunday 9pm, lasting for 1 cycle.
- Hell Road rewards are doubled (Drops, Mastery and Resistance, Devil's Ash, etc.)
When accumulated Rose Petals exceed 486,000 units, Evil Souls dropped from Hell Road Depths will be required to further increase Princess Ayrshi's power.
- Rewards for reaching the Hell Road Leaderboard are improved.
- In Hell Road Depths, a Hell Road Trophy is rewarded for beating every 10 levels.
New Group Instance: Temple of Disaster
- Sign in as a group through Morin on the Airship northeast of Nightfall Citadel. Both Normal and Hero difficulties are available.
- Recommended for teams of 12 to 18 players. Can only be finished once a week. Must be Lv 85 or higher.
Battlefield:
- New 12v12 Battlefield: Heart of Ice and Fire. The winning objective is to take possession of enemy banners while guarding your own. A maximum of 3 players are allowed to sign up together.
- Frostgate Fjord Points are now Battlefield Points, and the reward conditions remain unchanged.
- Lv 90 Purple Off-Hand and it's recipe (Purchased with Battlefield Points) are now available
- The first 2 wins in Heart of Ice and Fire will reward random units of Splendor of Ice and Fire, which is part of the Lv 90 Off-Hand recipe
- This Battlefield is open every Tuesday, Thursday, and Saturday from 12am - 12:30pm and 6pm to 11:50pm
- The opening time to Frostgate Fjord has been changed to every Monday, Wednesday, Friday and Sunday from 12am - 12:30pm and 6pm to 11:50pm
The Mount Bag is now available
- Can be accessed from the Fashion Bag in the Bag interface
- Mounts and Aircraft can be placed in the Mount Bag
- Random Mount/Aircraft Selection is added to Basic Skills. By left clicking, players can decide whether the chosen mount/aircraft is included in the random selection. Only bound Mount/Aircraft apply
- When there is no bound mount in the mount bag, auto-mounting won't be available during auto-routing.
Pet Evolution
- Epic Pets (Purple) are now available
- Lv 90 Pets (Blue) can be upgraded to Epic Pets at the Pet Trainer
- Epic Pets have faster growth of Basic Attributes, take 95% less damage from AoE, and their Talent Growth rate caps at Lv 15
- To upgrade, the Pet Score must be above 6500. The upgrade will also consume 10 Winged Leaves.
- Winged Leaves can be traded for with Fairy Ribbons at the Pet Trainer. Fairy Ribbons drop from the boss monster of the Immortal Pool in Creekbank Valley
Pet Transformation
- Available at the Pet Trainer
- With Transformation Leaves and a pet as a prototype, players can permanently transform the shape of their pets.
- Transformation can be undone at the Pet Trainer, however, the cost of Transformation will not be refunded.
- Transformation Leaves drop from the boss monster of the Immortal Pool in Creekbank Valley and can also be purchased from the Eyrda Boutique
Skill Binding Slots for Pets are expanded
- After binding 3 or more skills for a Pet, players can now bind additional skills at the Pet Trainer. The second additional skill binding will cost 3 Major Skill Crystals.
- Removal of Skill Binding is free.
Gloop
- New Attribute: Fearless; each level grants 3% reduction of Counterattack Damage to a maximum of Lv 12. Available when total level of Gloops exceeds 8.
- Total level of Gloops is now 8 instead of 6. After reaching Lv 8, attributes of a maximum of 5 Gloops can be activated at the same time.
Better Binding Tools are now available; their recipes can be found at the Disassembler
New Plot Quests are available at Wott the Drunkard
New Race: Demon
- Both Male and Female characters are available.
- There are 3 Racial Skills for Demons, learned at Lv 10, 15, and 20
- The reputation officer for Demons is in the Sanguine Circle, from whom XP items can be traded.
New Class: Tormentor
- Available only to Demon characters, Primary Weapon: Trident
- Adept at dealing massive DoT and weakening enemies
- Specializes in Earth and Fire Masteries
New World Areas: Land of Origination and Polar Borderlands
- Kalaires Plain, Gloomy Forest, Lunagrant Woodland, Hazed Wilderness, Sea of Oblivion, Winter Heights, Twilight Town, The Sanctuary, and Eclips Hollow have been taken over by the Storm Legion and cannot be accessed. Players who logged out in these locations will be teleported to the Land of Origination.
- The Tavern has been moved to Nightfall Citadel and new Tavern Quests are available
- Most NPC's have fled to Nightfall Citadel
New System: Apotheosis
- Players whose Dyos' Virtue or Nyos' Vice are at Lv 70 or above can participate.
- Players can obtain Divine Reputation by submitting Divine Glory Badges or consuming Soul Power Points. Claim Divine Glory Badges by: claim free Dancing Miracles or trade Tokens of Faith for Shining Miracles and unseal them with EXP; slay the final boss in Group Instance (Hero Difficulty) or Elite Monsters in the wild; or participate in Hell Road Arena rankings.
- As you receive more Divine Reputation, you will be given stronger heavenly skills
- Currently 5 Godhoods are available: Luck, Destruction, Flowers, Brimstone and Storms. More coming soon.
- Players whose Divine Reputation is above Lv 11 and rank among the top 200 are permitted to compete for Godhood.
- Every Monday, players with Lv 70+ Faith are allowed to choose a player who has become a God's Avatar and pray to him/her. The prayer will grant Divine Grace Status and a certain chance to gain a Gift of the Gods box, which contains Lv 3 gems, Meteor Crystals, and other prizes.
- Players who have achieved Apotheosis are allowed to transform into the avatar of a god for a maximum of 300s per day. Each prayer gathered will prolong the duration of the transformation by a certain amount.
- The god with the most prayers gatheredwill be granted a Grace of the Gods box, which contains a Flame Crystal (unbound), Magic Rock Dust, and Elemental Star Essence.
- The top 10 players in every week's Divine Esteem Ranking (with Lv 11+ Faith) will be granted an Angel's Grace Box and a rare title.
- At 7:40 every Monday, the portion of Divine Esteem that exceeds Lv 11 will be reset.
UI Update: A new interface skin is available. Players can switch between the new and old UI in System Settings.
New Group Instance: Freedom Harbor on Fire
- Report to Hugh Sutherland in Nightfall Citadel to sign up and enter
- For teams of 12-18 players at Lv 85 and above.
- Drops Lv 4 Hero Gear Exchange Kit
- The weakened debuff in every Group Instance has been strengthened, and NPC's capable of removing this debuff have been added.
New Event Instance: Evernight Island
- Available between 12:00-13:30, 15:00-16:00, and 19:00-22:30 every day through fast matching.
- Rewards: Large amounts of EXP and Soul Power Points
- Access Limit: Once per day. Can stack up to 3 times.
New Group-Gear Instance: Deep-Sea Gateway
- For Lv 30+ Players
- Players signed up for a Random Challenge Instance (Basic) will have a chance to access this Instance from WineBarrel Village in the Polar Borderlands
- Rewards: Lv 30 Purple Gear exchange items and Lv 30+ Blue gear
New Random Challenge Instances:
- Basic: Deep-Sea Gateway (Lv 30+), Lost Lighthouse (Lv 40+), and Welkin Castle (Lv 50+)
- Medium: Outer Ancestral Catacomb (Lv 60+), Ancestral Catacomb (Lv 65+), and Freedom Harbor Prison (Lv 70+)
- Advanced: Aeon Spire, Tomb of Kings, Tenebra Mines, and Sickle Island (Lv 80+)
New Lottery System for Gear and Resource Instances. A player who accesses the Random Instance Mode through Fast Matching will qualify for a lottery, which grants rewards according to the duration and the level of the specific Instance
The 2 Random Instances: Wheel of Fate and Random: Rift can be accessed through Fast Matching.
- The open time of Wheel of Fate has been modified to 12:00-12:30, 14:00-14:30, 16:00-16:30, 18:00-18:30, 20:00-21:00, and 22:00-23:00.
- The open time of Random: Rift has been modified to 15:00-15:30, 19:00-20:00, and 23:00-24:00
The Forgotten Legion will invade Polar Borderlands at 13:00, 17:00, and 21:00 every day.
Ghostfang Castle will be open between 12:00-23:00 every Wednesday.
- Players can participate in a group or sign up through fast matching.
- Weekly Access Limit: 3
- First completion every week will grant massive EXP and Soul Power Rewards
- Instance drops Lv 2 Gems.
The Ledgendary Exorcist series of events are available between 19:30-21:00 every Thursday. The events fall into 3 phases and are for Lv 60+ players to gain EXP and Soul Power Points.
The following Instances are now closed due to the invasion of the Storm Legion: Fort Rulotor, Emperor's Canyon, and Arena of Souls.
The following Instances have had their entrances relocated: Lost Lighthouse, Welkin Castle, Freedom Harbor Prison, and Aeon Spire
The opening Times of various Event Instances have been altered.
Personal Signature and Friend Nicknames have been added to the game.
- Personal Signature and Friend Nicknames can be found in the Friends Interface
- Players can switch the way their friends' names are displayed between Player ID and Friend Nickname
- A player's personal signature can be seen by other players
Hero Set Gear:
- The Lionheart Badge Exchange Gear has been renamed to Freshman Hero Gear. It has a max reforge level of +9 and cannot be reforged or extended.
- Hero-ready gear has been removed
- New Hero Set Gear: Grade 4 Hero Set for Lv 88+ players
- Hero Gear and its advancement items can be purchased from the Instance Merchant in Nightfall Citadel's Hall of Glory
- Grade 1 Hero Sets can now be equipped at Lv 60
- Grade 2 Hero Sets can now be equipped at Lv 75
- Healing parts for Grade 1/2 Hero Sets have been added
Accessory Enhancement
- Lv 85+ Accessories with Basic Attributes can now be enhanced to a maximum of a 1.4x Bonus to Basic Attributes
- Lv 78 Golden Accessories can now be directly enhanced to Lv 85
- The original Lv 85 Golden Accessories can only be enhanced after being upgraded with the Spirit Reforge energy
- Lv 77 Light Purple Accessories will not retain their identification Attributes after the Advancement
- Upgrading an accessory to +3, +6, +9, and +12 will enable a new Gem Slot, capping at 4 slots
- Generic Gems can be embedded into Accessories as well as Accessory Only Gems. The embedded gem brilliance will not count towards defense Brilliance.
New Types of Gems
- Storm Gems increase PvE Intensity
- Sky Gems Boost Healing Effects
- Chronoshard Gems lower the cost of Battle Spirit in PvP
- New Types of gems cannot be reforged, but can bind after combining
- All Lv 3 Gems above can be directly combined or merged from 5 identical gems
- Lv 5 gems can only be created through combination
New Levels and Recipes for Jobs can be acquired at their respective Job Tutors in Nightfall Citadel
Flower reservation service is now available from Sarah the Flower Girl
Henry is back with a New Quest: Godlike Glory
- The first 10 completions qualify for max rewards and 3x EXP
- Unclaimed Max Rewards can be stored and consumed the next day, stacking up to 30 times
- If the quest is abandoned it can be picked up again at the cost of a remaining Max Rewards Chance
- Lv 60 players can complete this quest through Pet Journeys
- Life in the Harbor Daily Quest is no longer available
Adjustments
Reaper's Hand-Held Fashion items are now properly displayed
Gear Instances of Lv 70 or below are now available to a party of 2 players
In the Party Interface, the display order of Parties is optimized, with the upper column now showing Party 1, 3, 5 and the lower Party showing 2, 4, 6
The following events now reward Zeal Points: The Crucible Seal (+1), Guild: Dysil's Crux (+5), Elemental Spire Medium Difficulty (+5), Immortal Rift (+10)
Season 3 for the Arena will Soon be available
- Every Player's 3v3 and 6v6 Arena Scores will be reset to 1000, Arena Points reset to 0, and Season 2 performance recorded.
- In the Nightfall Citadel, new NPC's will be available for the exchange of Season 3 Arena Gear, the Season 2 Arena Gear will have lower costs.
- The results for the most recent 10 3v3 and 6v6 Arena Battles will be calculated and recorded seperately
Various items now have larger stack limits
Tarnished Weapons for all classes now feature new models
Level requirements for Lv 81 to Lv 84 items are now unified as Lv 80, and level requirements for Lv 85 to Lv 87 items are unified as Lv 85
Arena Bracers for S3 now have better Basic Attributes and large ranges for reforging
In the Ancient Invasion Event, the Frostfang Lieutenant can be slain a maximum of 99 times per week, and up to 7 Ancient Invasion Packs can be opened per week
Players can now submit Lucky Tops to increase Luck Level. Every 10 units grant a +1 bonus, to a maximum of 6
In Zeal rewards, the Book of Co-op is replaced by the Book of Faith: Meditation III. The Book of Faith now has no level cap and can be consumed 10 times a day.
Items required by the Masteries and Resistances Challenge Quest can be bought by Skill Tutors.
Lv 1 to Lv 6 Forbidden Magic Catalogs are merged as one item. Lv 2 to Lv 6 Forbidden Magic Catalogs are now packs of 2 to 6 units.
Adjustments to Party Finder:
- In Frostgate Fjord, players between Lv 81 and Lv 90 now fall into the same Battlefield Group faster
- Lv 90 players and players between Lv 84 and Lv 80 now fall into the same Sanctuary Ruins Battlefield Group for faster matching
Optimization of Free Islands World Boss:
- Upon death the World Boss curses players who attacked it and causes them to deal less damage to other players and Spectral Commanders
- Upon death of all Spectral Commanders, this curse can be lifted by the Man of Free Will in Winter's Wrath
Adjustment: Pet Essence Refinement
- Pet Essence Refinement is now available at the Pet Trainer in Nightfall Citadel
- Any pets above Lv 30 can be refined
- For pets of different qualities, the number of Pet Essences may vary. Pet Essence can be traded for Pet Anima
- Upon consumption, a Pet Anima will always grant a Pet Talent Enhancement Item, and there is also a high chance for an Advanced Talent Enhancement Item
Pet Soul Transfer:
- The quality of the transferring pet and the transferred pet should be the same
Monsters in the Pet Journey: Gods' Trial 2 are leveled up to 90
There will be no Faith reward penalty for slaying monsters 5 or more levels below the player in Pet Journey: Gods' Trial 2
The data transmission of character information in the arena has been optimized to fix the slow refresh rate of opponent models.
The reward for Instance: Glistening Lowland is now a Ghastly Flare Gembox and a bonus unit for Lv 60 players or above
The display sizes of graphical Titles have been modified
Adjustments on the stacking of World Fortune and Personal Fortune
- Fortune now caps at 30 stacks, with each stack granting 20% bonus EXP
- There are 2 ways to increase Fortune:
1. Every 66 Fortune Points grant 1 stack or 2 stacks (at a minor chance)
2. Every 2 Fortune Tops grant 1 stack
- Finishing Blue or Green Personal Fortune will result in an increase of 5 to 10 Fortune stacks
- Every 1st, 11th, 21st, and 31st day of the month is now World Fortune Day. Finishing the World Fortune of the Solar God and the Lunar God will grant an additional 2x bonus base EXP.
The sources of various Achievements have been altered.
The contents of Soul Power Gates have been modified.
Gloop:
- Unbending: When Wraith is enabled, Crit Damage Reduction has been increased to 1% per level instead of 0.3%
- Protection: When Wraith is enabled, there will be a bonus of 4 points of every Elemental Resistance per level instead of 180 points of Damage Reduction
The opening of Fort Khoaway is now 12:00-23:00 every Monday. The rewards are EXP, Soul Coins, and Sapphire Scrolls. The first completion grants the best rewards.
The opening time of Nightmare Carnival is now 12:00-23:00 Every Tuesday. The rewards are EXP and Carnival Tokens. The first completion grants the best rewards.
The opening time of Ancestral War is now 12:00-23:00 every Friday. The rewards are Ancestral Battlefield Reputation or Valor Tokens. The first completion grants the best rewards.
The opening time for Advanced Nightmare Carnival is now 12:00-23:00 every Saturday. The rewards are EXP and Carnival Tokens. The first completion grants the best rewards.
Sanctuary Ruins
- Opening time: 18:00-23:00 Every Sunday
- The Daily Quest is now a Weekly Quest, with the first completion granting 400% EXP and Soul Power Rewards. (Soul Power is available starting at Lv 60)
Gear Advancement has been optimized. Now Advanced Gear can retain it's identification Attributes, Extended Identification Attributes, and Transmutation Attributes
- Lower-rank Hero Sets can be upgraded to Higher-rank ones
- When the next Arena Season comes, Arena Gear can be upgraded for the new season
- Advancement for Twin Weapons and Arena Weapons
- Advancement for Golden Accessories
- Advancement for Lionheart Camp Weapons
- If both the Transmutation Scroll and the consumed gear are unbound, the result will also be unbound
The Basic Attributes of Elemental Set Gear, Lv 85 Golden Bracers, and Golden Boots have been greatly increased
Enhancement Cost
- The enhancement cost of Lv 60+ Gear has been greatly decreased
- Enhancement Transfer will only be related to gear level instead of gear quality
- The number of tiers in the Enhancement Transfer have decreased, which means lower cost for level-inconsistant Enhancement Transfer
Gear Categories
- Gear Exchange Shards and the relevant Gear have been removed
- The early Instance Blue Gear now falls into 3 tiers: Lv 30, Lv 60, and Lv 75
Lionheart Camp Gear
- The rookie enhancement items have been removed and the Lionheart Camp Weapons can now be enhanced by Star Crystals
- The Lionheart Camp Weapons can now be enhanced to a maximum of +9
- The Lionheart Camp Weapons can no longer have Extended Identification Attributes
- Lv 60 Lionheart Camp Weapons can be advanced into Tier 1 Hero Weapons
- Lionheart Camp now also rewards Star Crystals and ID Scrolls
Animas
- The upper level limit of consumed Gear in Anima Fusion has been removed, while the lower limit persists.
- Defensive Anima Items can now be purchased from Merchants with War God Points
- Anima Rewards of Ancestral War have been removed
- The daily reward of Fusion Charms has been removed
Battle Log display
- Damage inflicted by a certain Offensive Status is now displayed in Purple, with it's damage source and the exact skill shown
- Healing effects are now displayed in light green with their source and exact skill shown
New Realm Switching: Players can now switch realms from the Realm Display at the bottom right corner of the screen
Skill Training: Skills can now be learned in the Skill Menu, however, learning a high level skill still requires the unsealing of a skill scroll
Simplified Mastery and Resistance training
- Lv 40 players who have finished their Barrier Breakthrough Quest can train Masteries and Resistances at any time from the Character Menu
- Mastery and Resistance training no longer consume Stamina
Race Skills are automatically learned upon reaching certain levels.
Transmutation
- The success rate of Transmutation is greatly increased, and so is the amount of compensation when it fails.
- Blue and Purple Transmutation scrolls now accept both Blue and Purple Gear
- The scope of acquired attributes from Transmutation has been adjusted, Purple Scrolls yield better results than Blue Ones
- The bonus from Transmuted Scrolls to other gear has been set at 100%
- Transmutation scrolls and consumables can now be purchased with War God Points
New Personal Reputation:
- Ode to Guardian: Obtained by completing various Instances with Stamina or Energy, can be exchanged for various tradable items
- Unlock Points: Obtained by completing various Instances with Stamina or Energy, can be exchanged for various tradable Gear Enhancement items such as Crystals and Runes
Adjustment:
- Odyssey Series Event:Fishing and LCS Daybreaker have been removed
- Odyssey Series Event: New event The Forgotten Legion has been added
- The Daily Event will now count the Tavern Daily: Tamed Lamb and the Tavern Daily: The Poet's Entertainment
- The Instance Event has added Wheel of Fate. Completing the Instance a certain number of times will qualify for the Magic Chest Reward
The Alchemy Association has adjusted the healing effects of Potions and increased the recovery of Basic Potions. Some Basic Potions are no longer available. Remedy Dealers have also adjusted the price of their potions
Quests involving exchanging Stamina or Energy for Shylia's Favor are now in the Party Menu and Character Menu

Class Skill Adjustments
Assassin:
- Sneak Attack: casting time is now 3 attacks in 2s, with the first attack stunning target for 2s; now triggers Talent: Intensified Aggression
- Internal Injury: proc rates are now 10%/40%/70%/100%/100% instead of 10%/20%/30%/40%/50%;
- Swirling Blade: proc rates are now 10%/40%/70%/100%/100% instead of 10%/20%/30%/40%/50%;
- The 100 Energy Points bonus of Virtuous and Vicious is now 20% additional Critical Rate for Deputy of Death
- Deputy of Death: stack rate is now 100% instead of 20%
- Frenzied: effective duration is now 10s instead of 4s; Casting Speed boosts are now 10%/20%/30%;
- Shadowbreak: Evasion boosts are now 200/240/280/320 instead of 20/24/28/32; Cooldown is now 180s instead of 90s
- Aura of Shadow: the Critical Reduction effect now grants the same amount of Critical Reduction equal to 20% of the player's own Critical Rate per hit; stack up to 5 times.
- Dark Nightmare can now receive bonus from Physical Mastery due to The Talent: Dust
Warrior:
- Slash Storm: 100 Faith Energy Points now reduces Cooldown by 2s and grants 30% bonus Attack Damage.
- Evil Ward: floating skill tips and Faith Interface tips are optimized to properly present its actual effects.
- Mastery and Resistance of Thunderous Cleave is now correctly calculated.
Mage:
- Ice Concentration now grants Basic Attack Damage equal to 0.7% of max Mana instead of 0.5%;
- Sinister Protection: now directly consumes 20% of max mana to absorb the same amount of damage in a given time; Cooldown is now 10s instead of 15s
- Energy of Protection: now promote the effectiveness of Sinister Protection by 30%/60%/90%/120%
- Magic Meditation: now immune to damage reflection when active;
- Ice Spike: after reaching 75 Energy, every Water Mastery above 1000 will now grant additional 0.15% Basic Attack bonus ratio
- Fury of Ice: after reaching 80 Nature Energy (Blue), every additional Nurture Energy will now grant additional 1.5% Basic Attack bonus
- Deep Freeze: after the cast of Frozen Domain, the immunity effect to damage reflection of Fury of Ice now lasts for 15s
- After reaching 90 Nature Energy (Blue), the bonus immunity effect to damage reflection of Fury of Ice now lasts for 15s; 90 or above Virtue Points now grant the same bonus
- Spark Burst: for Kindred Mages, Cooldown will be correctly reduce after reaching 90 Origin Energy.
- Nyos' Nature (Blue) Energy: Fury of Ice Lv3 will no longer consume Deep Coldness effect.
- Arctic Rage's casting speed will no longer be overly slowed
Bard:
- Inspire: Each stack of Inspire now grants 1%/2%/3%/4% bonus Attack Damage instead of 0.6%/1.2%/1.8%/2.4%
- Slumber: Each stack of Rest in Peace now grants 5% bonus for Basic Attack Damage of Requiem
- Voice of Freedom--Cost of Freedom can now stack, maximum at 20 stacks; every additional stack will reduce defence by 225
- Frost Blade now converts 2 attacks of Melody Mastery into Wind Attack
- Frost Devour now converts 2 attacks of Melody Mastery into Water Attack
- Light Sonata: Basic casting time is now 1s instead of 2s
- Movement: Power: Basic duration is now 30s instead of 16s
- Voice of Freedom: Cost of Freedom has been removed, and consecutive casts of Voice of Freedom will not cleanse Infuriate. Lv3 Voice of Freedom can not be effective on a teamate twice within 15s.
Priest:
- Divine Light: bonus from heal is now 100% per cast instead of 20%; Basic heal amount is raised by 60%, with each cast healing a pencentage of max mana (0.5%/1.0%/1.5%/2%/2.5% at Lv1/2/3/4/5); doubled heal effect of the last cast is removed
- Sacred Healing: merged with basic healing effect.
- Human Priest's Rapid Healing won't end Heal state.
- Withered Fog can stack now.
Marksman
- Crack Shot Time: when active, a bullet will now be restored periodically
- Soul Resolution: the immunity effect to damage reflection and bleeding is now detached from the damage absorbtion effect; immunity to damage reflection now lasts for 15s instead of 10s
- 100 Fervor Energy (Red) Bonus: Angry now grants 20% Critical Rate Reduction and immunity to damage reflection for 15s
- 80 Nature Engery (Blue) Bonus: there will be a chance to stunt as long as the number of bullets exceeds 5
- 100 Nature Engery (Blue) Bonus: when Bullet Time is active, each attack of Burst of Rage will now deal 15% more damage
- Hollow Point: now provides 5%/10%/15% bonus Critical Damage.
- Quick Reloading's casting time and interval have been lowered to 1s. Up to 10 bullets can be obtained.
Vampire:
- Blood Control: when active, the cooldowns of Invigoration, Dark Contract and Seed of Life are cut by half
- Imp Form: when active, the bonus attack damage ratio of Charmed Strike is now 120% instead of 10%; however, bonus damage can no longer stack
- Blood Curse: upon the activation of Evaporation, all crowd control effects will be removed
- Misty: each point will increase the Evasion under Imp Form by 40 instead of 8.
- Nature Energy (Blue): after reaching 90 points, Imp Form will now grant 5s of control immunity, and every addtional point will add another 2s to the duration.
- Bloodletting's cast time has been lowered to 1s. When the target's HP drops below 50%, there will be a bonus damage equal to the character's max attack damage. The DoT damage now tick once every 2s.
- The casting time of Dark Curse under Inferno Bat status is shortened
- Blood Rite can now be cast under Inferno Bat status
Protector:
- Asylum Aura: After reaching 85 Wisdom Energy (Yellow), teammates will be granted a 1% max health bonus; every additional point will grant another 0.1% max health bonus.
- Gale Force now applies correctly to Mounts
- Protection of Strength effects will vanish after gear switch.
Reaper:
- Mad Cleave: the bonus effect of 100 Vicious Nature Energy will now be correctly displayed as 20% bonus Crit Rate for Blade of Blood Rage
- Grand Cleave: when Nyos' Vice is active, this skill will no longer be wrongfully displayed as Vicious Grand Cleave.

Bug Fixes

Anima will no longer disappear after leaving certain instances.
The Daily Anima Charm button will now properly float for Lv 81 to Lv 90 players
When exchanging Sealing Scrolls, there will be a notification of whether the player has learned this skill
Purple Pets will now be displayed at the right sizes
Realm Switching and spell casting will no longer end the mounted status.
Some Localization Fixes