Fusion Agent Lv1 is back in the sale spotlight for this week! Pick up these highly useful vials of unknown concotions now in the Eyrda Boutique for a great price.

Sale Start Date: Wednesday, October 8th, 2014
Sale End Date: Tuesday, October 14th, 2014

Fusion Agent Lv1
10 Leaves - (50% off)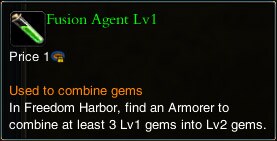 This deal will only last until Tuesday, October 14th, so make sure to get your fusion agents now!