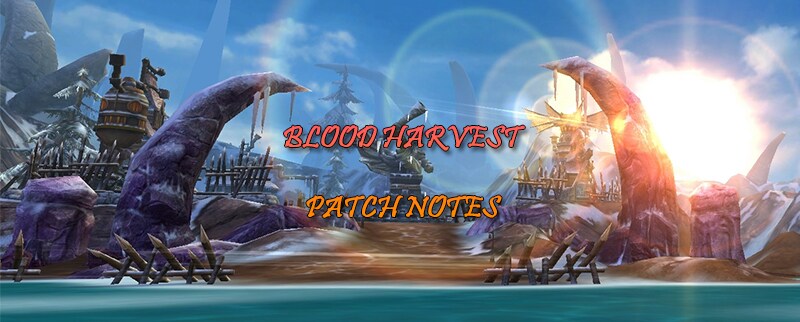 Forsaken World: Blood Harvest Patch Notes
Level Cap
-The level cap has been raised to 90! New Skills, new Talents, new Virtues and Vices, new Gear!
New Class
-Introducing the all-new Reaper class! This class can function as DPS or Tank roles and wields a mighty Scythe in battle. Only Lycan and Kindred are capable of becoming Reapers.
New Map
-Venture into the Free Isles, ancient homestead of Eyrdan Pirates!
Main Quest Expansion
-Embark on the quest to rescue General Sutherland in the Free Isles!
Tavern Quest Expansion
-Continue the adventures of Charlie, Amoe and company. Unlike the pie, the picnic is no fabrication! Unless it is...
New Instances
-Lv40 and Lv60 Lionheart Training Camps are now open!
-Sickle Island: Clear the vermin that plagues the town of Sickle Island for great rewards!
-[Group] Elemental Spire: Ascend the Elemental Spire and challenge the Magic Emperor himself. Are you up to the task?
New Events
-Elemental Cage: Every Thursday, starting at 21:30 Server Time, players can enter the Elemental Cage from teleporters in the racial starter zones. Defeat the Elemental Spirits to acquire powerful element-resistant gear!
-Ancient Creature Invasion: Starting at 14:00 server time every day and repeating every 2 hours until reset (00:00), Ancient Creatures will appear throughout the Free Isles. Enter their instances to challenge the creatures and attain their power!
Guilds
-2 New Guild Base buildings!
--Guild Mechanic: Sells recipes for potions that should greatly increase your chances against the might Dragons of Dysil's Crux!
--Rune Institute: Learn the Rune Collection skill here. Rune collectors are able to get runes upon completing Sanctuary Ruins, with a chance to receive high level and advanced runes!
-Guild Trade Runs have increased rewards. Additionally, the new Guild Business event can be triggered to further increase the rewards from Trade Runs!
-Guild Banquets now all provide the same amount of EXP. Higher level Banquets permit use of the various foods that can increase the EXP gain.
Optimizations
-EXP gain from quests significantly increased for quest below Lv70
-Guide Quests are no longer required to access certain game systems (No more forced PvP to unlock Virtue/Vice)!
-Lionheart Training Camp EXP gain is increased
-Memento Pack is now the God Gift Box.
-Lv60+ Instances provide War God Points as a completion reward.
-Anima can now be trained up to 250 times per day (up from 150)
-Fel Irradiated Ore can now be traded to other players
-Purchase Reward Players can receive Fusion Agents from Jane Morningstar
-Jane Morningstar now sells a number of Gem-related items (including Level 4 Fusion Agents!)
-Aepelio Treasury Order is now available at Lv90
-Introduced the Lionheart Dragonmark Badge. Collect and exchange these for gear with the Fleet of Myth merchants.
-Significant balance changes for all classes' skills and talents.
-Mastery and Resistance Points now split in to two distinct values
-Skill tutors sell an item that will allow you to redistribute points
-Points gained from Hell Road are not redistributable