Hi Forsaken World!
Spring is about to arrive and we thought it would be a lot of fun to have everyone let their creativity fly! We'd like to hold a contest where everyone can spread their wings! Design a pair of wings that you would like to see in Forsaken World! Use your imagination to put your personal flair into a pair of wings. ANY of the received entries may catch the design team's attention for possible development! You may submit your entries on the event's Facebook post or forum thread. We will choose 3 winners from EN and 3 winners from EU! AND if there are enough creations submitted, there will be special community rewards!
Create Your Own Wings Contest!
Contest Rules:
Make a pair of wings you would like to see in Forsaken World!
You may submit multiple entries, but you can only win once.
Use of photo editing software is NOT required, but is allowed.
Make sure to list your Character Name, Server and a little about your creation (at least the name of it).
Please keep all entries appropriate (PG-13 at most).
---
Event Begins: March 15, 2019 @ 10:00 AM PT
Contest Ends: March 27, 2019 @ 11:59 PM PT
---
First Place:
-Candlelit Wings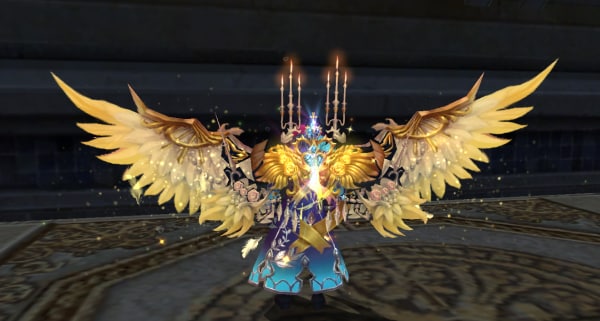 -Vitality Giftpack (contains: Astral Reforge Crystal x20, Lv3 Deluxe Rune Pack x3, Crystalline IV)
-Mercury Statuette x30
Second Place:
-Gem Grand Pack (contains: Ragefire III x2, Bloodstone III x2, Solarflare III x2, Eageleye III, Goldspark III, Twilight III, Shattershard III)
-Superiority Giftpack (contains: Star Fragment x10, Pet Essence x10, Mystic Lv3 Rune Pack x4, Bloodstone IV)
-Mercury Statuette x20
Third Place:
-Freedom Gift (contains: Soul Diamond x20, Ragefire IV, Astral Reforge Crystal x5, Life Flood
-Justice Assembly x2 (contains: Bloodstone III, Ragefire III)
-Mercury Statuette x12
--- Unlockable Community Rewards ---
(40+ Unique Entries)
-Burnout Pack – contains Ragefire III, Star Crystal x5, Soul Diamond x10
-Grand Lv3 Rune Gift Pack x2
---
Want to get the most out of Forsaken World? Like us on Facebook for more fan-exclusive content and follow us on Twitter – tweet us your questions!