Log in every day and get awesome rewards! A brand new daily attendance system is now in place, and you have a chance at scoring some awesome items just for logging in each day.

Want to get started? The first step is to log in to the game! Make your way to everyone's favorite Freedom Harbor NPC Henry, and open up his quest menu. You'll find a quest called "Daily Attendance". Accept this quest to immediately receive three things – an Attendance Token, a locked lockbox, and an unlocked lockbox that can be opened immediately!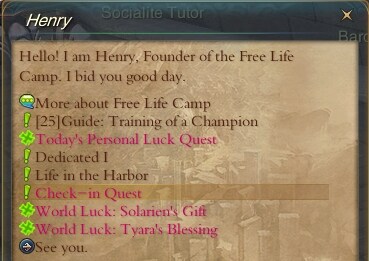 Pop open your unlocked lockbox to get some awesome items out of it. There is a vast amount of loot to be had in this box, including Tokens of Faith, Elite Stars of Hope, Star Fragments, Mounts, and even the coveted Heavenly Crystallized Oracle: Light of Revelation. The item you get from this box is random, so remember to log in every day so that you can have a shot at getting more valuable rewards.


The fun doesn't stop there though. Take a trip to Otis Horkennan in the middle of Freedom Harbor, and you'll notice that he has a new tab in his menu labeled "Attendance". It is within this tab that you can trade your Attendance Tokens for some important items. The most important item is a key that can be used to open a locked lockbox. Each key costs 2 Attendance Tokens, so you'll be able to open a locked box every 2 days, as long as you continue logging in.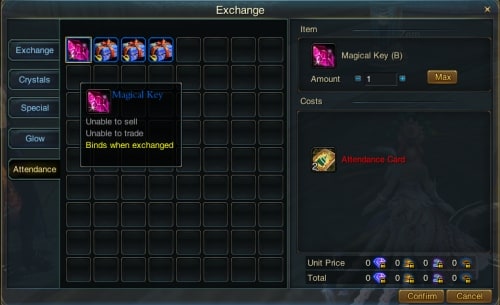 The other items are three unique lockboxes that require Attendance Tokens to purchase. These boxes get more and more valuable the higher their price, so it's up to you – do you save your Attendance Tokens to grab a high value box, or use your cards to open your daily locked lockboxes? The choice is yours! For a complete list of what all of these boxes have a chance to contain, click here.


Finally, you can make things a little easier by using the Boutique. Keys can be purchased for 40 leaves that can be used to open a locked lockbox. This will allow you to open locked lockboxes while retaining Attendance Tokens you would have otherwise potentially spent on keys.