Hi Champs!
Ever wanted to run around Earth as a mechanized super hero? Well look no further than the Variable Robot costume set in Champions Online! Inspired by meedacthunist's submission for our Design-A-Costume contest, the Variable Robot costume set provides a connection between the character and vehicle models. This costume will be coming to Champions Online in the near future. Congratulations to meedacthunist and we look forward to see mechanized super heroes running around our world soon!
This costume set is on PTS now for Gold subscribers to playtest. If you're subscribed, transfer a character to PTS and try it out before it goes live!
Check out these screenshots below for a sneak peek of the Variable Robot costume set (click the screenshots for larger versions):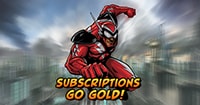 Want more game details and screens? Like Champions Online on Facebook for more fan-exclusive content and follow us on Twitter – tweet us your questions!