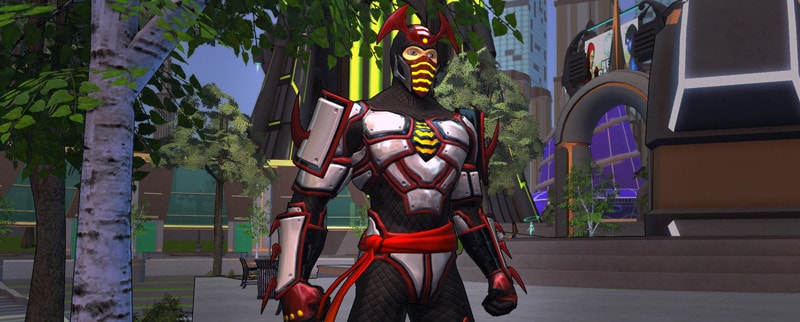 Champions! The Steel Shadow Lock Boxes are only available for a limited time left! Now is the opportunity to open yours and get a bounty of great items!
Steel Shadow Lockboxes will drop featuring Ken Kanno's Assassin's themed items like the Naginata Vehicle, the Stealth Aura, Legion Gear, and a brand new Steel Shadow Costume Set. The Lockbox also comes with a Booster Box II annd Drifter Salvage. Now you can be equipped with the same tools that Steel uses to hunt down his foes.
Legion Gear is incredibly powerful, and is only available in lockboxes. With four slots for MODs, its stats can be extremely high, allowing you to specialize to exactly the build you want. This gear is level-appropriate, so you may want to open it on a Level 40 character.
Lockboxes like the Steel Shadow lockbox will drop as additional loot from defeated villains, and can be opened with Master Keys from the C-Store (available for 100 ZEN). Each lockbox also includes at least two pieces of Drifter Salvage, which can be traded in for prizes, and one boost. These are bonuses, and don't impact the odds of winning any other prizes.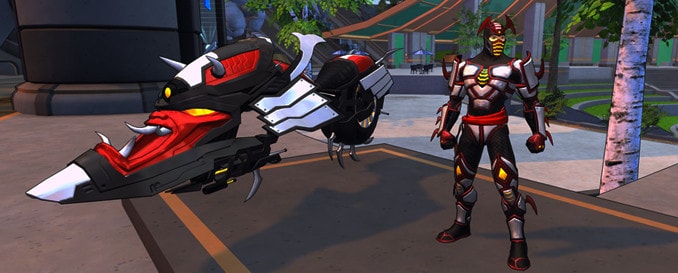 The new Steel Shadow Lockbox contains great Assassin themed items, the highlight of which is the Niginata Alpha Grav Bike. This uniquely designed grav bike is equipped with the Flamethrower Mark 2 and the Anti Aircraft Missiles Mark 2! The bike is also equipped with a total of 8 MOD slots: four Weapon, two Defensive and two for Support.
Each lockbox contains one of the following:
2+ pieces of Drifter Salvage
One prize from the list below
One random boost

Prizes:
Steel Shadow Costume Set
Naginata Vehicle
Naginata Alpha Vehicle
Legion's Armor Pack
Steel Shadow Sword Weapon Skin
Stealth Aura
Mercenary's Armor Pack
Rare Modification Case
Vehicle Modification Case
Crate of Drifter Salvage
Crate of Questionite
Modification Supply Case

Along with the Steel Shadow Lockbox, the Kusarigama and Kusarigama Alpha grav bike will be available in the D-Store for 250 Salvage. Grab up your salvage to get this new awesome bike!
Remember Champions! When you open lockboxes, you also get the Lockbox Bonus Card! Players can open different lockboxes and work towards unlocking unique rewards! Read more information here.
Want to learn more about the stealthy assassin known as Ken Kanno? Learn more about his mysterious past:
As a successful graduate student at the University of Tokyo, Ken Kanno was one of the best in his class. However, one fateful day, Ken was involved in a terrifying laboratory accident! A wave of dark energy exploded in the laboratory, destroying everything around him.
When Ken Kanno recovered from the catastrophe, he realized the true chaos he had unleashed. Ninety-nine demons were released into this world, along with nine spirits who had been destined to keep them imprisioned. The spirits cursed Ken for releasing their foes. His folly had resulted in some of the darkest demons being released onto the world. They commanded him that he must destroy the ninety-nine demons or face their wrath.
To aid Ken in his work, the spirits granted him powers of strength, agility, and stealth. He took up the guise of Steel Shadow, to track down the demons across the world and fulfill his divine mission. Only then would he find peace.

---
Charge ZEN now and pick up the latest items on the C-Store, or upgrade to Gold and get bonuses including freeform power selection, Gold costume sets, and Veteran Rewards!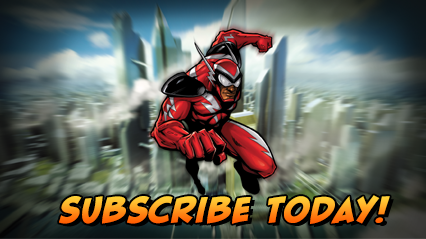 Want more game details and screens? Like Champions Online on Facebook for more fan-exclusive content and follow us on Twitter – tweet us your questions!