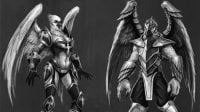 Hey Champs fans,
In weeks past, we've examined costumes from the future and from the past, explored hideouts of all shapes and themes, and got a peek at Dynamic Comic Panels.
Meanwhile, some fans continue to ask when more of their beloved beast heads and accessories will be released. Today, we take a look at our first foray into this territory, beginning with the Avian Warrior.
The ideas behind these concepts were a bit more broad than usual and our goals more exploratory. In short, we wanted to see if we could create an engaging and cohesive blend of clothing, armor and animal themed parts. Intentionally we chose to go in a few different directions, from sleek and heroic to more fantastic or classic. One thing we plan to do for all new beast sets going forward is to ensure that each new head has appropriately expressive and varied accessories such as hair, or perhaps different beak or muzzle shapes.
That's it for our first look at a possible future for our beast and animal themed parts. Of course, there are many more animal themes to explore, but I hope you enjoyed this inside look at our initial concepts!
Brad Stokan
Lead Artist - Champions Online
Link to the forum post