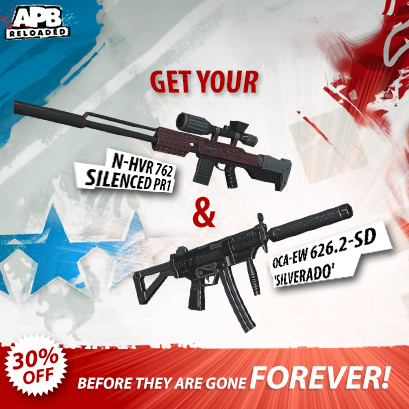 A new year is nearly upon us with all new experiences and excitement but it's also a time of nostalgia and reflection. Play with and own two of APB's most iconic weapons, the OCA-EW 626.2-SD 'Silverado' and N-HVR 762 Silenced PR1 before they are gone forever. That's right, as of January 11th these two classic weapons will no longer be available for purchase.
Weapon Details:
N-HVR 762 Silenced PR1 – An impressive sniper rifle that provides stealthy yet deadly long-range capability. Comes equipped with a Hunting Sight 3 and Sniper Silencer modification.
OCA-EW 626.2-SD 'Silverado'- A uniquely modified and fine-tuned version of the OCA-EW 626. Built for the individual who likes fast gunfights, rapid reloading while still being able to get the drop unsuspecting enemies. Loaded out with Magazine Pull 3, Cooling Jacket 2 and SMG Silencer.
Make sure to grab a piece of APB history by picking up the N-HVR 762 Silenced and OCA-EW 626.2-SD 'Silverado'- before January 11th and get 30% off! Don't hesitate because after January 11th you will no longer be able to purchase these two pieces of historic firepower.