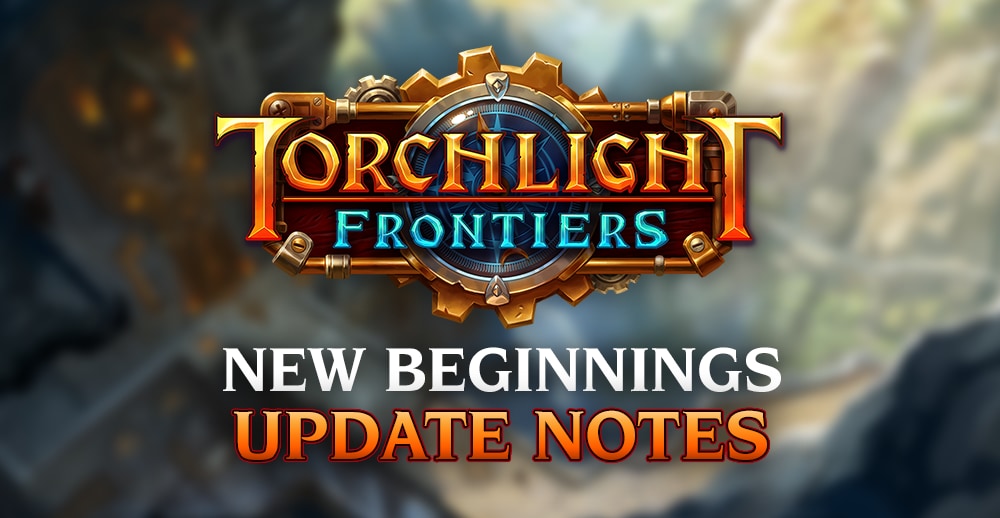 Update 4: New Beginnings, the latest alpha test addition, is expected to be released April 2, 2019 at 10:00am PST.
Note from the dev team
New Beginnings is the first major update to the alpha test since we made Torchlight Frontiers a 24/7 game. While the Live Team is putting out bug fixes and tuning changes often multiple times a week, our World and Player teams keep the cogs turning on these chunky updates that bring features and new content to the game. Update 4 is all about Contracts, which are a big deal for us as the system sets the stage for future updates. It's a complex feature we really need player help testing.
We hope you enjoy all the new stuff, and we're looking forward to meeting you on the frontiers. Let's get into the details!
Headlines
Contracts
Make sure to read our Contracts blog post that discusses the idea behind and vision for this new system arriving in Update 4: New Beginnings.
The forces of the Netherim slink into every corner of the globe, driving the Empire to spread its defenses further than ever before. Its ranks thinning, pure Ember stocks dwindling, and facing a host of new foes across the world, the Emperor has decreed the foundation of the Frontiers Doctrine.
Imperial Agents in every outpost have been authorized to offer challenging Contracts: heroic deeds and dangerous bounties for which adventurers will gain fame and fortune.
During each Contract season, players can complete objectives to earn Fame which will unlock valuable rewards each time a Fame level-up is reached. Once a Contract has ended players will keep any rewards they've earned. New seasons bring a reset in Fame level, new missions, and fresh loot to chase after.
The New Beginnings Contract will be active when Update 4 goes live, and remain active until 4/30/19 at 02:00 PST.
Newly created characters will need to complete "Tidying Up the Den" before the Contract feature is unlocked.
Intelligence Agent Bray, the primary quest-giver for Contracts, is located outside the gates of Imperial Outpost and offering new Daily and Weekly quests to adventurers who put their lives on the line in defense of the Empire.

These quests can be completed once per account and reward large amounts of Fame.
Daily quests cycle at 02:00 PST each day.
A new selection of Weekly quests is added on Tuesday of each week of the Contract and remain available through the end of the season.

Access the new Contracts screen by pressing [C] (default keybind) or selecting from the [Space] menu.

Completion status for available Contract quests is shown here, as well as a tracker showing which Weekly quest sets are available. Finish up past weekly quest sets to get maximum Fame!
Current Fame level and points required to level up are shown here
The current season's rewards can be browsed and previewed here

Fame points, Fame levels, and total progress through the Contract are tracked at the account level. You can pursue Fame quests with any of your characters.
Collect your rewards for reaching new Fame levels on the Contract screen

Some rewards will then need to be opened from your consumables inventory screen.

All players are able to claim rewards from the free (upper) track. During the New Beginnings season, all players can also upgrade to the premium (lower) reward track for free by clicking the Unlock button located on the Contract screen. Premium Contract holders get the rewards from both tracks. Players can upgrade to premium at any time and will receive all the previously earned rewards up to their current Fame level.
In future seasons, Contract rewards will be full of fresh seasonal content including exclusive cosmetics tied to the theme of the season. For test season we've held back on too many unique rewards as access to the game is limited by the random alpha invites. There are a bunch of resources and fort decorations on offer, as well as Relic and Stash slots, and some legendary Mapworks bundles. These should make it rewarding to kick the tires on this feature and help make it ready for full release.
Pet Survivability
We want players to keep an eye on their pet's health and restore them with potions in order to keep them in the fight, but we've seen many circumstances where pets can too quickly go from full health to fleeing. Our furry friends deserve a buff.
Pets now have 50% more base health, and the "rest" timer after being knocked out is reduced from 4 minutes to 2 minutes. Pets should now have a much better uptime.
Push to Move
The community made it clear this feature is a priority. Force-Move will allow you to move even when clicking on a monster or other targetable object. It will not however let you pass through enemies.
Added a "Force Move" option for mouse and keyboard, bound to the [Ctrl] key by default
"Try" Before Buy
We want to empower players with the knowledge they need to make fun builds. It's not always easy to know if you'll like that new Skill before you buy it, but now you can sample it for a short period of time while in the Fort.
Added a new "Try" option for Skills when using the Arcanum and Automaton Shop
General Change List
Removed the attack speed affix from pet items pending an overall pet attack tuning.
Decreased potion drop rate by approximately 50%.
Improved pet survivability by increasing pet health by 50% and reducing the time pets run away from 4 minutes to 2 minutes. Sorry little buddies, that was too harsh.
Reduced Skeleton pack sizes.
Slightly reduced the damage Champion Skeletons deal.
Fog of war area better matches the minimap's reveal range.
Extended the level range that players will gain XP for killing lower level monsters. Was 2 levels, now players stop gaining XP for monsters 4 levels or more below them. Relics stop gaining XP for monsters 3 or more levels below.
Updated various icons on the Frontier Map.
Updated the character select screen to randomly select which class is shown first.
Added Video Settings and Key Bindings to the main Setting Menu.
Updated "Tidying Up the Den" to be automatically added to your quest log upon entering the Den of Upheaval.
Updated a few non-container breakables to no longer drop loot.
Reduced the drop chance for rare and legendary gear by approximately 50%.
Reduced the chance equipment is dropped from breakables from 3% to 2.73%.
Increased the amount of time before monsters respawn by 10 seconds.
Slightly increased the chance that Mossrats will drop Mossrat Nuggets while on the "Fueling the Fires" quest from 10% to 20%.
Using the Frontier Map, players may now return to their Mapworks portal in the event of a game client shutdown.
Doubled the number of Fallen guards that appear in Infestation incursion to speed up the completion of the "It Came From Outer Place" quest.
Renamed the Goblin Incursion quest to "The Road to Wideload."
Updated the Vendors to award the proper amount of Gold when selling a stack of Potions.
Updated placeholder icons on vendor screens.
Reduced the number of Champion goblins required to complete "Battlefield G" from 8 to 2.
Vendors now properly display an items sell-back price.
Bug Fixes
Fixed an issue that prevented "Muster Your Metal" from not completing if the fire defense requirement was met with a Pet Collar.
Freed a skeleton improperly pinned inside a wall in the Haunted Cemetery.
Fixed an issue preventing chests, harvesting nodes, and clickables from respawning in various Goblin Frontier areas.
Fixed an issue allowing potions to be moved from the equipped slot into Pet Inventory.
Fixed an issue causing a crash connected to Teethling the Devourer in Swarm Cave.
Updated item-drop cap to level 50. Hooray for being able to hunt for loot at max level!
Fixed an issue preventing the use of the Town Portal when experiencing a disconnect during the intro sequence.
Fixed an issue causing inventory icons to disappear when switching between tabs.
Fixed an issue preventing the use of the "Swap All" button on Wardrobes in certain situations.
Fixed an issue where the player would get stuck casting a skill if they switched to mouse and keyboard while a gamepad input was pressed.
Fixed an issue causing Dusk Mage's current Opposing Forces state to reset upon leveling up.
Fixed an issue with the mini-boss in the "Deforested Land" quest.
Fixed an issue causing the wrong cutscene to play before a boss fight in some cases.
Fixed an issue causing monsters with the Double Health affix to only display half their health bar.
Fixed an issue preventing Relic XP bars from displaying proper incremental gains.
Fixed an issue causing Champions to spawn without proper VFX, health bars, or monster models.
Fixed an issue preventing binding skills to the [A] key correctly.
Fixed an issue causing Fort props to suddenly pop in when loading Forts.
Fixed an issue causing Goblin Bombers to go idle after using their last bomb.
Fixed an issue preventing tin harvesting nodes from appearing in some areas of the Hyvid Frontier.
Fixed an issue preventing Goblin Cave Bombers from casting self-destruct.
Fixed an issue sometimes causing a crash when exploring Deeper Sorrows.
Fixed an issue causing the reward gear for "Bug Out" to spawn as Goblin Frontiers equipment.
Fixed an issue that sometimes left players without a Shared Stash in their Fort.
Fixed an issue with breakable benches causing navmesh artifacts.
Fixed an issue causing collision issues in various goblin caves.
Fixed an issue causing Dusk Mage portraits to swap from male to female.
Fixed an issue causing goblin to return to their idle animation upon being defeated.