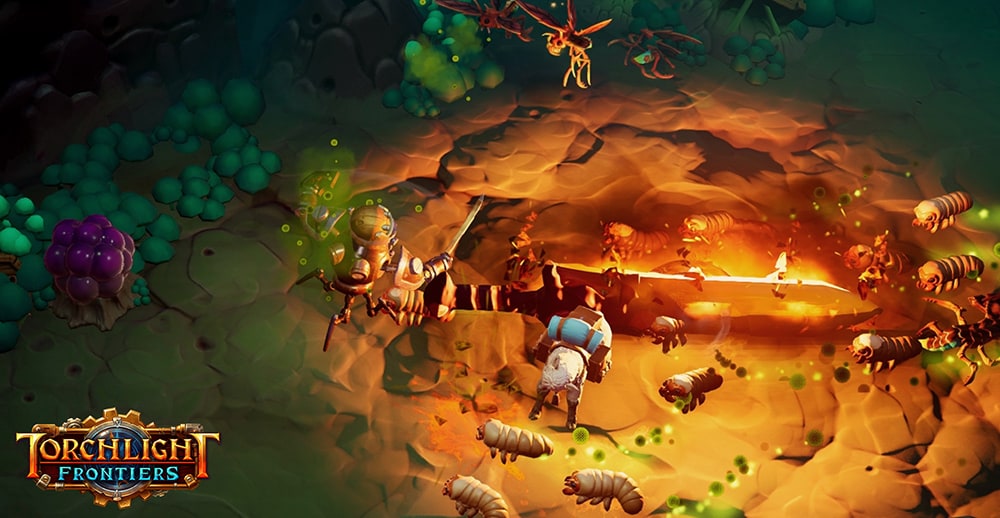 Greetings from the Imperial Outpost,
It's been one week since the end of Closed Alpha 2 and thousands, literally thousands of reports, emails, forum posts, and notes from Discord are being reviewed and stacked into a plan of action.
We welcomed a large contingent of EU players to join the band of existing testers from Closed Alpha 1. From everyone here at Echtra Games: Merci! Hvala! Дзякуй! Kiitos! Bedankt! Danke! Vd'aka! Ευχαριστώ! Dzięki! Gracias! Paldies! Dėkoju! Thanks! Without your hard work and crazy-infectious enthusiasm we would not have received the feedback we need to make Torchlight Frontiers.
Cave of Sorrows - Found an horn (instrument) in the area - could not use it - disappointment over 9000 :D
~ Suske, Closed Alpha Tester
What was the focus during Closed Alpha 2?
Our recent closed alphas were technical milestones for the studio. We needed to learn what would break (Closed Alpha 1), make fixes, and test that those fixes really worked (Closed Alpha 2). We fixed and verified numerous server issues during Closed Alpha 1, but still had the major bug of older zones becoming unplayable. That issue was resolved just days before Closed Alpha 2 went live. We've now seen the game perform at a technical level that is sustainable; not perfect, but solid enough that the focus can move towards a next class of issues - things like quest lines getting blocked (our most common player issue report in Closed Alpha 2).
You should give the dog pet an ability where they chase their tail and it starts whirlwinding like cyclone mode. xD
~ Fox, Closed Alpha Tester
Well, how'd it go?
Friday morning began with lots of coffee and surprisingly few fires to put out. But even before the caffeine kicked in, the Discord server had filled with players chomping at the bit. One of you industrious folk started what became the "official" countdown timer. It truly added a sense of ceremony and celebration (thanks for that). Finally, the board showed green, we opened the gates, and away we went!
Tyler dove into the Discord voice-chat and became a multi-tasking machine: scoring lootz in the closed alpha, fielding questions from players and devs alike, all while taking notes from the feedback pouring in from his headset. Here's a tiny snippet from those notes:
A sample of Tyler's voice-chat notes
Again, tiny snippet from the work of one developer working in one feedback stream at the very start of day one. The entire team was busy making their own notes, asking for elaboration on player ideas, and, of course, playing the game alongside you.
Speaking of you... there was a barrage of questions in every chat channel that we could not have tackled meaningfully without your help. Props to everyone who took the time to respond to fellow players.
Closed Alpha 2 was a mad-dash that brought us closer to, but not yet across, the finish line.
The skeletons take a bit too long to rise out of the ground in the Haunted Cemetery. Give them some bigger shovels maybe?
~ Reyna, Closed Alpha Tester
What were some key takeaways?
There's plenty of overlap in feedback from the first to the second closed alpha. All of which we're continuing to tinker with.
Character progression that includes both gear and skill unlocks
Tyler: Although we made tuning changes between Closed Alpha 1 and Closed Alpha 2, in many cases this was a short-term measure. We have been making changes to several of our progression systems. Hopefully, they get better with each iteration.
Balancing power levels as well as providing interesting choices among Relics
Tyler: In Closed Alpha 2, several of our Relics didn't live up to everyone's expectations. In many cases it was because the Relics' abilities only worked with the basic attack - which most players didn't expect or enjoy. We will make sure these weapons feel powerful and inspire cool character builds.
Minimap, quest log, and other quality of life features
Tyler: Balancing work on quality of life features with finalizing core systems has been tough. We will definitely be shifting more towards bug fixing and QoL changes as we move closer to Open Beta.
We had significantly more players progress beyond item level 15, so we received some new information to incorporate.
Difficulty spiked too hard after level 17
Tyler: This feedback was a reminder that we have more late-game play and tuning to do. We are reworking all of the big curves: player damage and health, monster damage and health, affix power growth, etc.
Hyvid public areas can become so filled with bug spawn it broke the game
Tyler: Oh those buggy bugs. We will exterminate!
Forged has a hard time scaling up and surviving compared to Dusk Mage
Tyler: With both new and existing skills we are taking a look at how to help the Forged survive appropriately - both as melee and as ranged.
Our game statistics showed some places where expectations and reality aren't lined up yet.
Some of our monsters are very deadly, especially netherlings
Shawn: It wasn't intended that this tiny extradimensional pest would become a lilac-colored murderball, but we may have taken a lighter than needed pass in tuning the champion version. Next time they'll be pesky and challenging, but not monstrously murderous.
The Dusk Mage gets played significantly more than the Forged
Tyler: Is it because we don't randomize which character shows first in creation? Do most people love glass cannons more than brass cannons? Are there lots of humans who can't connect emotionally with a pot-bellied-stove-turned-robot? Was it because Vortex Bomb has too much anticipation and not enough protection? Was it because people hadn't seen the super-awesome high-end Forged armor? Is it because the Forged was fragile? We aren't sure yet. However, it's not the first time we've seen this love for the Dusk Mage. We will improve the Forged, but we might also need to lean into what people love.
I want to be able to pet my pet!!! xD <3 very important feature!! (:p)
~ Alloy, Closed Alpha Tester
When can I play again?
We're not ready to announce a date, but we know it won't be until 2019. Just like we did for Closed Alpha 2, we'll assemble a full set of update notes prior to our next testing session. Stay tuned!
~ Hobbs, Echtra Games Community Manager