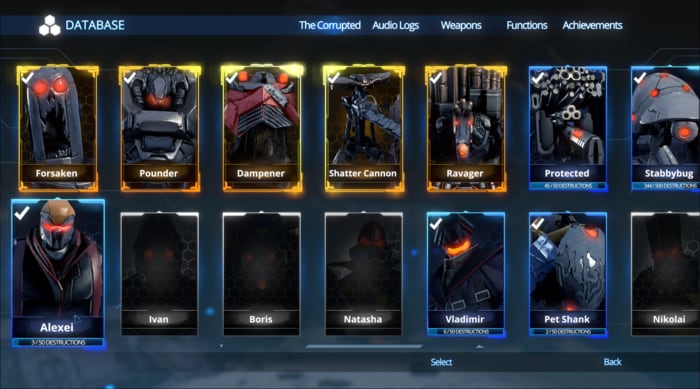 ** These patch notes are for console only. **
Balance Changes:

Hex
Cluster Mine

Catalyst
ARC Cannon
Increase ARC chain distance
Haywire
Increase starting clip pool

Increase max clip pool

Increase Confuse duration
Trident Launcher
Drone Gun
Decrease Drone Gun damage

Decrease Drone Gun integrity

Set Defense Matrix shield capacity to 150
Holo Image
Decrease Holo Image integrity

Decrease Cloud Computing duration and integrity multiplier

Vanguard
Anvil
Fixed weapon card DPS value (bug)
Gauntlet
Decrease quick attack damage

Fixed weapon card DPS value (bug)
Shotgun
Increase damage

Increase clip size

Increase range

Projectiles now penetrate through all enemies
Fault Line
Increase Stun duration






New Difficulty Mode - Transcendent Difficulty (Survival)
Players start each Mission with 1 Reprint. If the player is destroyed in single player, the Mission is failed. If a player is destroyed in COOP, they can follow (and cheer on!) their remaining allies using Spectator Mode. Once all players are destroyed, the Mission is failed.
Two New Open Protocol Modes - Endless War and Extract
Open Protocol (Endless War)
Endless War tracks enemy destructions instead of Score on the Leaderboards. The Difficulty will automatically be set to the highest available difficulty. With the Difficulty locked, players with greater skill will survive longer, destroy more enemies and earn a higher rank on the Leaderboards.
Open Protocol (Extract)
Extract has a 15 minute time limit. At the end of 15 minutes, enemies stop spawning and a Drop Pod lands for extraction. Players successfully leaving the mission in the Drop Pod earn a Reprint Bonus. Skilled players will earn higher score through more enemy destructions and larger destruction streaks. With a set Mission time, the Difficulty Multiplier and Reprint Bonus plays a significant role when competing on the Leaderboards.

Additional Features:
Game optimizations done to greatly reduce the network bandwidth used while playing online.
The Database menu section was added.
Language issue on PS4 is fixed.


---