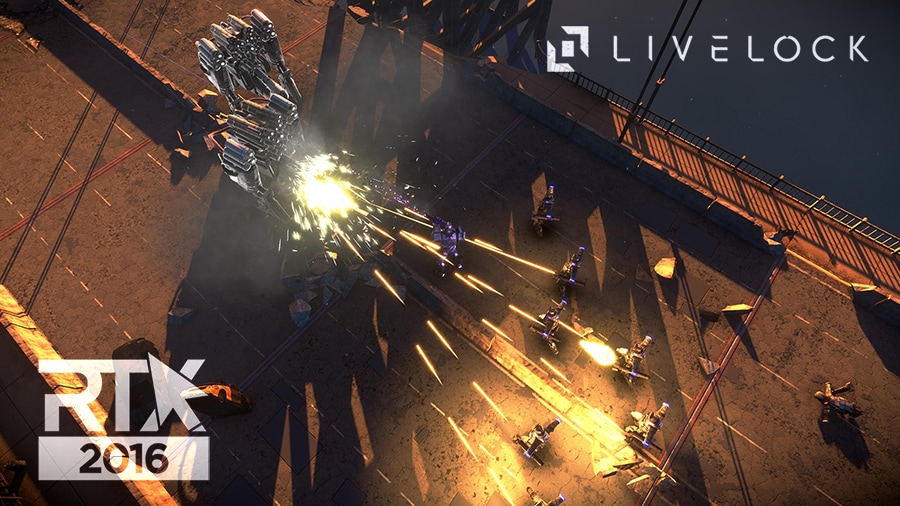 Hello World,
Last week, Perfect World Entertainment went to Austin, Texas for the Rooster Teeth Expo! Referred to as RTX, the show happened over the course of 3 days during the July 4th weekend. It was our first RTX experience and we were excited to bring two of our upcoming titles to the expo for gamers to get their hands on!
Livelock was one of the titles we brought with us! Having just announced our August 2nd, 2016, launch date we gave folks in Austin a new demo and the chance to bombard two of our Tuque developers with questions.
With nearly 60,000 attendees at RTX, our two gaming stations were never empty. Many people returned to play the game multiple times over the course of the three days. They were also fans of getting their hands on the purple Livelock t-shirts that we gave away for playing the demo. Who doesn't love free swag?!
Along with a t-shirt, there was also the possibility of getting a limited edition Livelock poster. The poster was a close up of our character trio—Hex, Vanguard, and Catalyst, standing within a rising cloud of dust. This is the post-apocalyptic atmosphere you can expect to see when playing Livelock. To get hands on one of the 500 posters, players had to take a selfie with Hex—who made his way to RTX via drop pod. He's not really a smile kind of guy, but he definitely made a huge social media debut that weekend.
The level we brought to RTX heavily contrasted the PAX East level. During PAX East, attendees played Power Plant, which was a dark level with occasional neon and very eerie lights brightening up the power plant hallways. The level at RTX allowed gamers to get a glimpse of the devastation brought to Earth's surface.
We showed off the customizable features within the game so that players could experience unique and more advanced arsenals. Attendees were able to arrange their teams and find a gaming style that they were more comfortable with. There was also the option to change character's attire and heads! Everyone seemed to react positively to the character customizations and were eager to discover more destructive ways to take out enemies.
A group of players (featured below) requested to play on the hardest difficulty. They quickly formed a team of two Catalysts' and a Vanguard. One playing an offensive Catalyst and the other focused his abilities on healing his allies. It was an interesting combination!
They quickly realized that the enemies had changed attack tactics-- a randomized game feature we had warned them about. By the end of the level, they had scored over 500,000,000 points as a team. A score that was less than they expected—having played multiple times during the weekend.
RTX weekend was very successful! There was plenty of excitement from the players in regards to Livelock's release and future. Plus, the attendees were very warm and inviting of our crew! Most attendees hadn't heard anything about Livelock before the show so there were a lot of fresh eyes on the game.
Check out the rotator below for some photographs and a few selfies with Hex! Plus, make sure you follow Livelock on Facebook and Twitter to catch all the news. Make you debut on Livelock's social media pages by tagging @playlivelock on your RTX photographs.

Thank you so much for gaming with us Austin, Texas! We'll see you soon.