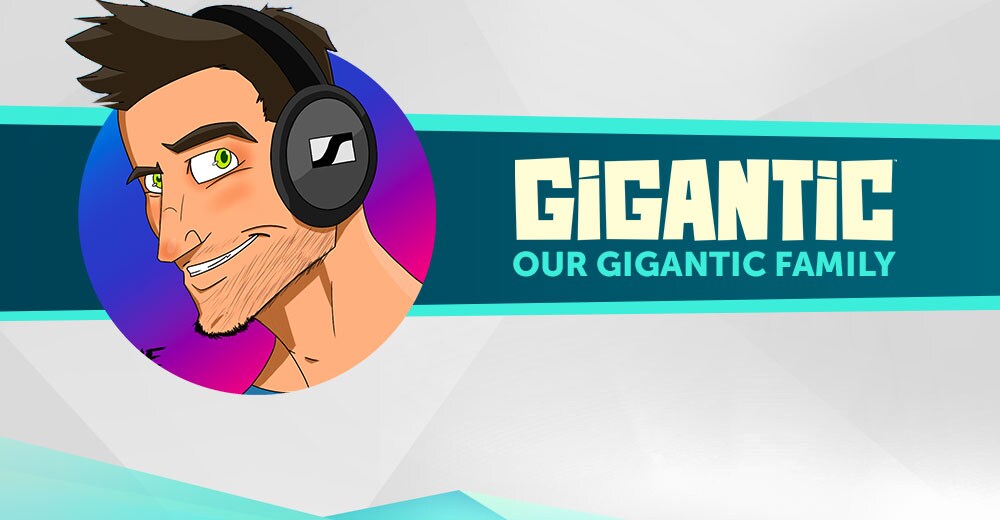 Greetings, everyone! Let's start into the week with a new edition of the "Our Gigantic Family" blog series where we're putting the spotlight on you, the community. This week's guest has created lots of entertaining moments on Twitch throughout the year: Please welcome SteveMustBeOtaku!
Hey there, Steve! Thanks for taking some time for us. First of all: When did you first hear about Gigantic and what made you stick around?
I first heard about Gigantic in an article posted on Kotaku in December. After playing it, I found out that Gigantic was a game where I could play competitively, but also chill back and have fun with other community members who made a big impact on my experience with the game. To name a few, EvilDrawing, WasabiWidow, and MaddieIV gave me a reason to enjoy the game and influenced me to play it regularly to support the developers and become a part of this community.
You're streaming Gigantic live on Twitch. What can people that haven't watched you yet expect from you there?
They can expect some of the spiciest material known to man. My streams consist of me making a fool of myself and interacting with people who watch me since I try to be a very chat focused streamer. So for anyone new that decides to stop by and watch, get ready for some weird props that I will break out randomly throughout my stream.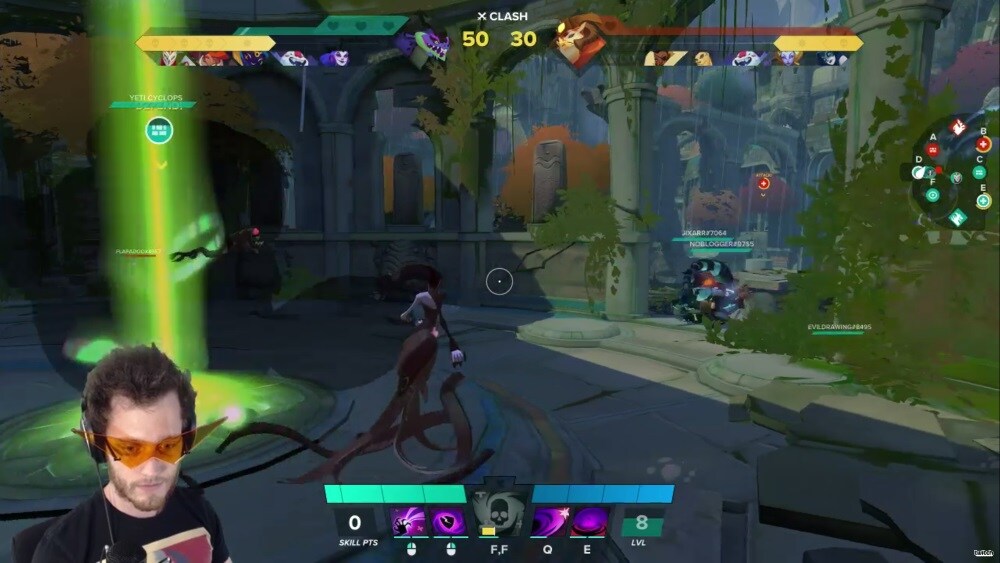 You recently became a Twitch affiliate as well, congrats! Is streaming something that you'd like to do as your main profession one day?
Streaming has always been something I would love to do for a profession one day. Will it happen anytime soon? Probably not, but that's not going to stop me from fulfilling my dream of playing games and interacting with awesome people every day. The one great thing about streaming is that it's a place where I can be myself. I don't have to worry about what I say, it's not a job where I have to wear a uniform, and I'm not forced to act like someone I'm not.
Any "insider" tips for people that want to start streaming Gigantic themselves?
Just be yourself and focus on what type of community you want in your stream. If you want a very competitive focused stream, then create a team and start going against other teams or talk different strategies on what works and what doesn't work. As long as you have a good quality stream when it comes down to audio or video and people enjoy your personality, then you will do fine. With any new streamer I feel like people get way to self-conscious about their numbers. Always look back on your previous VODs and focus on what you think you need to get better at or change.
Which have been your favorite heroes to play in Gigantic so far?
HK and Sven will always be my favorite heroes to play. HK because of the insane damage you can output and Sven because of his beautiful voice and insane heals. The feeling of getting an across map Rail Gun kill is one of the most satisfying experiences in Gigantic. That and getting a ring out with Sven which is hilarious.
There is quite some diversity on the hero roster but what kind of hero would you definitely like to see added in the future?
Tanks, tanks, and more tanks. With only margrave in the mix, I feel the game desperately needs another tank to create some diversity with the tank role. Any character where he can act as a frontline and do some serious CC while being able to take a lot of damage is my dream for one of the next heroes in the game.
What has been your most enjoyable Gigantic moment so far? Any plays or comebacks that you're particularly proud of?
This might come off as one of the saddest moments to certain readers, but it's definitely a game I will never forget. Maybe around January or February, I was having a very difficult game going against some very well-known people on the other team. My entire team decides to leave and it becomes a 1v5. So to make a terrible situation into something great, what do you think happened? My friend TruexSin, another awesome Gigantic streamer/player, created one of the most memorable opportunities for me. He knew that I had been trying to get a Penta Kill in the game for some time now so the entire enemy team grouped up and let me get my first Penta in the game with Sven of all heroes! They still won obviously, but that's a Penta Kill I will never forget.
You're not only on fire in Gigantic, when can we expect your next cooking stream?
Everyone knows about that Twitch fail now, haha. People to this day still think I staged that, but trust me, I wouldn't want to stage something like that in a very small apartment where that could have easily gone wrong. Well, I'm trying to get some more cooking streams together, hopefully with less fires, but check me out every Saturday for some cringey cooking streams. Keep in mind I'm not a pro at cooking, as you can obviously tell, but I'm trying to get better on stream for everyone!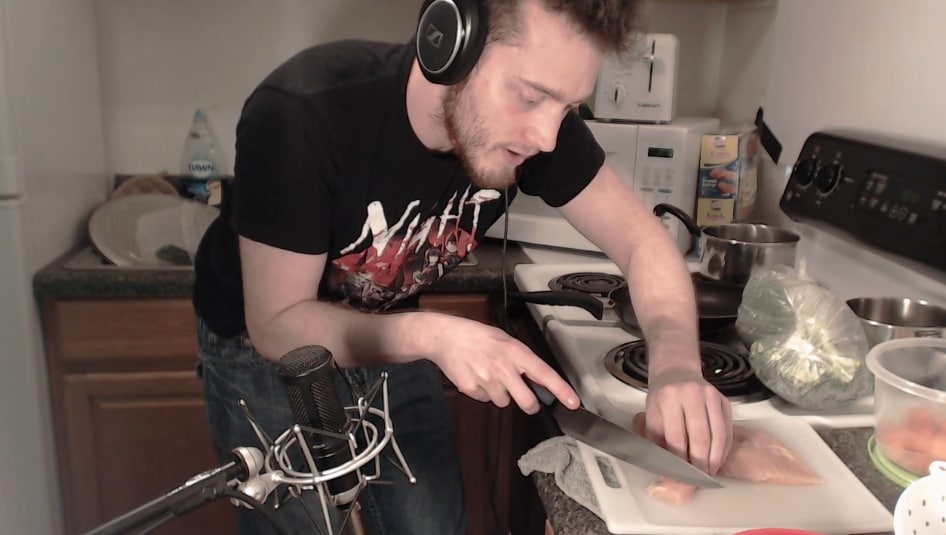 A lot of new things are in the works at Motiga. What would you like to see implemented in Gigantic next, if you had the power?
I think fun game modes that happen every week such as an all Sven versus Sven match up. These modes wouldn't affect your MMR, but be more of a fun side mode to play where comp is thrown out the window and everyone can make crazy plays. Also, the ability to see damage/healing numbers or other stats of that nature shown at the end of each game just to give an idea of why the team lost or if the team needed something else for the comp.
What do you do outside of playing video games? Any hobbies or activities you want to share with us?
I must be otaku, so of course I have to watch all the anime! Seriously, this is going to sound super boring, but I mostly just watch anime, occasionally run, and make really terrible photoshops of streamers in my free time.
Thanks so much for the interview! As always, our guest has the last word!
Thanks to Fero and Perfect world for this amazing opportunity to be a part of this blog series. You can't imagine how much this means to me. Being able to support this game has been a ride that I will never forget. It has made an impact on how I stream, who I am as a person, and the people I've been able to meet. I love your faces and I hope I see you guys on the airship!
Make sure to check Steve out right here:
Twitter: @SteveIsOtaku
Twitch: SteveMustBeOtaku
YouTube: SteveMustBeOtaku
Facebook: @SteveMustBeOtaku
Do you have someone in mind who we should introduce you to next? Just send a quick email to fero@perfectworld.com! See you around!