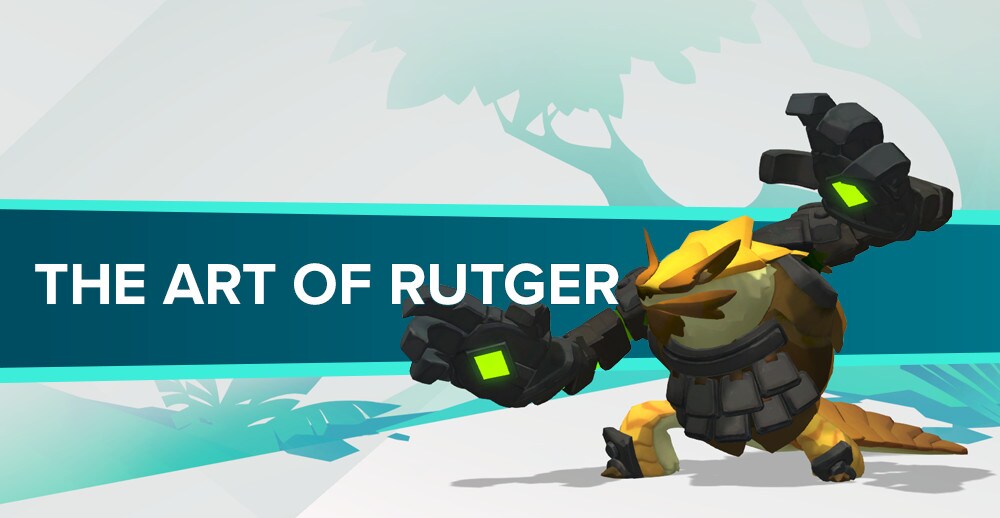 Written By Senior Concept Artist: Vinod Rams
Rutger, the cantankerous, grizzled Warden of Stone, went through several iterations before the dust finally settled on his design. Now, after all his evolution, we're happy to introduce you to our armored stone-shifter as he makes his debut in Gigantic!
The original idea for Rutger's kit was suggested by one of our resident rock-modeling experts at Motiga: lead environment artist Tomas Gomez. When Devon Cady-Lee took on the challenge of concepting the new Hero, he started by drawing from his affinity for the (sadly) very endangered pangolin. Throw in a little bit of armadillo with the personality of a crusty old prospector you'd find in a lonely mountain outpost, and bam: you have Rutger.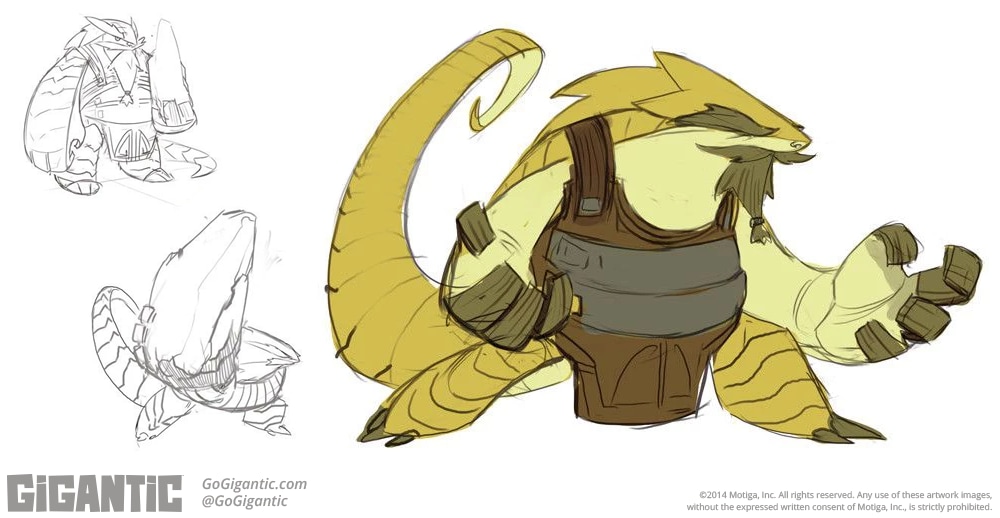 Rutger's shape is built around the evolutionary traits that many digging creatures have: he's low to the ground, has a streamlined profile, has very small (and covered) eyes, and powerful arms. Like a pangolin, he can also tuck into a compact ball shape, allowing him to protect himself from harm while moving around the battlefield!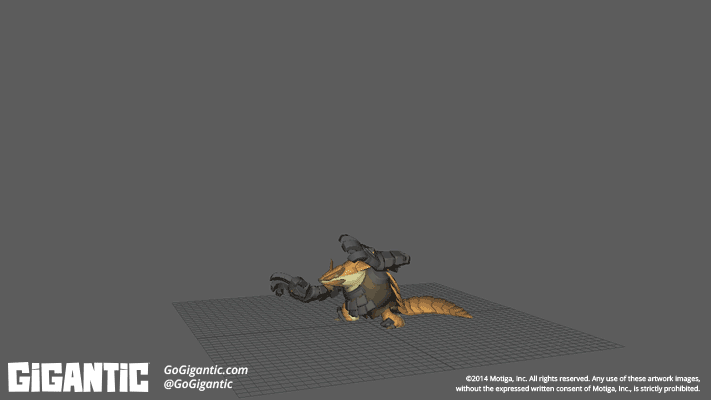 Anatomical features weren't enough, however; we needed to add some magic to the mix! In previous iterations, Devon gave Rutger digging tools that he could use as weapons: namely pickaxes and shovels. After a few rounds playing with the concept, he instead decided to shift his experimentation towards making Rutger's arms his weapons, covering them with flat stone slabs that he'd use to meld the earth around him. After adding magical gems to his palms and decking him out in plating inspired by ancient Chinese stone armor (durable, but heavy), the character finally found his place in the diverse world of Gigantic.
Did he always have stone arms? Did he form them in his training? It's still a great mystery, but we could tell we'd found the look and feel of our newest Warden.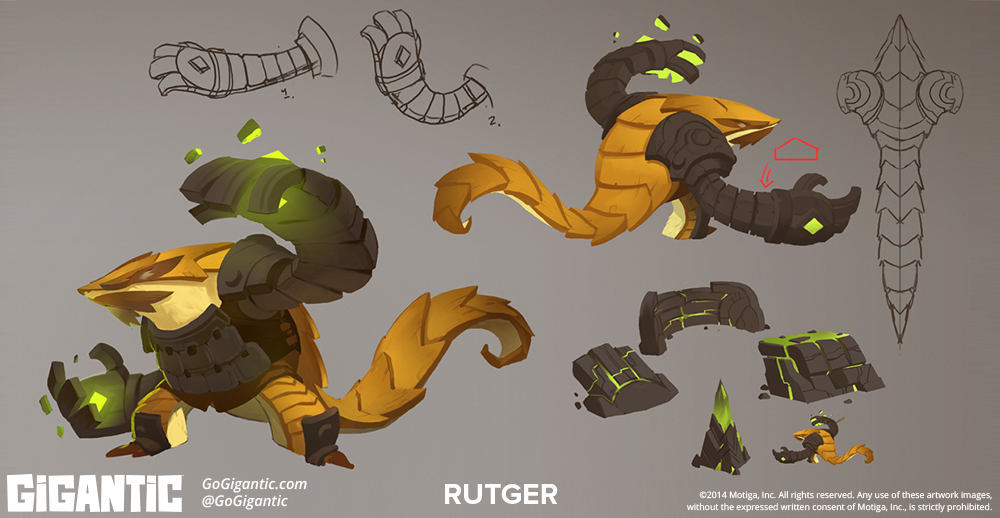 Whereas Voden is the Warden sworn to protect the forests and wilds, Rutger is the protector of the rocky plains and mountains. He is Voden's oldest friend - a rare ally to the grumpy Forest Warden. Where Voden uses the power of "all that is green and good" to aid him in battle, Rutger utilizes rocks, stone, and the dirt beneath his feet. Both carry the same heavy burden of protecting the land - though unlike Voden, Rutger doesn't immediately despise everyone he meets. He certainly doesn't suffer fools lightly, but he holds onto his sense of humor as he defends his world.
Rutger's first skin, known internally as the "Monk" skin, hints at his origins as a hermit living away from the busy happenings of the world, meditating in solitude. His hair is overgrown and unkempt, and his stone weapons are infused with precious opal-like gems.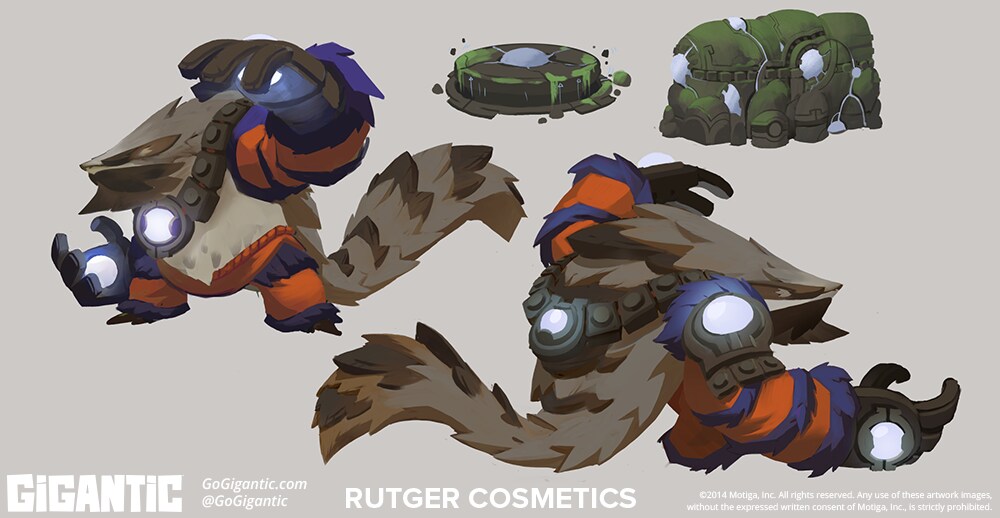 Tread lightly around Rutger: he's quick to anger, but he can also be a strong ally!
We'll see you on the airship!