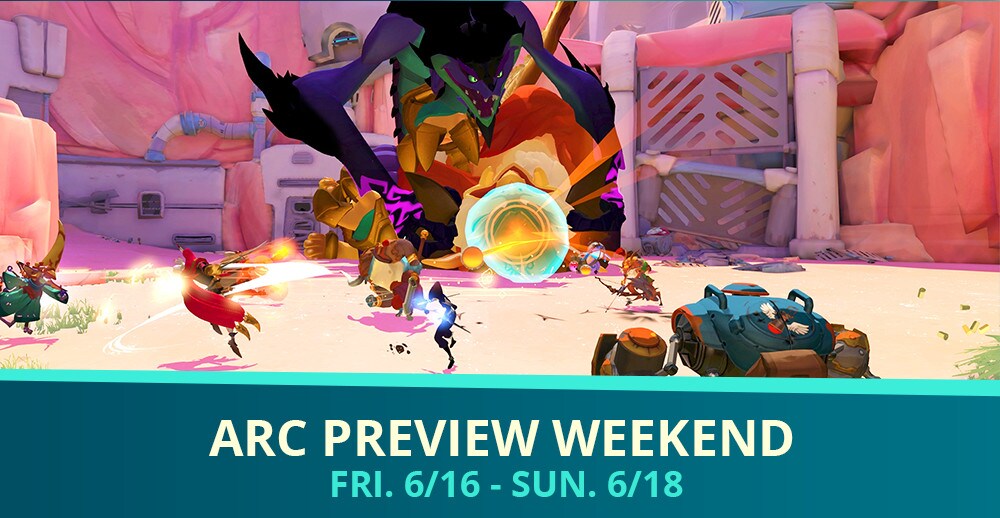 Get ready to play some Gigantic on your PC! Starting this Friday, June 16 at 10am PDT through Sunday, June 18 at midnight PDT, Gigantic will be open to ALL PLAYERS via the Arc platform. That's right; if you have Windows 7, 8, or 10, you can download and play Gigantic on Arc as part of Gigantic Arc Preview Weekend.
We will be stress-testing our Arc servers and matchmaking during this time, so intermittent connections may arise. Should you join us, however, the strategic hero shooter you'll experience this Friday comes with a slew of updates:
Revamped front-end UI.
New tutorial system.
Bot matches.
Integrated voice chat.
Tons of gameplay improvements!

Want to know what the best part is? All 18 Heroes will be available to play for free all weekend long! You'll have plenty of time to try out each Hero and experiment with different gameplay styles over the weekend. You will also get to keep your progression once Arc expands into Open Beta.

So set aside some time before the weekend to run through the following steps:
Head over to Arcgames.com

Click 'Register' in the top right-hand corner to make yourself an Arc account (or sign in with your Arc account)

Download the Arc Client

Just a few important notes before the preview weekend:
Please note that the cash shop will NOT be available this weekend.
The ability to copy your Win10 / Xbox One progress will be made available when Arc officially joins the Open Beta. More details will be made available when the transfer is available.
If you plan to use the Account Copy feature to bring your Xbox One/Windows 10 progress to your Arc account, any progress made over the weekend will be overwritten.

Come join us on Arc for a special preview of the game. We'll see you on the airship!