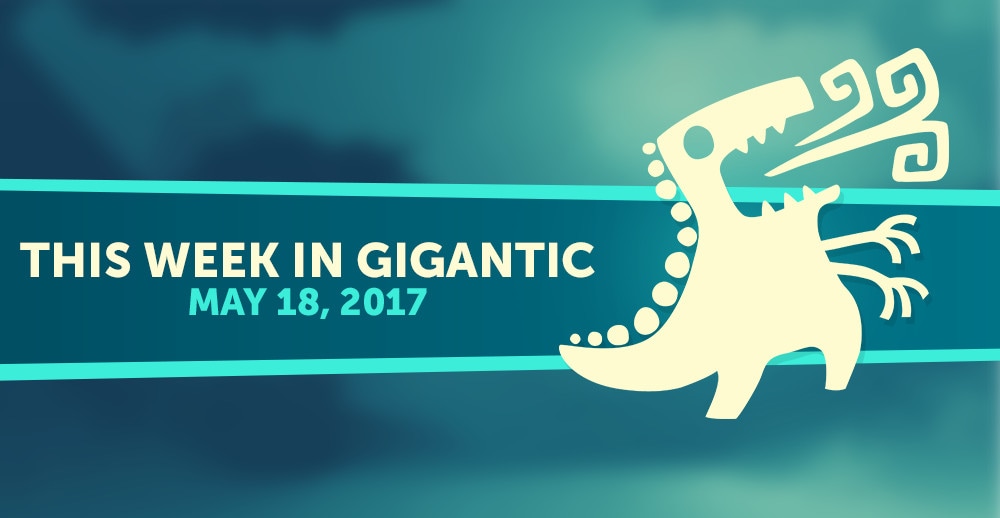 Happy Thursday, heroes! This is a very special week for Gigantic and for the Motiga team. While our TWIG posts up 'til now have been focused on the ongoing development of the game – when we're adding new features and heroes while cementing the underlying systems and rules of the game – this is the first week when the team shifts their focus to a very different phase of development: polish!
This is a critical stage before any game's release: when the whole development team turns their attention from creating new features to cleaning up the rough edges of the game, tackling outstanding issues, and catching up with the bug and tech debt that has accumulated over the years of development. It's an exciting time for the team as bug logs are whittled down, and as the game begins to emerge in its FINAL FORM...or at least the form it will take for its initial release to the world!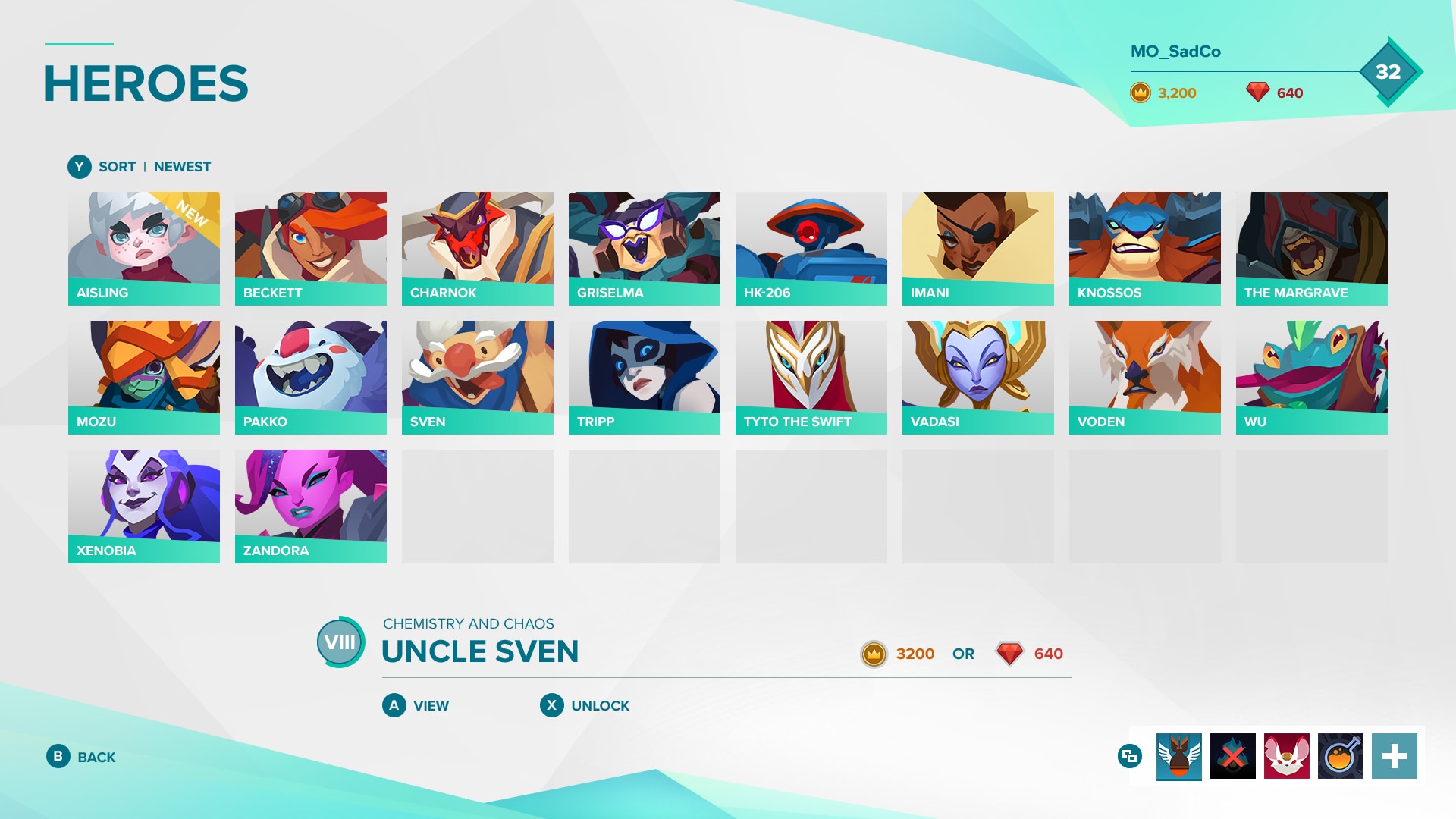 The in-game UI will be seeing some significant advancements in the next major build.
Since bug-fixing isn't the most enthralling stage of development to talk about in a blog post (as exciting as it is to see long-standing or disruptive problems go away), we looked to our awesome reddit community for the questions and topics that are most important to you! You guys asked some great questions about the development of the game, which we were more than happy to tackle in this week's TWIG post.
So without any further delay, enjoy!
---
Is Motiga thinking about a rework between beam skills and stealth; i.e. the fact that beam characters can't attack enemies in stealth?
There are no changes planned here. Stealth is meant to be a tool used to avoid attacks, and we don't want to create a mechanic that could be used to easily track and largely trivialize the advantages of stealth-based heroes. Stealth, in many ways, is a natural counter to beam characters, who are otherwise able to dish out a consistent stream of damage when they're able to connect with their enemies.
- MO_Retrac, Lead Gameplay Designer
Do you have an update on matchmaking and crashing issues? Is anything on that included in the next patch?
We are still actively investigating the match failure issues – a process I'm personally involved in every day.
Thus far, we've identified four major issues which we're looking to fix. Ideally we'll have them implemented as soon as we're confident that the fixes won't break anything else in the process – hopefully by launch at the very latest.
I cannot express enough how important your game logs have been to our investigation – particularly when they're submitted by as many players as possible! Each player's log provides a different angle from which we can view and approach the problem. This is because your logs contain all of the game events and errors from the moment you launch the game to the moment it closes: things like the amount of time it takes you to load into different screens, an exhaustive list of in-game events and actions (skill upgrades, awarded badges, voice lines, etc.), and – perhaps most importantly – a unique ID of the matches you play or attempt to play. This ID is known as the "Session ID," and every session that's created can be found in your logs: whether it's a match that fails before it even begins, or one that plays from start to finish without issue.
Once we get ahold of the Session ID's of the failed queues, disconnects, or matches where one or more players crashed out of the game, our engineers find the server logs that correspond with each match. These server logs include a long, long list of events recorded by the server for every match of Gigantic that is played. When paired with the events collected from your logs, we're able to paint a full picture of the match in question: how it began, where things went wrong, and what we can do to solve them.
This is also where it gets complicated. Depending on the type of issue you encountered, we have to look for different events in the logs. Here are just a few of the situations we look for:
Failures during queue confirmation
Failures loading into hero confirmation
Failures due to players leaving hero confirmation
Failures even though players completed all the steps during hero confirmation
Failures due to players not responding when loading into a match
Failures due to players not loading into the level
Failures due to players leaving during loading
Failures once a player is in a match (disconnects, crashes, etc.)

Narrowing down to the exact moment when a player disconnects can involve digging through tens of thousands of events, and can be hindered by any number of issues: if the client or server doesn't record the events leading up to the disconnect; if the logs are cut off because of an abrupt disconnect; if the log isn't from a person who actually experiences the issue, thus leaving us with a limited view of the events that affected them…all of these scenarios make it more difficult to piece together what's happening.
Of course, this is a layman's breakdown of the process. Nevertheless – thanks to many of you – we've not only identified areas where we're lacking analytics (something we aim to remedy in the next major release), but have been able to track down several issues that seem to be playing a role in the disconnects! I want to call out LarssonTheBear and MrMachinus, in particular, whose logs and description of their experience played a significant part in identifying two of the big issues. Now, it's simply (or not so simply) a matter of fixing, (thoroughly) testing, and eventually releasing the fixes to the game.
Your logs and descriptions of your experience are like the peanut butter in my PBJ&Problem sandwich. Don't stop sending them our way, and we'll keep doing our part to dig into the details and fix these major issues!
- MO_Kunitsugu, Engine Programmer
What are your plans to combat toxicity when chat becomes available in the game?
First and foremost is to make it as easy as possible for players to quickly and easily mute other players. In addition to that, we'll be working on a player-reporting system for those who are abusive in chat.
We're also considering a more robust player reputation system which can be used to not only punish extremely toxic players, but to reward those who are good community members. This is unlikely to happen anytime soon, but will be an ongoing effort on both the community and development side as we build anti-toxicity features.
- MO_Retrac, Lead Gameplay Designer
What is your plan to address disconnects, leavers, and AFK'ers before the Arc launch?
We have improvements coming to our leaver/AFK system – though we admittedly don't expect any single change to completely address the issue. One of the bigger features we're adding is what we're calling a 'safe to leave' feature, which will allow players to leave a match without penalty if the game starts to break down due to leavers/AFK'ers. Getting this feature will allow us to really ramp up the penalties for the main offenders.
Longer-term solutions we're exploring include additional penalties for serial leavers, aside from simply restricting them from playing.
- MO_Retrac, Lead Gameplay Designer
Will community streams ever come back?
The plan is to run community streams and promote our awesome community streamers in the form of events, such as the Guardian Arena and coaching sessions. This will allow players' personal stream channels to flourish while adding more value to the GoGigantic channel.
- MO_Sofech, Social Media and Streaming Specialist
It was mentioned that voice chat was close to in-house testing; has that seen testing at this point?
We've been testing out voice chat for about 2 weeks now, and I can say without a doubt that it's going to be a major addition to Gigantic! We did a studio-wide playtest with voice chat enabled the other day, and it was working well and sounded great.
There is still some work to be done on the feature: such as marrying our voice chat system with our in-game UI, as well as working out some of the kinks with the voice chat system itself. That said, the feature is getting close, and we look forward to hearing all your voices in-game!
- MO_RockyRoad, QA Specialist
When are we going to get a Clash Course for Pakko?
We're still working on some super-secret ways to provide more lore on our Heroes, if that's what you're interested in. Otherwise, all the current Heroes will be getting 'Overview' videos for gameplay-related stuff, and future Heroes will get dev streams as they're announced.
- MO_Sofech, Social Media and Streaming Specialist
Will the game be seeing any of the features from the previous TWIG posts – such as the guardian changes, chat, disconnect fixes, etc. - while the game is still in Open Beta?
We do expect to release at least one more major update during the Open Beta phase, which will include a ton of balance changes, bug fixes, and general game polish. It will also include some new features, which includes voice chat (text chat is something we're working on and hope to follow up with shortly thereafter, in a later build).
We're also working very hard on the disconnect issue, which we know is a major pain for players. We'll roll out a fix for that issue as soon as we have one available.
- MO_Retrac, Lead Gameplay Designer
When might we see/hear new voices for the characters that currently use the default voices, i.e. Beckett, Charnok, Voden, and Pakko?
Good news! All of the voiceover lines are integrated and done in our internal build. Here's a small sample of what you'll hear in-game:

- MO_Soundz, Lead Sound Designer
What are some of the things Motiga is working on that you hope to release first? What features are furthest down the pipeline? Which are just a pipe dream?
The main thing we're working on is ensuring that we're able to keep up with a steady stream of content flowing post-release. This means a regular release of things like new heroes, creatures, maps, skins, etc.
Post-launch, one of the bigger things we'll be working on is getting competitive features into the game like Custom Games and Ranked Mode.
- MO_Retrac, Lead Gameplay Designer
When is SoFech going to stream some more Gigantic? He is entertaining.
MO_SoFech will return with akaAmandaKane for weekly Gigantic streams as we get closer to launch!
- MO_Sofech, Social Media and Streaming Specialist
Will the new UI contain more numbers, including precise damage numbers, health, and stamina?
Not at first, but yes, eventually!
It's ultimately a matter of competing priorities, but we know that this information would be immensely beneficial – both in the front end, but also in the in-game HUD. We have been experimenting with a few ways to display more info, but it is unlikely to show up in the next couple builds.
- MO_Porkue, Lead UX / UI Designer
Would you share any unused prototype heroes in Twitch streams? Those are very interesting to watch and hear dev commentaries!
Prototype heroes rarely go (entirely) unused. Often, they're either re-designed or fuse Dragon Ball Z-style to form a single entity with a far greater power level! We have over a dozen prototype heroes in various stages of development. We may find some opportunities to tease them a bit in the future, so stay tuned!
- MO_Sofech, Social Media and Streaming Specialist
What are your overall thoughts on the health and difficulty of creatures right now?
The next patch will come some pretty hefty changes to creatures. In general: we agree that they are too tough to kill, and we're working on toning them down.
- MO_Retrac, Lead Gameplay Designer
How risky do you believe is cross-platform, and which problems do you want to avoid? Are you aware of the imminent dangers and, if yes, what do you believe they are?
Cross-platform play can be a great way to improve competition by increasing the available pool of players. At the same time, each platform comes with its own unique risks. As a team, we are aware of the potential dangers that exist through such a feature. At its most fundamental, we need to make sure that there are no inherent advantages or disadvantages given to players when they're playing on certain platforms. Examples could be: control advantages due to using a mouse and keyboard versus a console controller, or the utilization of third party cheating applications to undermine the legitimacy of the competition in Gigantic.
- Phil Frazier, Executive Producer