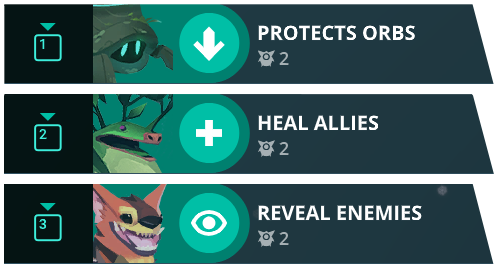 Creatures are summoned on the Power Circles located around the map. While any creature can be summoned on friendly or neutral points, Obelisks are the only creature that can also be summoned on enemy Power Circles.
When standing on a Power Circle, hold the summoning key associated with the creature you want to summon.
When the channeling is complete, your creature will appear on the circle - ready for action!
SUMMONING TIPS:
Make sure it's safe before you summon; you won't be able to defend yourself while channeling.
Protect your creatures! They'll need your help against attacking enemies. Every time you lose a creature, the enemy Guardian gains Power!

Consider what each creature brings to the battlefield when summoning them. Which creature would benefit your team the most in that position? Do you need healing, vision, or more damage?

You can only summon each creature twice, meaning each person on your team has six creatures available to summon throughout the match. Use them wisely!