Elsword's Last Character Revamp for Season 2 is HERE! Plus, Tons of Things at the Item Mall

Starting with the Prelude back on December 2nd 2015, (S2 Intro, New Tutorials, an all level Raid Bosses and more) all the way to the final chapter… The release of the highly anticipated final chapter: Add and Luciel.
The famed Bryce Papenbrook (of Trigun, Naruto, Attack on Titan, Sword Art Online (Kirito), Pokemon and many more) has lent his pipes to Elsword's maniacally insane virtuoso, Add. In addition to JC Hyke lending his vocal talent to bring Ciel to life, this is one of the most exciting updates for Elsword yet!
With these particular Add and Luciel character updates, everything from character concept and illustration, to functionality and effectiveness will be overhauled and refined to bring the homogenized Season 2 badassery to the fore.
As with all Elsword Season 2 Character updates, the Skill Tree revamp includes new character functionality basics, character intro and primary skill upgrades. Players can learn EVERY skill automatically by reaching the skill-appropriate level, and players no longer need to choose between skills! Additionally, Add and Luciel's revamped basic attack combos bring a whole new world of dynamic to each Job or Class advancement. Though the combo list can be found at the top of the Skill Tree UI, players can be easily master them all via Camilla, the sassy Combat/PvP NPC.
The Tracer and Demon Duo usher in the final chapter of Elsword's Season 2 Epic with an intensity that has yet to be seen! Come check out Elsword for lots of fun content and tune in today for some awesome events!
Add/Luciel Revamp Event
Our terrifying three, Tracer and Demon Duo, are revamped! This will be the last character revamp for Season 2 and just because they're last doesn't make them less special. In fact, there seems to be more going on this week!
Once again, and for the last time, REVAMP CUBES~! Every time you open the box it gives you free stuff so it helps out Add and Luciel in their journey to 80! When you open the box playing as either Lu or Ciel, both characters will receive the promotional costumes!
Of course, you won't be able to open the boxes if you ain't levelin' so start grinding on the weekends for Weekend FEVER! OH YAS!
For one week, when you log-in for 10 minutes as any character, you'll get a 15 Days Ignition Weapon Costume. Log-in the next day as a different character and you'll be able to get a weapon costume for this different character! You don't even have to be level 10 to get the weapon! You can also get a New Dual Magic Stone Random Cube when you log in for 10 minutes.
For two weeks, until the end of the last revamp, when you log-in for 30 mins you'll get Luriel's Special Magic Stone Random Cube and a Red Crystal Fragment. When you've collected 5 pieces of the fragment, you can exchange it with Ariel to make your Ignition Weapon Costume permanent!
NEW AT THE ITEM MALL
Add and Luciel get their very own El Search Party Officer Costumes. They finally get a turn at the official look, so you better start collecting Grand Ice Burners!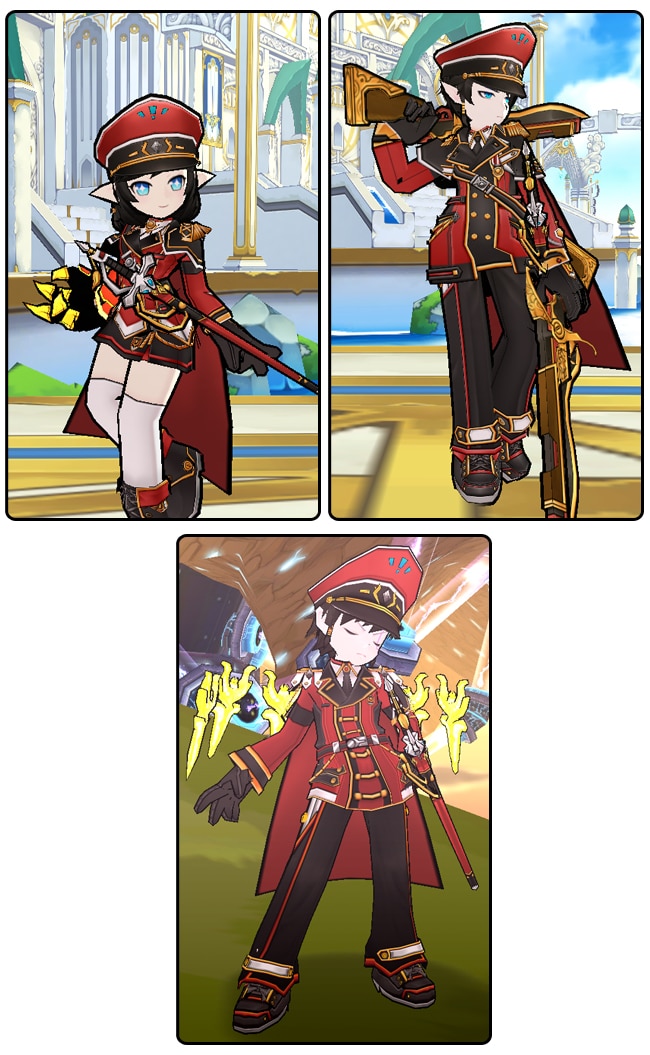 You can start planning out your idol group and gathering groupies! Become a pop icon with the Idol Package!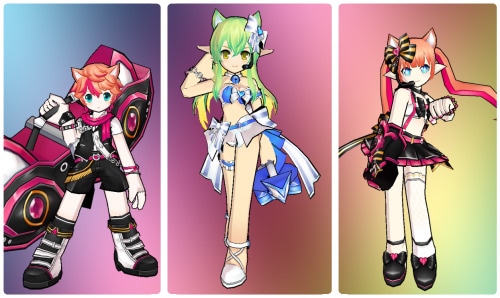 The Demon Duo emulates the bringer of death with Thanatos found in Ice Burners. Start collecting and bring on the pain!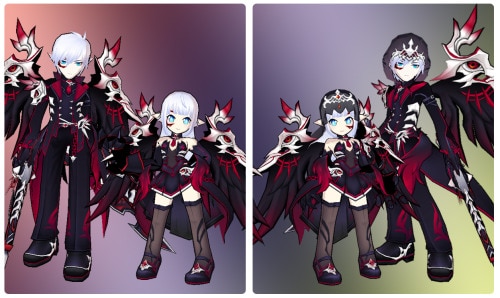 Get a companion that's sort of like you! Or acts like your favorite hero. This Special Edition Mystic Pet will mimic any of our heroes depending on which pet you get.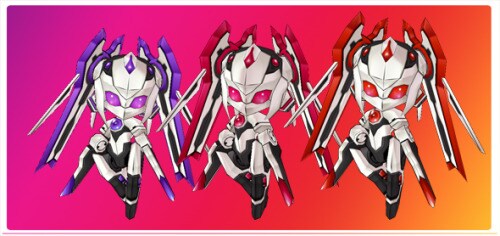 See you all in game, folks!