Demon and Assassin: Witness the Rise of an Infernal Alliance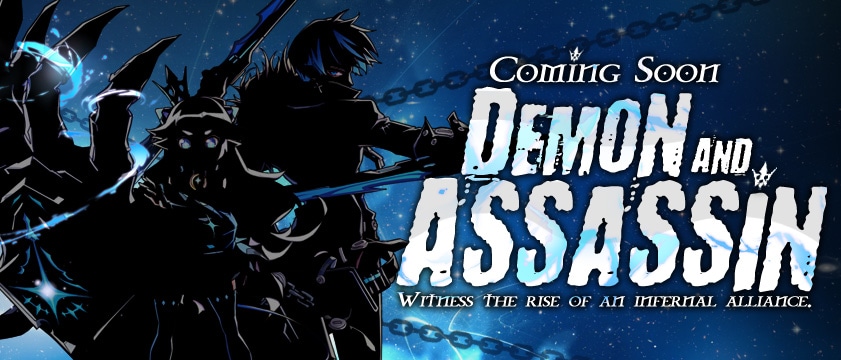 In her pursuit to occupy the empty throne of the demon overlord, Luciela R. Sourcream, an exalted leader of demons, fell to her own imprudence and was betrayed by her right-hand servant. Bound and stripped of her power, she mustered all the energy she had left to escape the realm of demons, to the land of Elrios. Due to the vast amount of mana she used for the journey, Lu emerged in Elrios as a little child. However, this will not stop her from hunting down the demons plaguing Elrios, to recover her power and stature.
After his parents were killed by bandits and he was left to fend for himself as a child, Ciel learned to do all he could to survive. Now an infamous hitman of a notorious gang, he suddenly found someone he could care about-- an injured girl who only remembered her own name. As Ciel took care of Lu, assassins from the demon world found and attacked her one night. Ciel protected Lu, but he was killed. Right then, Lu's memory returned. She offered to revive Ciel as a half-demon if he would become her servant. In his gratefulness, he accepted the contract.
Together, they forge ahead
To reclaim all that was lost
Elsword Online's groundbreaking dual character arrives July 1st. Watch out!
Special Event: Create the New Dual Character in Advance!
Duration: 6/24/2015 - 6/30/2015 (Ends 11:59 PM PDT)

Elpeeps, here's your chance to create the new dual character ahead of its official launch. You can now pick a name and add the adventurer duo in your Elsword character roster. On July 1st, the official launch date, you can start playing this new character and even receive a special gift. Get in the game now!
Cube Name
Rewards
Fixed
Random
Receive one of the following:
Luciel Pre-creation Celebration Cube
Luciel Permanent Accessory Cube (15 Days)*
Luriel's Complete Recovery Potion x 10
Resurrection Stone (10ea) Cube (15 Days)
Luriel's Refined El Shard Cube (15 Days)
Luriel's Dual Magic Stone Random Cube
(15 Days)
Mount (7 Days) Random Cube (15 Days)
Classic Attitude Costume Cube (15 Days)**
Monarch's/Count's Blood Costume Cube
(15 Days)***
Magic Necklace (II)(Exclusively for Lu) (Permanent)
The Ring of Flexibility (II) (Exclusive to Lu) (Permanent)
The Ring of Tenacity (II) (Exclusive to Lu) (Permanent)
The Ring of Strength (II) (Exclusive to Lu) (Permanent)
The Ring of Bravery (II) (Exclusive to Lu) (Permanent)
Magic Necklace (II)(Exclusively for Ciel) (Permanent)
The Ring of Flexibility (II) (Exclusive to Ciel) (Permanent)
The Ring of Tenacity (II) (Exclusive to Ciel) (Permanent)
The Ring of Strength (II) (Exclusive to Ciel) (Permanent)
The Ring of Bravery (II) (Exclusive to Ciel) (Permanent)
Create Luciel in Advance!

This week, you can create your Luciel character ahead of the official launch date! Each player account is allowed one Luciel at this time.
If you have created your Luciel character in advance, you will receive a 'Luciel Pre-creation Celebration Cube (15 days)' in your inventory on Luciel's official launch (July 1st).

*Luciel Permanent Accessory Cube: Contains Lu's Crown (Exclusive to Lu) (Permanent), and Hitman's X Band

(Exclusive to Ciel) (Permanent)

**Classic Attitude Costume Cube: Contains Luciel's Classic Attitude Costume

***Monarch's/Count's Blood Cube: Contains Lu's Monarch's Blood and Ciel's Count's Blood Costume

| | |
| --- | --- |
| Item Name | Info / Stats |
| Lu's Crown (Exclusive to Lu) | Trade impossible, Seal impossible, Reselling impossible / Face(Top) Accessory / Physical attack +10, Magical attack +10, Additional damage 1% |
| Hitman's X Band (Exclusive to Ciel) | Trade impossible, Seal impossible, Reselling impossible / Bottom Piece Accessory / Critical 1%, Accuracy 1% |
| Magic Necklace (II) (Exclusive to Lu/Ciel) | Seal impossible, Trade impossible, Reselling impossible |
| Ring of Skills (II) (Exclusive to Lu/Ciel) | Seal impossible, Trade impossible, Reselling impossible |

Threat of a Devil Monarch Prerequisite: Level 10 and up

Demon Scout

| | | | |
| --- | --- | --- | --- |
| Quest Name | Clear Condition | Rewards | Limitation |
| Demon Scout Elimination | Acquire 2 Most Wanted Poster: Lu, Acquire 2 Most Wanted Poster: Ciel | 1 Demon Suppression Confirmation | Lv. 10 or above |

| | |
| --- | --- |
| # of Demon Suppression Confirmation Required | Rewards |
| 1 | Receive one of the following at random: El Tree Fruit x 1, Luriel's Complete Recovery Potion x 1, or Advanced Magic Stone x 3 |
| 3 | Receive one of the following at random: Luriel's High Grade Magic Stone Random Cube (7 Days) Luriel's Dual Magic Stone Random Cube (7 Days) Luriel's Blessed Time & Space Scroll Exchange Ticket (7 Days) Luriel's Blessed Restoration Scroll Exchange Ticket (7 Days), or Luriel's Fluorite Ore Exchange Ticket (7 Days) |
| 5 | Symbol of Covenant (Permanent) (No option) |

Beware of Demon Scouts! The Demon Scout monster appears in dungeons and fields (except in Ruben and Henir's Time and Space) throughout the event duration. By defeating it, you have a chance of acquiring the quest items, 'Most Wanted Poster: Lu' and 'Most Wanted Poster: Ciel'.
Daily Reward: Symbol of Covenant. Log on for 10 minutes daily to receive a 1-day Symbol of Covenant accessory. This item is rewarded per character. When you wear it, you can inflict three times the damage on a Demon Scout.

Symbol of Covenant

Daily Quest with Ariel. Complete the following quest every day of the event.
Exchange with Ariel. Collect Demon Suppression Confirmations and bring them to Ariel for rewards!

Upgrade the Symbol of Covenant Prerequisite: Level 10 and up

Symbol of Covenant Upgrade Coupon. This exclusive upgrade coupon will be available in the Item Mall for a limited time for only 250 K-Ching. (Trade impossible / Deleted on the next maintenance.)
Crafting with Ariel. Bring this coupon, the no-stat Symbol of Covenant, and 100,000 ED to Ariel for the upgrade.

Material Needed
Fee
Rewards
1 Symbol of Covenant (Permanent) (No option),
1 Symbol of Covenant Upgrade Coupon
100,000 ED
Symbol of Covenant (Permanent) (Option)

Sale! Noble Symbol of Covenant Package Sale Period: 6/24/2015 - 6/30/2015 (Ends 11:59 PM PDT)

The superior accessory is now bundled with 15 Ice Burners at an unbeatable price. Get this awesome deal while supplies last!

| | | |
| --- | --- | --- |
| Shop Item | Contents | Price |
| Noble Symbol of Covenant Package | 15 Ice Burners 1 Noble Symbol of Covenant | Only 1500 K-Ching |
Item Name
Info / Stats
Noble Symbol of Covenant
Top piece accessory / Available for all characters / Seal available (Once) / Physical Attack +20, Magical Attack +20, Physical Defense +10, Magical Defense +10, Critical 2%, Movement Speed 3%, Jump Speed 3%
Symbol of Covenant (Permanent) (Option)
Top piece accessory / Available for all characters / Physical Defense +20, Magical Defense +20, Attack Speed 1%, Movement Speed 2%, Jump Speed 3% / Trade impossible, Seal impossible
Symbol of Covenant (Permanent)
(No option)
Top piece accessory / Available for all characters / Trade impossible, Seal impossible
Symbol of Covenant (1 Day)
Top Piece Accessory / Available for all characters / Physical defense +20, Magical defense +20, Attack speed 1%, Movement Speed 3%, Jump Speed 3%, Damage increased by 300% when attacking Devil Scout. /Trade impossible, Seal impossible