Bienvenue sur Arc Games ! A partir d'aujourd'hui, tous les utilisateurs seront redirigés depuis les anciennes pages Perfect World vers le nouveau site Arc Games. Arc Games vous offre une plateforme centralisée pour toutes les actualités et les événements de vos jeux favoris, et bien plus encore. Nous sommes ravis que vous fassiez partie de l'aventure Arc Games, et vous remercions pour votre soutien.
Pour commencer
Télécharger et installer Arc est incroyablement facile ! Entrez dans un monde de divertissement sans limites en cliquant que le bouton ci-dessous. Vous pouvez également obtenir plus d'infos sur Arc en cliquant sur le lien "En apprendre plus à propos d'Arc".

En apprendre plus à propos d'Arc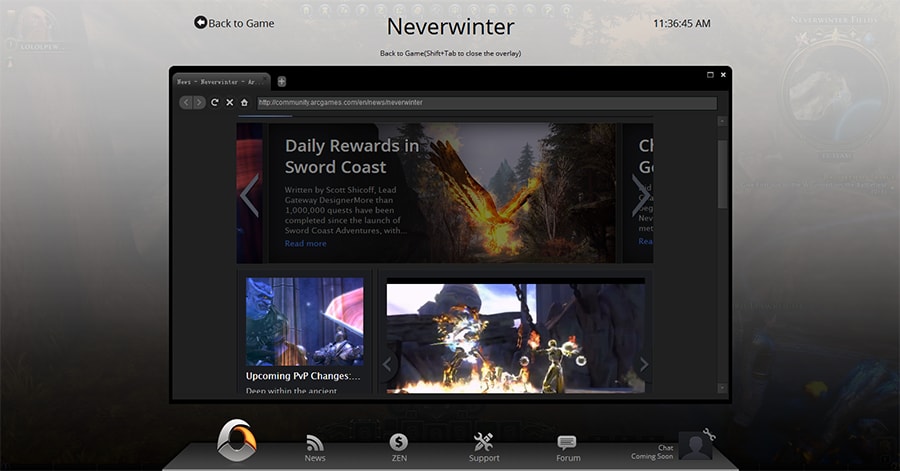 Cadeaux gratuits !
Pour vous remercier d'utiliser Arc, nous avons un petit quelque chose pour vous. Vous trouverez ci-dessous les codes d'objets provenant de nos récentes offres. Si vous aviez raté la tournée précédente, cliquez ici pour deux fois plus de butin ! Cliquez ici !
Jeu

Code

Objets

Champions Online (anglais uniquement)

uwAzrxZy

Hideouts Hi-Tech Cave et Druidic Sanctum

Jade Dynasty

P9IICL9Y

10 jarres de Pilules Taichi
3 familiers niveau 150 (1 jour)
999 Perles Chroma

Forsaken World

O0bwqU2l

50 Flûtes mystérieuses
Toupie porte-bonheur
Carte champ de bataille (7 jours)
Cristal stellaire

War of the Immortals

7S10tSRR

30 Cartes XP sbire Nv3 (niveau 60 requis)

Battle of the Immortals (anglais uniquement)

Gg0v9NB7

Pack de Gemmes dorées (contient un jeton de gemme aléatoire échangeable à Atlantis)

Blacklight Retribution

xARye7pn

Pack camouflage Arc : contient un camouflage d'exosquelette aléatoire

Perfect World International

McytfiNY

Neverwinter

PD9CcZ0Z

Titre "Révolutionnaire thayen"
Amplificateur d'EXP du voyageur
5 enchantements de rang 4
3 pierres de sublimation
5 kits de blessure (adaptés à votre niveau)
5 potions de soins (adaptées à votre niveau)

Star Trek Online

À la première connexion

Navette Na'Far ferengi spéciale et 20 cristaux Lobi
Comme toujours, vos retours sont hautement appréciés. Faites-nous part de votre avis à feedback@arcgames.com.
Bienvenue sur Arc Games !
Bien à vous,
Sparkiesoft et l'équipe d'Arc