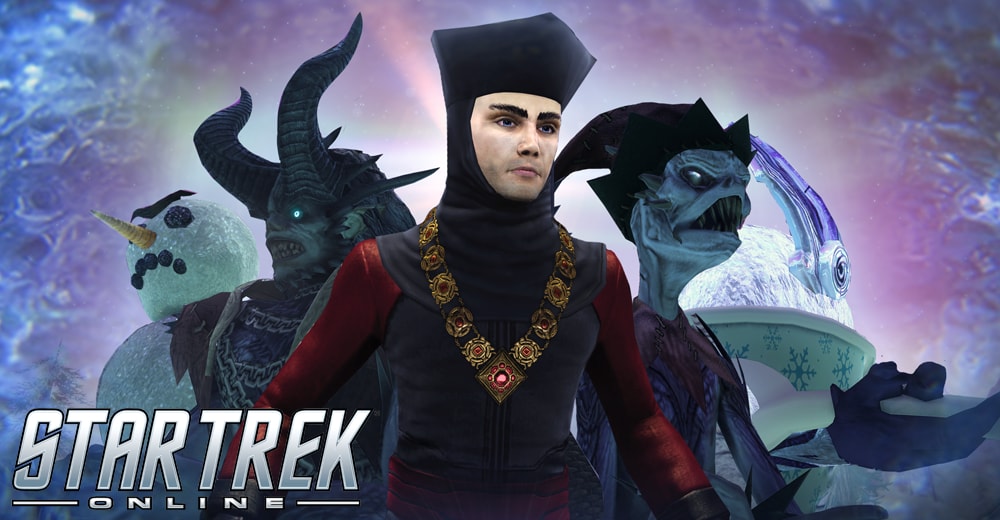 The seasonal favorite from years past is returning once more to Star Trek Online! Q proudly invites personnel of all ranks, allegiances, species, cosmological variances, and molecular stabilities (or lack thereof) to ring in the holiday season, and visit his Winter Wonderland for fun, frivolity, and prizes!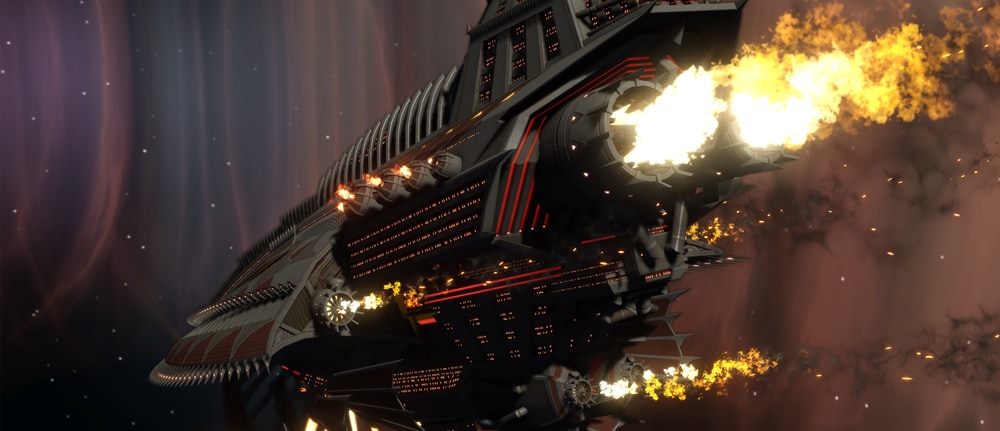 Participate in your choice of Winter Wonderland Activities to work your way toward obtaining the fabulous new Fek'ihri Fe'rang Dreadnought Carrier [T6]! Complete details of this ship's capabilities will be obtained in a separate Dev Blog.
This year's festivities will be integrated into our recently released Event Interface, as part of your Mission Journal. Now that this seasonal event has migrated to its new home, it has also undergone a significant update: Beginning this year, Daily Progress toward earning your new starship can be obtained by participating in any of the following activities:
Fastest Game on Ice
Klingon Ice Fishing
Tides of Ice
The Fast and the Flurrious
Cones of Conduct
The Kramp'Ihri
The first completion of any of the above activities will fulfill your Daily Requirement for your entire account, allowing you to pick and choose how you earn your way to a new starship. Play whichever activity you enjoy most, or change it up each day for greater variety!
The Event System will also offer instant and immediate access to visit the Winter Wonderland from most non-combat maps in the game, simply by pressing the "Transwarp" button on the Event interface. You don't even have to talk to Q to get there – he's allowed us to bring the Wonderland to YOU.
Each of the above activities, as well as others you can participate in during the Winter Event, will still reward you with the various Holiday Ornaments which can be used in different denominations to purchase yourself a variety of rewards from years past, as well as a number of new additions that will arrive with the re-launch of the Event this year!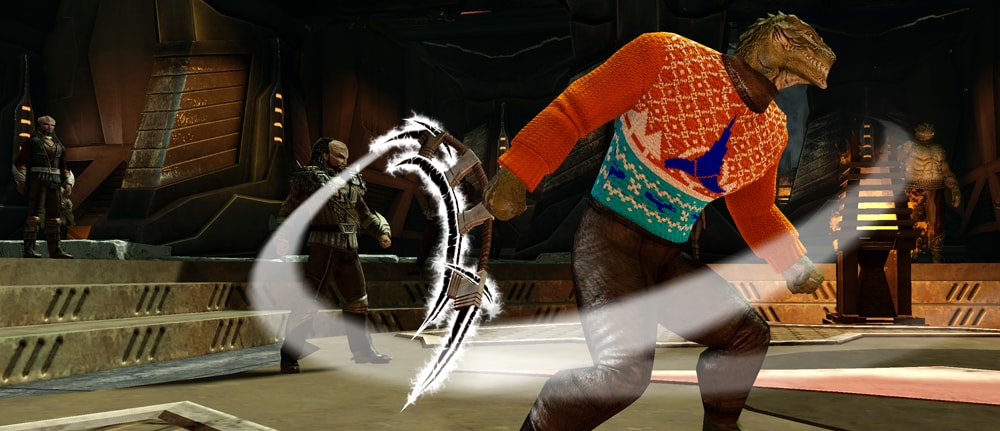 Black Nanopulse Weaponry
These plasma-edged melee weapons will enjoy two new variants, mirroring the unique dark material previously only found on the Kramp'Ihri's weaponry. Get your hands on a Black Nanopulse Bat'leth or Black Nanopulse Lirpa and revel in the feeling of wielding raw plasma in the palm of your hands.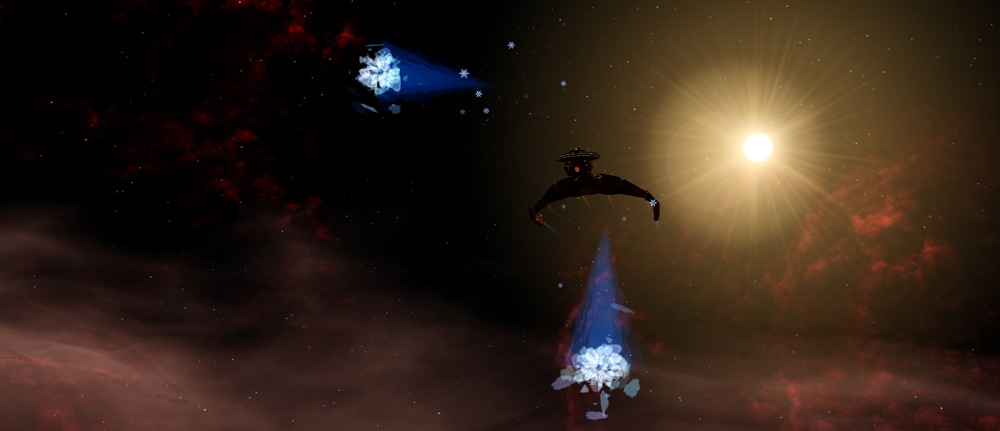 Cold-Themed Bridge Officer Training Manuals
The inventive denizens of Q's pocket dimension have created three ranks each of brand new Engineering, Science, and Tactical Bridge Officer Abilities. Each of these starship abilities utilizes the latest in absolute-zero temperature generation, and endothermic particle physics, to create deleterious effects based on Cold Damage.
Engineering: "Let It Go"
Apply focused endothermic deterioration at the enemy's hull, causing absolute-zero temperatures that crystallize and fracture some delicate components. The enemy suffers Cold Damage over time, and is afflicted with a Damage Resistance Rating debuff that grows in potency over the debuff's duration.
Science: "It Is Very Cold in Space"
Create an area of absolute-zero temperatures, interfering with mobility and causing deleterious freezing damage to enemies within. Within this massive 6km-diameter hazard, all foes suffer periodic Cold Damage and are Slowed.
Tactical: "Best Served Cold"
Cause a sympathetic reaction within the foe's vessel, which interacts with incoming energy damage. Each time they are damaged, they will take an additional amount of Cold Damage to their Hull. Damage below a certain threshold does not trigger this effect, and the amount of Cold Damage has a maximum amount that may be applied.

Winter Wonderland Weaponry
Ingenious new methods of defending the Gingerbread Colony, and defeating beasts such as the menacing Snowverlord, are being made available for you to obtain now!
"Improvise"
These hand-thrown impaling devices are improvised from extra snowman decorations found around the Winter Wonderland. Surprisingly sharp, for vegetables!
"Vine"
When a snowman comes along, you must whip it! This candy-licious variant of the traditional Ferengi energy whip will put those snow monsters in their place!

Cold-Weather Sweaters
As made popular in previous years, we present an entire new line of THREE additional stylish and not-at-all-eye-shattering styles to choose from.

Fek'Ihri Vanity Shield
Flaunt your visual acumen by bathing your starship in the trademark wood-and-steel appearance of the two most recent Winter Event Starships. This visual option may be applied to any Starship, by equipping this item in your Visual Slot.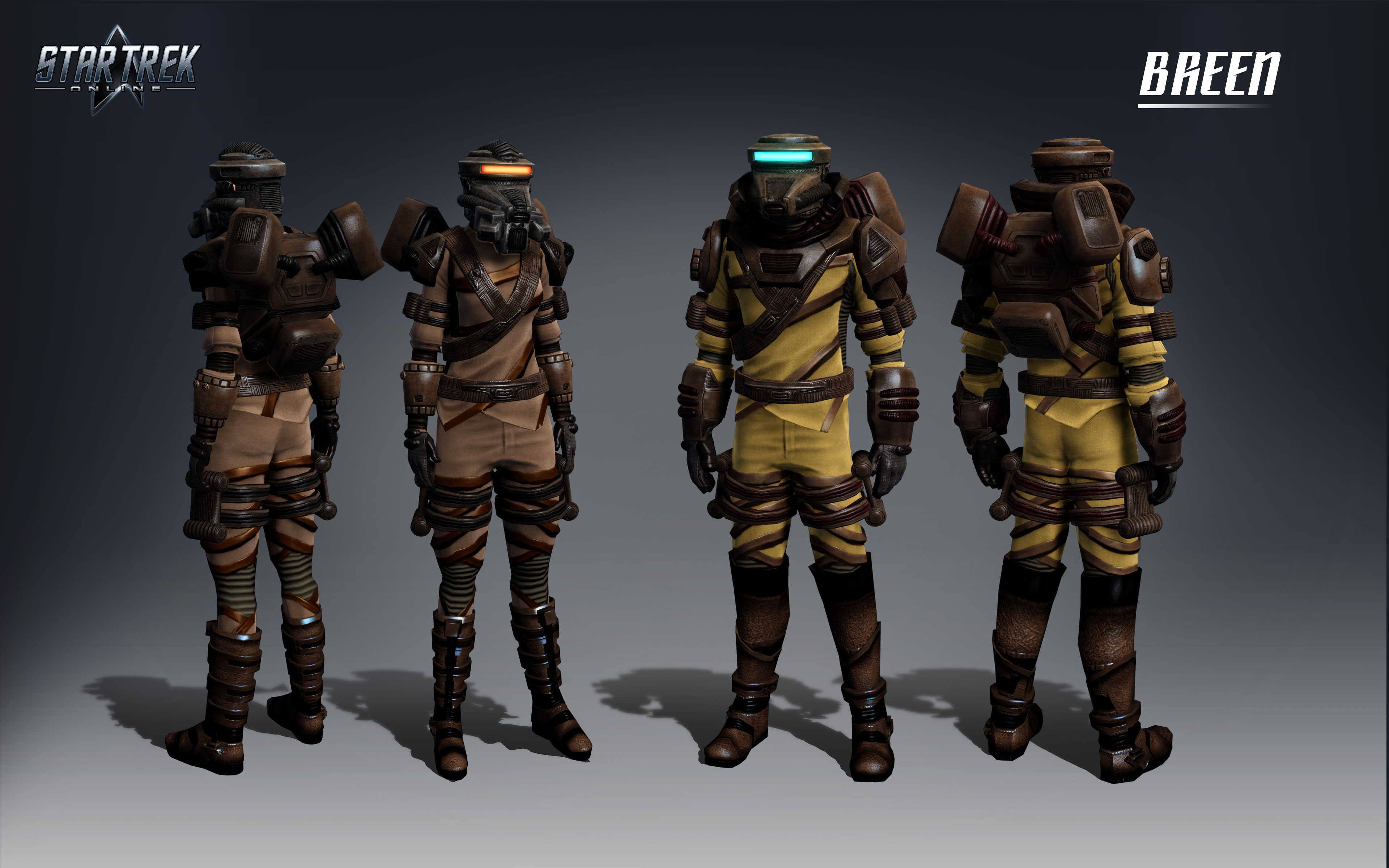 LIMITED TIME ONLY - Breen Costume Collection
The Breen visitors to Q's Winter Wonderland have finally decided to allow outsiders to obtain their fashionable Adaptation Suits for use as uniforms. This outfit collection includes multiple variants of a huge assortment of costume options, all of which are usable mix-and-match style with many existing uniforms, and can be used by all factions. Now you, too, can look the part of the coolest kids in the Quadrant!
The costume collection will be available for purchase in both the Winter Event Store and the Lobi Crystal Store starting with the launch of the Winter Event. And remember, if you find yourself in need of just a few more Holiday Ornaments in order to purchase this item, the Lobi Crystal Consortium is also happy to provide the option to purchase Holiday Ornament Bundles for just 5 Lobi Crystals apiece.
This premium chilling ensemble will only be available for a limited time! When Q's Winter Wonderland retires later this year, this costume will be removed from the Winter Event Store, but will remain in the Lobi Crystal Store indefinitely. So if you wish to purchase it using Holiday Ornaments, act now!
Q's Winter Wonderland will be available from December 3rd, 2019 to January 2nd, 2020. This event will run simultaneously across all platforms (PC and Console). Join us to celebrate this festive season, and ring in the new year!
Jeremy "BorticusCryptic" Randall
Lead Systems Designer
Star Trek Online