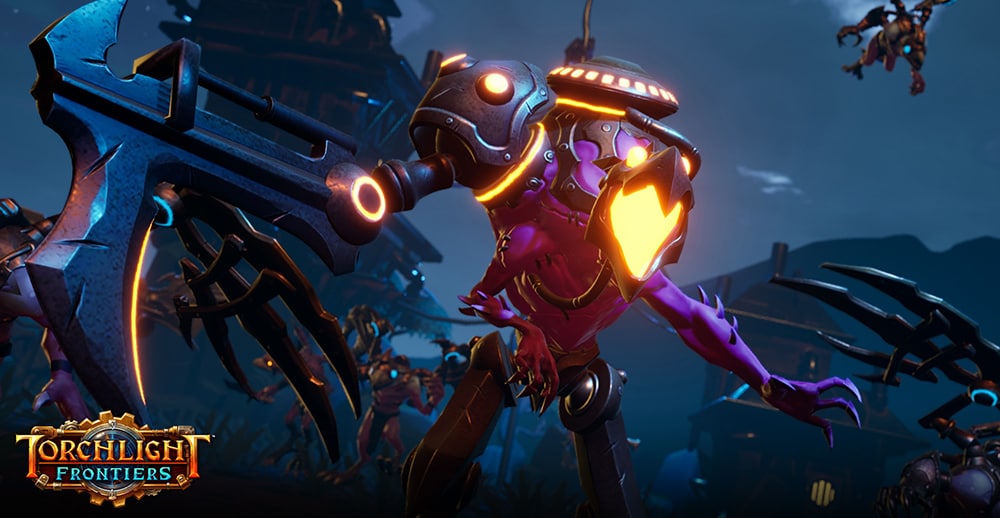 We're super excited to have the first playable demo of Torchlight Frontiers at gamescom and today we're sitting down with Max Schaefer, CEO and founder of Echtra Games, to give you a little sneak peek of what you can expect."
Max, thanks for your time! Before we start off, let's quickly introduce you to everyone: What do you do at Echtra Games?"
I'm Max Schaefer, and I'm the CEO and founder of Echtra Games, Inc.
"Can you give us a rough overview of what players will experience in this gamescom demo?"
This demo is just a taste of the world of Torchlight: Frontiers. It's our re-introduction to the awesome Torchlight community, and to the rest of the world. You'll see two awesome character classes, and go on a quick adventure into our world, culminating with a boss fight. It's designed to give you a brief glimpse into the sort of world we're creating, while letting you carve up some monsters and find some cool loot.
"You can clearly see the pedigree of Torchlight Frontiers, can you tell us a little bit how Torchlight Frontiers evolved from Torchlight and Torchlight II?"
From the beginning, the idea of a shared world Torchlight game has been at the forefront of our mind. By partnering with Perfect World Entertainment, we were able to finally put together the right team of Torchlight and Diablo veterans, plus an amazing crew of industry leaders, and fulfill this vision.
"Why did you pick this scenario in particular?"
For the demo, we wanted to ensure it gives players a good feel of the world we're creating for Torchlight Frontiers. Of course, it wouldn't be Torchlight if we didn't let you carve up some monsters and find some cool loot, so there's plenty of that as well.
"We'll have a keyboard/mouse setup and also controllers ready for our players, do you have a personal preference so far?"
I'm old school. Mouse and Keyboard only for me!
"Any valuable tips you can share for our recruits out there?"
If you've ever played Torchlight or a Diablo-like game, come on by! You'll be instantly comfortable playing Torchlight Frontiers, and can get a nice taste of what we've been cooking.
There you have it, folks. We can't wait for you to try out Torchlight Frontiers at gamescom and get your feedback. Free the frontiers!