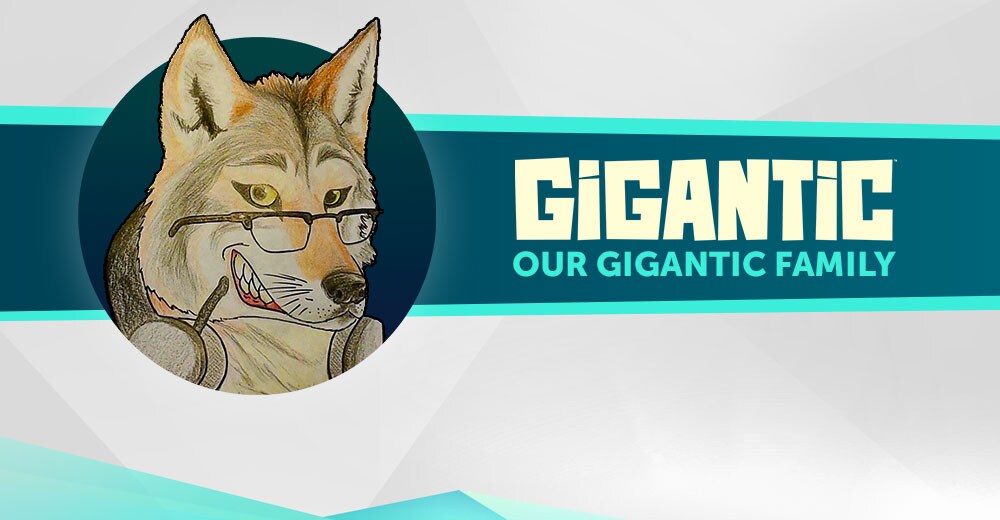 Hey everyone and welcome to the latest edition of the "Our Gigantic Family" blog series where we're putting the spotlight on you, the community. Chances are that you've already watched at least one very informative video created by this week's guest: It's Wolfie aka TehWolfman!
Hey Wolfie! Thanks for taking some time for us. Let's get right to it: When did you first hear about Gigantic and what made you stick around?
Hello, thanks so much for having me! So I first heard about Gigantic way back around late October of 2014. A dear MOBA game called Dawngate was shutting down and those of us who were part of that community wanted to find something that we could continue to play together. The game was a lot of fun, but the community was my favorite part so I knew we had to keep that. So one day on Reddit, someone made a post about this game called Gigantic that was in a technical Alpha. I watched a gameplay trailer with my friend Schmoogleedorf and we immediately signed up. Not only did we get into the Alpha two days later, but we also learned that Motiga was showcasing the game at the first ever PAX South in San Antonio, Texas. It was actually the very first convention I ever went to and it was amazing. Such nice people, a spectacular game even back in the day, and everything was so inviting that I found myself immediately part of the family. The game is beautiful, the gameplay and heroes are very fun; I've been hooked from the very beginning and it's probably going to stay that way.
You have created a ton of very informative Gigantic videos. Is video creation something that you've always been interested in?
Yeah, I've created Gigantic videos about several topics within the game. It's funny because my whole video creation adventure started with a project my friends called WDSProductions and it was us mostly playing video games on computer and console, and every now and again had something like a comic dub or something live action like visiting one of the local theme parks. I never went to school or anything for video production, but I've felt like it's been something that just came really naturally to me. Of course, I still have a lot that I could improve on, but I'm very happy that I do it on a regular basis.
Do you have any advice for people that might want to start creating Gigantic videos themselves?
The only real advice for people who want to create Gigantic video content is to make it either informative or entertaining. Almost all of the videos I've worked on have been me relaying information, be it Patch Notes, meta shifts, tactics; I like to cover a lot of different things because I feel it's important for people to know how to better understand why things are a certain way. There are a lot of YouTube videos out there that are made to entertain people. It could be pro plays or it could be just a bunch of people in a party being stupid and making you laugh. I think the best attribute your audience should recognize is that you really enjoy doing whatever it is you're doing.
You've done videos for GGUnleashed in the past and are now creating content for MistForge. Tell us a bit about those projects!
So GGUnleashed was the very first Gigantic fansite that was made to provide news, game information, and of course the ever famous Hero Builder. It was founded by a man who went by the screen name Dariuus and slowly he made it grow by including streamers, video editors, coders, and artists. That was where I was encouraged to make videos and I posted several on the GGUnleashed YouTube channel which are still there today, if I ever felt like reclaiming them.
MistForge is more or less the offspring of GGUnleashed. It works the exact same way; a community-run website that has articles and a remade hero builder. I was messaged through Discord by Lunami, who is basically the organizer and main artist for the entire website. He told me that he'd like, if I could make video content for his new site like I did for GGUnleashed. Of course I said yes since I really wanted to find a new platform to show on, even if it had to be my own channel. So basically I've become the public face of MistForge, which is weird to me because I really don't do that much for the site itself. There are a lot of coders who deserve way more recognition than they get.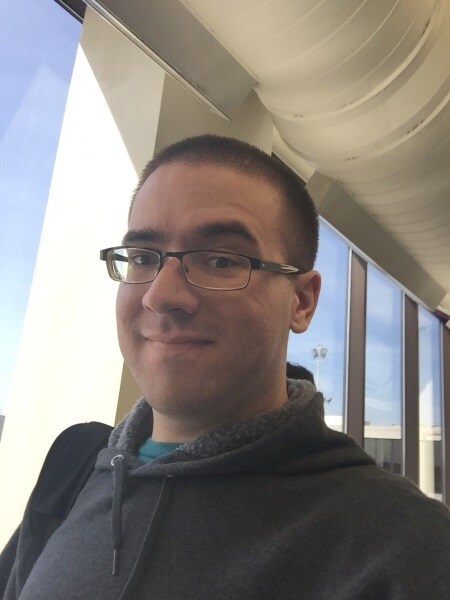 You have also been casting some competitive matches for Gigantic. How did you get into that and what do enjoy the most about it?
My experience with casting was back in the Dawngate days. I did it casually with Schmoogleedorf by watching people's streams or asking if we could get copies of their scrims. It was a lot of fun to just talk over the game instead of just watching. I really enjoy conveying information to viewers so that they can understand why things are happening. It's kind of the same mentality as my video content. When Gigantic was slowly getting more players, people were interested in making teams. Rezoahc came up with the Guardian Arena tournament and I saw that as an opportunity to start casting again, and through that I got very close to Zattori and Light0fH0pe and a lot of others who have the same interest as I do. It's a lot of fun to discuss heroes and team compositions and come up with ideas for how to showcase the streams and even document win-loss ratios and hero pick percentages. It's probably one of my favorite things to do in the world and what I'd really like is to one day make a career out of it.
The game knowledge from your videos doesn't come from out of nowhere, you're a very good player! Which heroes or roles in Gigantic do you enjoy playing the most?
My game knowledge mostly comes from just playing the game for what feels like several years now and asking a lot of questions from either developers or other players who have been playing just as long as I have. My favorite hero is a tie between Sven and Aisling. Sven was the first hero I ever played so he'll always hold a special place in my heart. Aisling is one of my favorites simply because she's so versatile and can fulfill several different roles. My go-to role in almost every game is Support just because I like the tactical aspect of it. I like being able to heal my team and do what I can to keep them alive while they kill the enemy.
As an experienced player, what advice would you give new players that are just starting out with Gigantic?
Please play the tutorial and read everything involved with it. This game can be seen as very simple on the surface, but there's a lot of important details hidden deep within the game that require a lot of time and patience. This game is not a team deathmatch. It's about objectives, it's about proper teamwork, it's about quick decision making. Be patient and willing to open yourself up to learning what veteran players have to say, because a lot of us know what we're talking about and are willing to teach you what we know.
What has been your most enjoyable Gigantic moment so far? Any plays or comebacks that you're particularly proud of?
I've played far too many games to pick just one answer. But if I had to pick one it'll probably be a recent game where I solo-queued into a game against Rezo and Doug on Siren's Strand as Vadasi. Rezo was Tripp and I'm pretty certain Doug was on Mozu, and only one other person on my team was on voice chat so I'm sitting there like "Oh god, this is gonna be so bad." Come Clash, we were down two wounds and hadn't even gotten a single push. I told my team to rotate to D at every chance they could and I'd heal them. And Rezo and Doug, being the lovingly frustrating good players they are, would always go after me. Thankfully, my Vadasi build actually generates a lot of Focus, so almost every other fight I was ready to pop it. And because of a well-placed Winter Bloomer on the A point, I was able to stay alive and keep everyone alive while they did hit-and-run tactics on D point. Truthfully, I don't remember if I ended up winning that game, but I put up a fight and I'm pretty sure it was very close. It was also 36 minutes long, which I think is my longest match in my entire Gigantic career.
What does a Wolfman do when he's not spending time on Gigantic? Any hobbies or activities you want to share with us?
Honestly, gaming as a whole has been such an important thing in my life that it's what I'm doing 90% of the time. But being a born and raised Floridian, it's pretty much mandatory that I enjoy swimming and going to the beach even though I don't do either that often anymore. I do enjoy spending time with my immediate group of friends, and we play board games or watch movies and go out to eat. The guy that I'm currently dating is also a big movie buff and enjoys anime, so a lot of our time together is spent by watching movies, Netflix, and playing Pokémon.
Thanks so much for the interview! As always, our guest has the last word!
Thanks for having me! "Our Gigantic Family" is such a great way to get the community involved with people who have been around for a long time. Just having the opportunity to get recognized by the developers of the game I've been in love with from the start is incredible to me. I pray for this game to have a hugely successful future and I'll support it all the way.
Make sure to check Wolfie out right here:
Twitter: @TehWolfman
Website: MistForge
YouTube: MistForge
Do you have someone in mind who we should introduce you to next? Just send a quick email to fero@perfectworld.com! See you around!