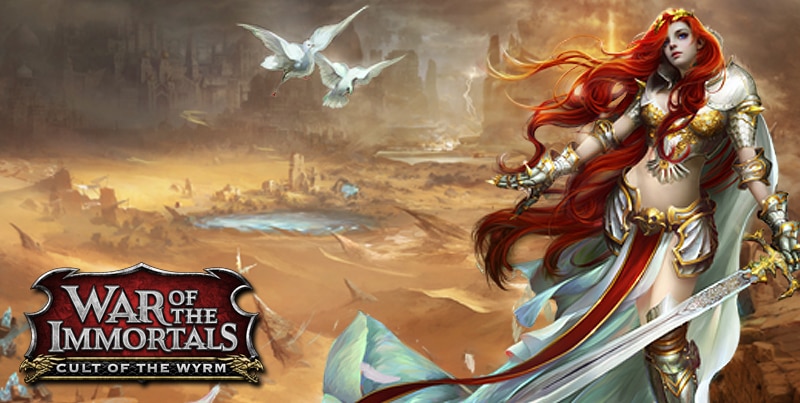 The next expansion to War of the Immortals is just beyond the horizon. Here's a sneak peek at what the Cult of the Wyrm expansion will feature.
New Scenario Quests
After the defeat of Khar, things in Motenia have finally begun to calm down. That is, until strange reports began to surface from Midgard Highlands. A toxic ash has begun falling from the sky, poisoning everything it touches! Travel to brand new zones and help The Paladins investigate this blight on the land. There have even been rumors of a giant dragon lurking about...
New Instances
Fjalar's Golden Palace - A greedy dwarf can't seem to keep a hold of all their treasure...
Nidhogg's Burrow - A mysterious sect of mages plan to resurrect an old god.
Treasure Bay - Countless ships have been wrecked and even more souls have been lost in pursuit of the legendary treasure here. Though there is tale that something else has lured these seafarers to their demise...
Forlorn Ravine - An ancient evil has returned, and this time it's brought the dead back with it. Venture forth, purify this land from the Undead, and restore its peace.
Scorpio Temple - The newest Zodiac Temple awaits! Get in and start earning rewards for the latest zodiac challenge.
New Events
Necronomicon - Delve into the pages of an ancient and evil tome. Destroy the corruption from the inside!
Warlord Arena - A new 3v3 PvP Arena! Gather your friends and duke it out for Glory!
New Systems
Feats of Heroism - A massive collection of rewards await anyone that can complete these new objectives!
Combat Mount Glyphs - Earn new stat bonuses and skills for your Combat Mounts using Glyphs earned from Warlord Arena.
Essence Cards - Collect cards of your favorite monsters and Bosses! Equip them for stat bonuses and Passive Skills!
Temple of Tyr - A new temple has been unearthed in the Faith system. Unlock Altars and Seals to earn new Heroic Skills for each class!
New Zones
Ashen Roots – Travel below the Ashen Falls and find a newly discovered area filled with menacing creatures.
Midgard Highlands – What was once a beautiful place is now blanketed with toxic ash. Investigate the area and see what you can find.
­
Character Updates
New Level Cap – Max level is now set at 130!
New Gear – New gear sets for Soul, Legendary, and Olympian are available starting at LV 125!
Stay tuned for more updates as we reveal more about the Cult of the Wyrm expansion!