This week we take a closer look into the Faith Temple system and show you how to make the most of it.
Faith Temple
A new reward system introduced with the latest content patch. Players can further empower their characters during their end-game experience.
Related Items

Faith Temple Pack – obtained once per character through the new content introduction window upon logging in. Contains 20 Sacrificial Spirit Scrolls, 10 Sacrificial Spirits, and 3 2x EXP Stones.

Sacrificial Spirit Scroll – can be bought at the Portable Shop for 10,000 Coins. This used to create Sacrificial Spirits, requiring a Humanoid Spirit, a Demon Spirit, an Undead Soul, a Mechanical Core, a Dragon Soul, and an Animal Essence.

Sacrificial Spirit – The primary item used to upgrade your Faith Temple. This can be created using Sacrificial Spirit Scrolls, obtained from the new Runic Trench instance, or simply bought from other players.
Access
Your Faith Temple is unlocked when one of your character's Lineages reaches LV110. Access your Faith Temple through the character interface.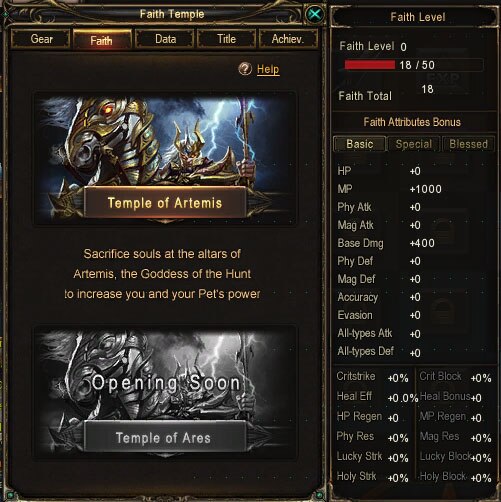 Faith Total
A measurement value, much like character power, that reflects how far along you are in upgrading your Faith Temple.
Certain features and bonuses of the Faith Temple are unlocked as your Faith Total increases.
Faith Temple Interface
Upon opening your Faith Temple, you will be greeted by a five by five matrix which represents the "Altars", the components that must be upgraded for your Faith Temple to provide bonuses.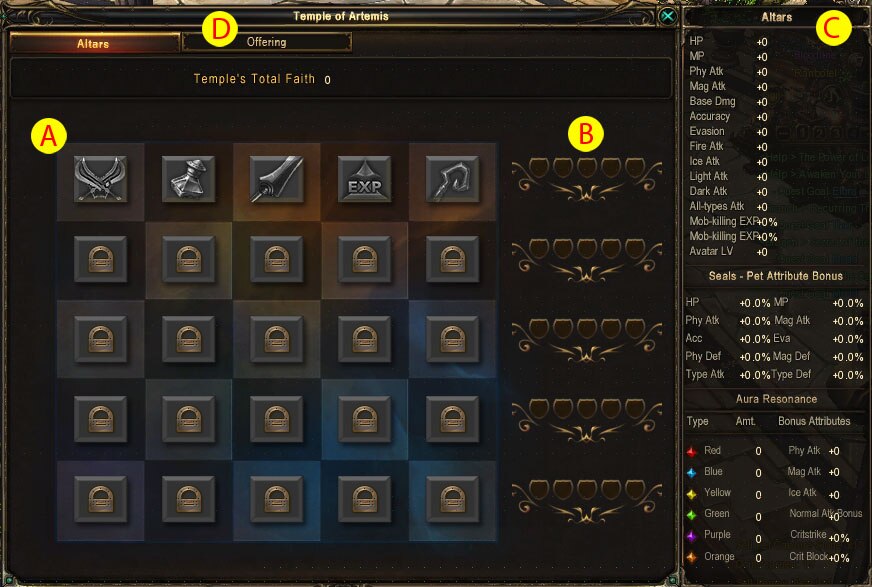 A. Altars
Your Faith Temple contains 25 Altars that must be upgraded to yield the system's benefits.
Initially only the first row of Altars is available. More rows are unlocked as you meet level and Faith Total Requirements.
Each Altar grants a single attribute bonus, and the effectiveness increases as the Altar is upgraded. Click on the Altar you wish to upgrade on the grid.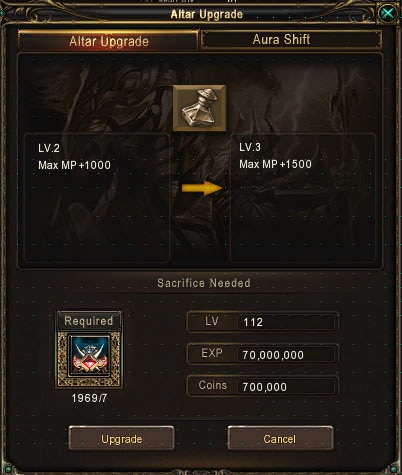 Upgrading Altars requires (a lot of) EXP, Coins, and Sacrificial Spirits. The Altars' current maximum level is 10.
B. Seal Activation
Bonus attributes granted to your Pets. These bonuses are unlocked and upgraded when all Altars within a row reach a given level.


You can mouse over the Seals to view the bonuses they provide, as well as the requirement to unlock the next Seal.
C. Attributes Summary
The total bonuses provided by your Faith Temple are summarized in this part of the UI.
D. Offering
Once your Faith Total is high enough, you can periodically offer Sacrificial Souls, EXP, and Coins to receive an item reward.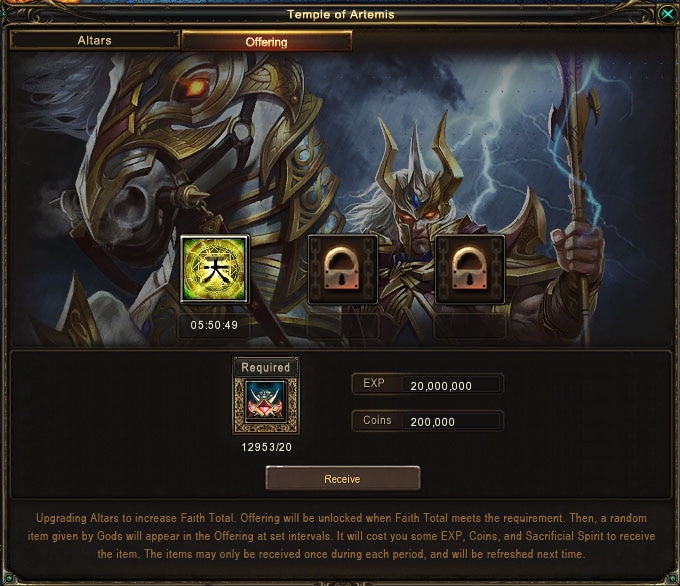 The item reward cycles every couple of hours. As of now only one of three reward slots will be available.
Aura Resonance

Once an Altar reaches LV5, it gains a colored gem on each of its four sides.



If the color of 2 adjacent gems on the Faith Temple grid matches, they form a link. The link grants bonuses to the player depending on its color. Unlinked gems, however, do not provide any bonuses.


As shown in this example: an orange link is formed, thus providing your character with an additional 1% Critblock.
The gems can be re-organized by using Aura Shift on the Altar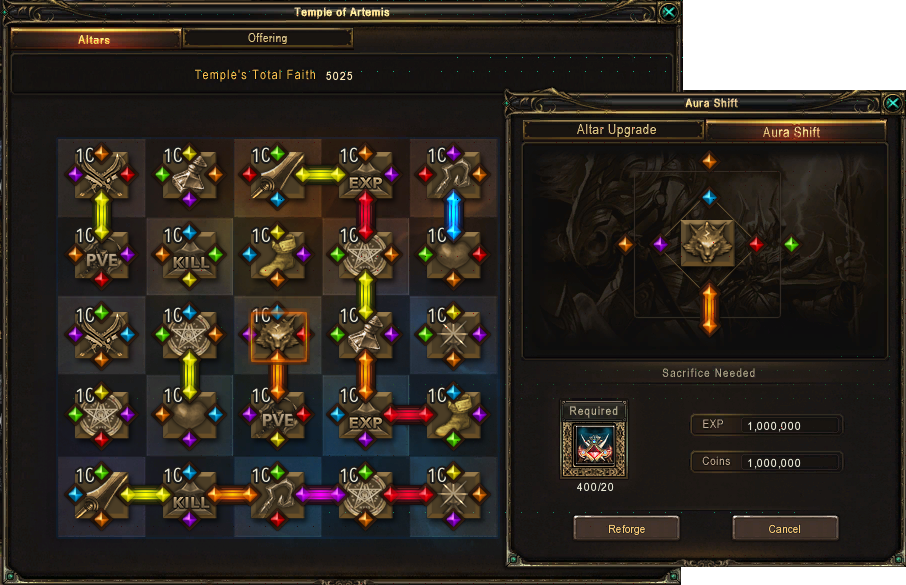 Select your desired Altar from the grid and click the Aura Shift tab. Gems adjacent to the Altar are also displayed. Aura Shift consumes Sacrificial Souls, EXP, and Coins, and the results will be completely random.
Each gem color can show up only once per Altar, so plan your grid carefully!
Temple of Artemis & Ares

Currently, only the Temple of Artemis is available. The Temple of Ares will be arriving in future patches, allowing you the further upgrade your Faith Temple!


This guide was brought to you by one of our awesome QA team members: Jason "sunnys1deup" Sun