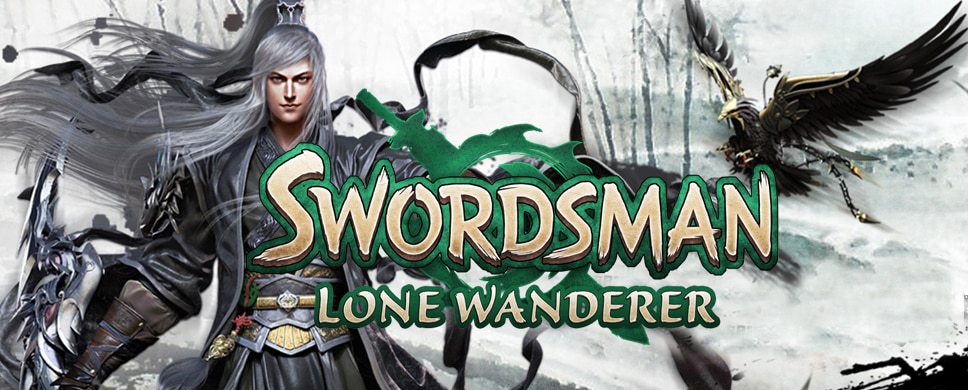 ---
The Lone Wanderer Expansion is now Live!
Check out the highlights of Swordsman's latest expansion:
New Falconer Class

– Players can try out this brand-new class to launch aerial attacks on their enemies with the help of a giant eagle companion.

Increased Level Cap

– Max Level for Swordsman is now 99. New quests and maps will be unlocked to help players reach the new level cap.

Glass Weapons

– Sun and Moon Shard Weapons can now be smelted to Level 7 to create Glass Weapons. These powerful new items are unbound and can be traded.

Scenery Stones

– This new character improvement system lets players equip their characters with Scenery Stones to make them stronger than ever.

Ebonwood Cliff

– Players brave enough to enter this new free-for-all PVP area will have the opportunity to fight for valuable rewards.

Mystics of Peach Valley

– Players who are Level 30 and up can conquer this new three-player instance to earn EXP and Scenery Stones.

Plus

a new event battlefield, fashion crafting scrolls and upgrades to guilds, projectile boxes and combat systems!
To celebrate we are giving everyone a code for a Fortune Sheep mount.
912LIppj
This code can be used three times per account and expires June 30, 2016.
Grab your sheep mount and start your next adventure!
---
Become a Swordsman Hero today for exclusive mounts, fashion items, and more! Also be sure to like us on Facebook, follow us on Twitter, and subscribe to our YouTube channel for the most exclusive giveaways, fan content, and announcements!