In China as well as in Japan, South Korea and Taiwan, the White Day is a celebration that takes place 1 month after Valentine's Day. For this occasion, those who have received presents on Valentine's Day shall return the favor by giving gifts back. Until March 26th only, we're offering you the opportunity to celebrate it with your friends via an in-game event!

---

Event begins:
March 12th
Event ends:
March 26th

---
White Day Event
To receive the new event quest, start with meeting NPC Gio Zeh in Fu Giu (241, -65).
He will ask your help to collect 7 trinkets.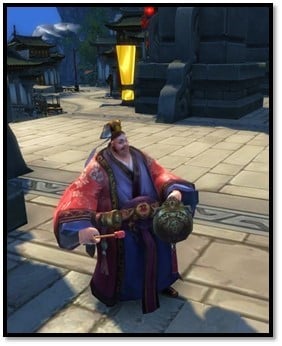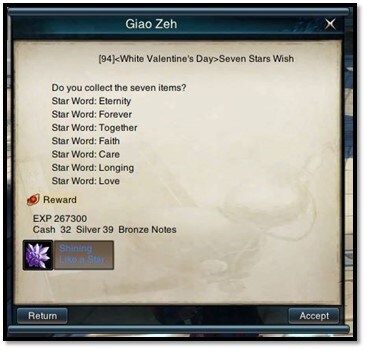 Once you have collected all of them, he will give you an item which you can use to bestow the title "Shining Like a Star" on another player.
/!\ Currently, some item descriptions contains Chinese text. We are aware of this and working to have it fixed with the next maintenance!
To obtain the items, you can get a daily quest from 12 different NPCs in the main cities.
Each of them bears a zodiac sign:
Luo Yang
• Aries Envoy
• Taurus Envoy
• Gemini Envoy
• Cancer Envoy
Harmony's Piedmont
• Leo Envoy
• Virgo Envoy
• Libra Envoy
• Scorpio Envoy
Fu Giu
• Sagittarius Envoy
• Capricorn Envoy
• Aquarius Envoy
• Pisces Envoy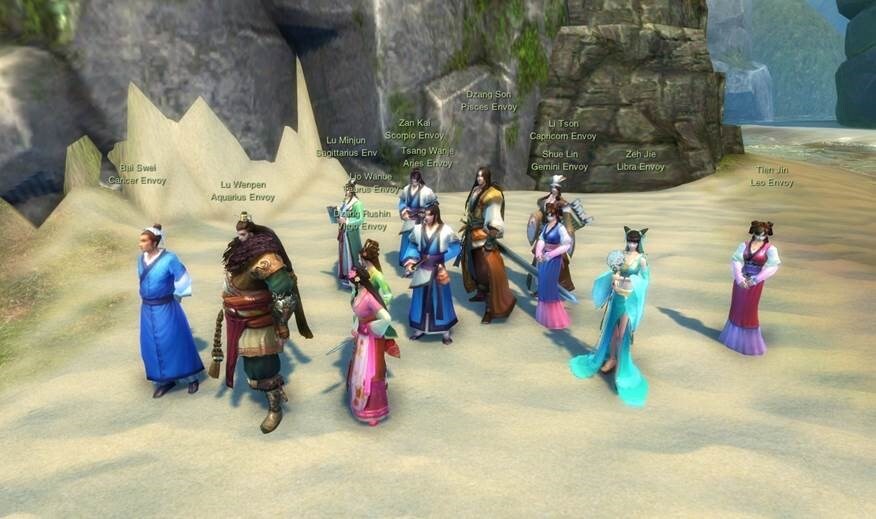 Deliver the messages as requested and use the fireworks they give you at the Zephyr School to receive a White Valentine Pack for your friends!
Remember: This event will end on March 26th,
so don't hesitate to collaborate and trade with your friends to get all the rewards on time!
We hope you enjoy this event and have a great White Day in Swordsman!
Become a Swordsman Hero today for exclusive mounts, fashion items, and more! Also be sure to like us on Facebook, follow us on Twitter, and subscribe to our YouTube channel for the most exclusive giveaways, fan content, and announcements!