From this Friday, April 25th, through Sunday, April 27th, Star Trek fans of all ages will experience Creation Entertainment's Official Star Trek Convention in New Jersey. Special guests include Kate Mulgrew, Nichelle Nichols, Terry Farrell, James Darren, Anthony Montgomery, Robert Beltran, Robert Picardo, and more. While online ticket sales have ended, tickets will be available for purchase at the convention doors. For more information about the event, check out the official Star Trek Cherry Hill website.
- - - - -
To celebrate this awesome event, the Star Trek Online team is pleased to offer a special in-game item to attendees that, once claimed and opened, contains a unique Holo-Leeta Duty Officer and "Convention Veteran" title for all characters on their account!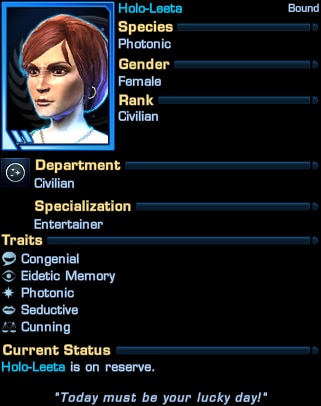 You can obtain a code for this special item through a couple different methods (limit one code per player):
Twitter – Tweet a picture of yourself at the convention and your in-game @handle to our official Twitter account, @TrekOnlineGame. Make sure you are also following us so we can DM you a code and instructions on how to claim the above rewards.


The STO Forums – Post in the following forum topic with a link to a picture yourself and your in-game @handle and we'll send you a code and instructions on how to claim the above rewards.



SPECIAL CONTEST: Whoever submits the most creative and original photo of yourself at the convention (remember we still have to see you and the fact that you are actually at the con) will get a special ZEN reward*! We will have three prize amounts listed below. Good luck everyone!
1st Prize = 1500 ZEN
2nd Prize = 1000 ZEN
3rd Prize = 500 ZEN
* Winners will be hand picked by the STO Team.
We hope you have fun at Star Trek Cherry Hill!
- - - - -
Click here to learn more about Legacy of Romulus, our free-to-play expansion for Star Trek Online. Advance your journey of rebuilding the Romulan legacy with a Legacy Pack purchase! Click on the logo below to learn more about it.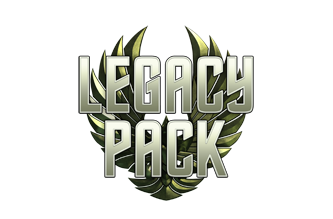 Want more game details, screens, and videos? Like Star Trek Online on Facebook for more exclusive content and follow us on Twitter – tweet us your questions! And, subscribe to our YouTube channel for the latest Star Trek Online videos.
- - - - -