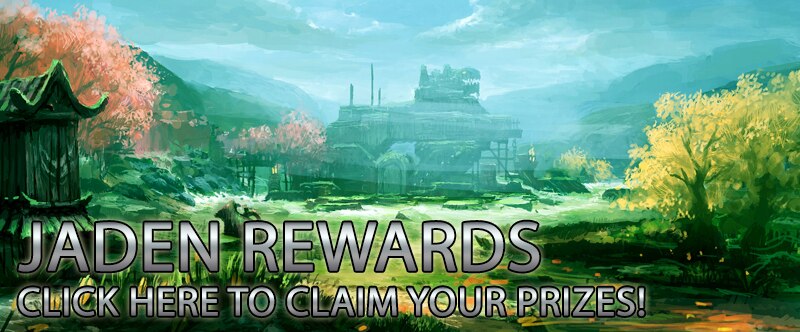 The Jaden Rewards Program returns, featuring the Godlike Rewards Bundle, Phoenix Plume wings, and more! These rewards are a limited-time bonus earned by charging, so make sure to get even more mileage from your Jaden this week!
Rewards Points Begins: Tuesday October 28, 2014 (10:00 AM PDT)
Rewards Points Ends: Monday, November 3, 2014 (10:00 AM PST)
Rewards Points Expire: Sunday, November 9, 2014 (11:59 PM PST)

This month's Jaden Rewards Program features rare packs and special cosmetic options. The rewards available have a variety of useful items for everyone. Hurry, though, because these bonus rewards are only available until Monday!
The Phoenix Plume wings are exclusive to the Jaden rewards, and are ultra-rare. Get yours this weekend, because there's no telling when they'll be back again!

Here's what else you can earn during this promotion:
| | |
| --- | --- |
| Heroic Rewards Bundle | Your chance to win an Ascended LV135 weapon with the Spirited Queen, a powerful Essence, or the ultimate Firmus Esper! This powerful Esper increases the power of each faction's ultimate attack. |
| Immortal Soldier Relic Pack | This bundle includes 5 Taichi Pill Packs, 500 Chroma Beads, 1000 Affinity Beads and more! |
| Fashion Coupon | Choose one of four perm fashions: Springshine, Moonfall, Emperor or Peachflower! |
| Legendary Rewards Bundle | Fifteen Heroic Rewards Bundles, plus a coupon for your choice of a trinket, Chi, pre-refined Gear and more! |
| Demigod Rewards Bundle | Thirty Heroic Rewards Bundles, plus a coupon for your choice of an Essence, Trinket upgrades, a powerful Charm and more! |
| Phoenix Plume wings | Take to the skies with these fiery gold and white wings! |
| Godlike Rewards Bundle | Fifty Heroic Rewards Bundles, plus a coupon for your choice of a fully-upgraded Ascension Accessory, an upgrade for Chi items, Bloodsmelting Stones and more! |
Here's how it works:
Buy Jaden: Purchase Jaden for Jade Dynasty during the event period to receive Jaden Rewards points.
Receive Points: For every Jaden you purchase during the event period, you will receive 100 Rewards points (so if you purchase 10 Jaden, you will receive 1,000 Rewards points).
Rewards Website: Go to the JD Charge Rewards website to redeem your points for various items:
http://jd.perfectworld.com/reward
The Jaden Rewards is only available until November 3rd, 2014 (10:00 AM PST), so make sure to purchase your Jaden before the event is over!

The last day to use your points is November 9th, 2014 (23:59:59 PST). After this date, the Rewards program will be disabled and any remaining points will be removed.
---
Register and play for free in Jade Dynasty, the free-to-play martial arts MMORPG. Play as fourteen different classes in hardcore PvP with beatiful power animations! Want more game details, screens, and videos? Like Jade Dynasty on Facebook for more fan-exclusive content! Plus, subscribe to our YouTube channel for the latest Jade Dynasty videos.