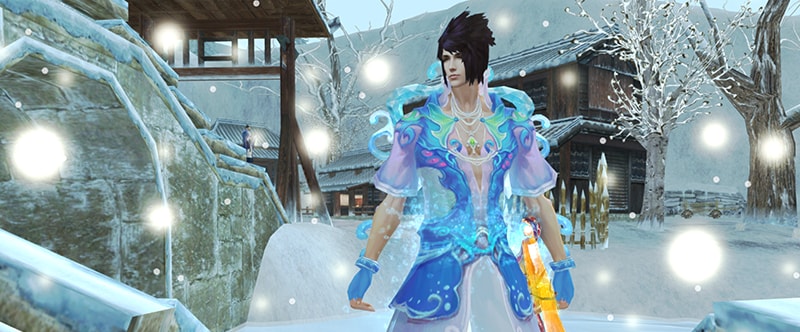 Winter is here, and new fashions are now available for both you and your little Sprites!
NEW! Updated Cerulean Fashion Set!
These Cerulean fashion sets have been updated for the holiday season, so that all factions released up to this point can now wear these Cerulean fashion items. There is a female and a male set, and each set costs 15 Jaden.

NEW! Winter Sprite Fashions!
Three new Sprite fashion sets are now for sale in the Marketplace! The Jadecut Fashion Pack is for female Sprites, the Snowplume Fashion Pack is for non-Kytos male Sprites, and the Icespike Fashion Pack is for Kytos Sprites only. Each set costs 5 Jaden.

Jadecut Fashion Pack

Snowplume Fashion Pack

Icespike Fashion Pack
NEW! Jade Chains!
Released for Singles Day, this chance pack boasts a massive prize pool that includes x11 copies of various Double Packs**, and the Golden Rain Grand Pack* containing Exquisite Jade Plate (which gives either a Kirin or a Drake Sigil). Each chance costs 0.50 Jaden.

Prizes include:
Golden Rain Grand Pack x11*
Fine Seal Orb Double Pack x11**
Yuan Crystal LV9 Double Pack x11**
Ancient Coin Double Pack x11**
Advanced Orb Bead x66
Essential Dragon Orb x1100
Jade Box x11
Tiamat Blood x11
Affinity Bead x5500
Precious Jade Pack x11
*Grand Packs also contain a bonus Kirin Sigil Shard!
**Double Packs contain double the item, as well as a bonus Kirin Sigil Shard!
In addition, check out the epic sales for this month!

Bronze Sigil x1 3.50 Jaden
now 1.75 Jaden
Bronze Sigil x6 20 Jaden
now 10 Jaden

Perfect Tawen Gem x1 1.50 Jaden
now 0.75 Jaden
Perfect Tawen Gem x11 15 Jaden
now 7.50 Jaden

Evolution Jade x1 10 Jaden
now 5 Jaden

Yuan Crystal LV9 60 Jaden
now 50 Jaden
---
Register and play for free in Jade Dynasty, the free-to-play martial arts MMORPG. Play as sixteen different classes in hardcore PvP with beautiful and powerful animations! Want more game details, screens, and videos? Like Jade Dynasty on Facebook for more fan-exclusive content! Plus, subscribe to our YouTube channel for the latest Jade Dynasty videos.